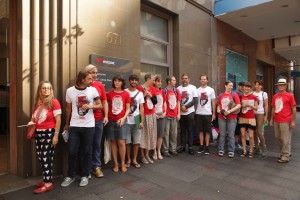 8 March 2014
At city branches in Melbourne and Sydney today, dozens of Westpac customers turned out to close their accounts in protest over Westpac's multi-billion dollar support of the fossil fuel industry. Since 2008, Westpac has loaned close to $3 billion to the fossil fuel industry, including projects such as the Hazelwood coal power station, the Maules Creek Coal mine, and coal and gas export ports in the Great Barrier Reef World Heritage Area. Customers have been warning Westpac to stop lending to these dirty industries for months or they will move their money elsewhere. Today they made good on their word.
Check out the video and photos from today's action on Facebook.
Westpac likes to make a lot of positive noises about sustainability but it stands in stark contrast to how they invest their (and their customers') money. Most recently, Westpac took on a leading role in providing finance for Indian conglomerate Adani so they can hold onto the Abbot Point coal export terminal in the Great Barrier Reef World Heritage Area.
This is the final step on our way to a national day of divestment action on the 3rd of May. Market Forces and 350.org are encouraging anyone with a bank that is financing the dirty fossil fuel industry to join up and take part on what will be like today's Westpac activity but with hundreds of people around Australia, all at once!