27 May 2014
I'm on my way back to Australia and taking stock after a whirlwind tour of France, Germany and the UK, where three major banks were targeted and called on to not fund the Abbot Point coal port expansion in the Great Barrier Reef.
I can't deny that the last week and a half has been intense. Constantly on the move, waking up at 6.30 each morning to get some overlapping "Aussie time" and usually working until about 1am every night. I thought it hilarious that the head of the Queensland Resources Council, Michael Roche, described this trip as a "holiday."
Tip: never go on holiday with Michael Roche unless you love heavy workloads, sleep deprivation and delight in taking in the views of nothing but conference venues and meeting rooms!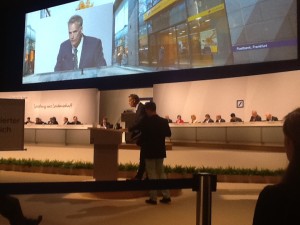 But the intensity of the trip was well worth it, as we've made remarkable progress on this campaign. Let's just recap what we are coming home with:
A commitment by Deutsche Bank, at their annual general meeting, that they would not consider any request to finance the expansion of the Abbot Point coal export port, based on concerns held by UNESCO over the impacts of the proposed expansion the Great Barrier Reef World Heritage Area.
HSBC, at their AGM the day after Deutsche Bank's, also acknowledging the World Heritage Committee's concerns over Abbot Point, and saying it is "extraordinarily unlikely that we would go anywhere near it."
Société Générale failed to commit to not funding the port but did meet with us to hear our concerns about the port, rail and mine project and its impacts on local communities, the environment and climate. They also faced an escalating public campaign from local groups, which is even starting to see customers divest from the bank!
That's added to a written acknowledgement we received a few weeks back from Credit Agricole that they declined to finance Abbot Point.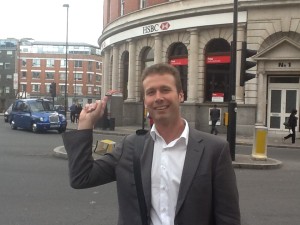 This is a lot of progress, and remember, we didn't just pick these banks' names out of a hat. We chose to work on each of them for a reason.
Deutsche Bank last year helped refinance the existing Abbot Point coal export port, owned by Adani who are proposing one of the new coal export terminals. HSBC has funded two LNG plants on Curtis Island in the Great Barrier Reef World Heritage Area, so has form or these kind of dirty deals. Société Générale is advising GVK on their Alpha Coal mine-rail-port project, essentially helping the project become fit for promotion to investors. And Credit Agricole is not to be sniffed at either, having made loans worth over $1.2 billion to fossil fuels in Australia since 2008.
These results are important for many reasons. First, in and of themselves, they matter because we're talking about projects that would require tens of billions of dollars to go ahead. It's highly likely that a combination of many Australian and international banks would be needed to fund the mega coal mines, rail lines and coal export terminals that are proposed. We can't just work on finance in one region if we're going to stop these coal export expansions. Second is the significance of these banks, which I've outlined above. Third, and by far the most important, is the momentum it gives to this campaign. While we would love it if the banks came out all at once to declare they won't finance the expansion of Abbot Point, we learned last week that one bank can quickly turn into two, and then three. We need to build even more on that momentum.
So where to from here? Critically, we need to build on the momentum we've created and make sure other banks won't fund these dirty coal export projects. Top of the priority list is the 'big four' Australian banks (ANZ, Commonwealth, NAB, Westpac). We now have an incredible situation where the Australian banks are doing less to defend the Great Barrier Reef than some on the other side of the world.
The 'big four' are also crucial because of the dominant role they play in financing fossil fuel projects in Australia. Out of about a hundred banks that we have studied, these four have provided a quarter of all finance and have been involved in far more deals than any other bank.
If you're a customer of one of the big four banks, you might also like to make it personal, and put your bank "on notice." That is, notifying them that unless they stop funding dirty coal and gas projects, you'll take your money elsewhere.
We'll be cranking up our work over the coming months to keep distance between these new mega coal export projects (and other new fossil fuel ventures) and every little bit from the public to support this work counts a great deal.
Let's go and win this.