26 May 2022
In November 2021, after a short and sharp public backlash, the Bank of New York Mellon (BNYM) became the 104th company to cut ties with Adani's disastrous Carmichael coal project. For many years, BNYM was playing a specialised role as the security trustee for the debt linked to Adani's coal port – North Queensland Export Terminal (NQXT, rebranded from Adani Abbot Point Terminal in 2020). The Carmichael coal project includes a new thermal coal mine in the untapped Galilee coal basin in central Queensland, Australia, and a new rail line from the mine to the existing NQXT port, via which the coal will be exported. NQXT is located in the Great Barrier Reef World Heritage Area.
"After review, BNY Mellon has decided to resign from all legacy transactions with Adani in Australia and will not pursue additional transactions with Adani in Australia. BNY Mellon has determined this business is not aligned with our ESG [environmental, social and governance] principles."

BNY Mellon
With BNYM on its way out, Market Forces reached out to the companies that could replace it. Most replied, with Perpetual, AMAL, Metrics and SILC Group ruling themselves out entirely, and others, including Equity Trustees and MSC Group, going on the record to say they have no current involvement (but refusing to rule out future participation). Despite several emails and phone calls directed to GLAS's top executives Mia Drennan, Brian Carne, and Kate White, GLAS did not respond.
"We recognise the risks related to the project and we can confirm that in the event our trustee business, Perpetual Corporate Trust, was approached to act as trustee, we would not be in a position to provide these services."

Perpetual Ltd
Since then, Market Forces has received information, believed to have originated from GLAS, that GLAS is working with Adani on Carmichael coal project financing. GLAS's reputation is now at serious risk.
The Adani Carmichael project is arguably the most environmentally and socially contentious project in Australia's history. It does not have the Free, Prior, and Informed Consent of the Traditional Owners, who continue to oppose it. It would drain the region of tens of billions of litres of water per year, putting agriculture in the region at risk. It is increasing industrialisation in the already distressed Great Barrier Reef World Heritage Area. Most significantly, it would produce enough coal over its lifetime to emit 4.6 billion tonnes of CO2 into the atmosphere, equivalent to over eight years of Australia's annual greenhouse gas emissions, fueling more—or more intense—bushfires, cyclones, floods, and heatwaves.
Due to the controversy and impact of Adani Carmichael, 112 companies have publicly ruled out involvement with the mine, rail line and port.
Any work GLAS does for Adani's Australian coal infrastructure could facilitate expansion of thermal coal production in the midst of the climate crisis. This is the opposite of what is needed. GLAS employees need to speak out in order to save its reputation, which is currently under threat.
"AMAL Trustees is not providing any services to Adani's coal infrastructure in Australia and has no plans to provide services in the future."

AMAL Trustees
"Metrics Credit Partners have no exposure to Adani and, in accordance with Metrics ESG policy set out on our website, we do not lend or provide financial services to companies operating in the coal sector."

Metrics Credit Partners
Are you a GLAS employee?
If yes, click on the button below to take the GLAS staff survey.
A message for GLAS from the Wagan and Jagalingou Traditional Owners
The Wangan and Jagalingou are the Traditional Owners of the land where the Adani Carmichael mine is being built. They are asking GLAS to walk away from any involvement in the Carmichael project, and for GLAS staff to speak up in support of their rights.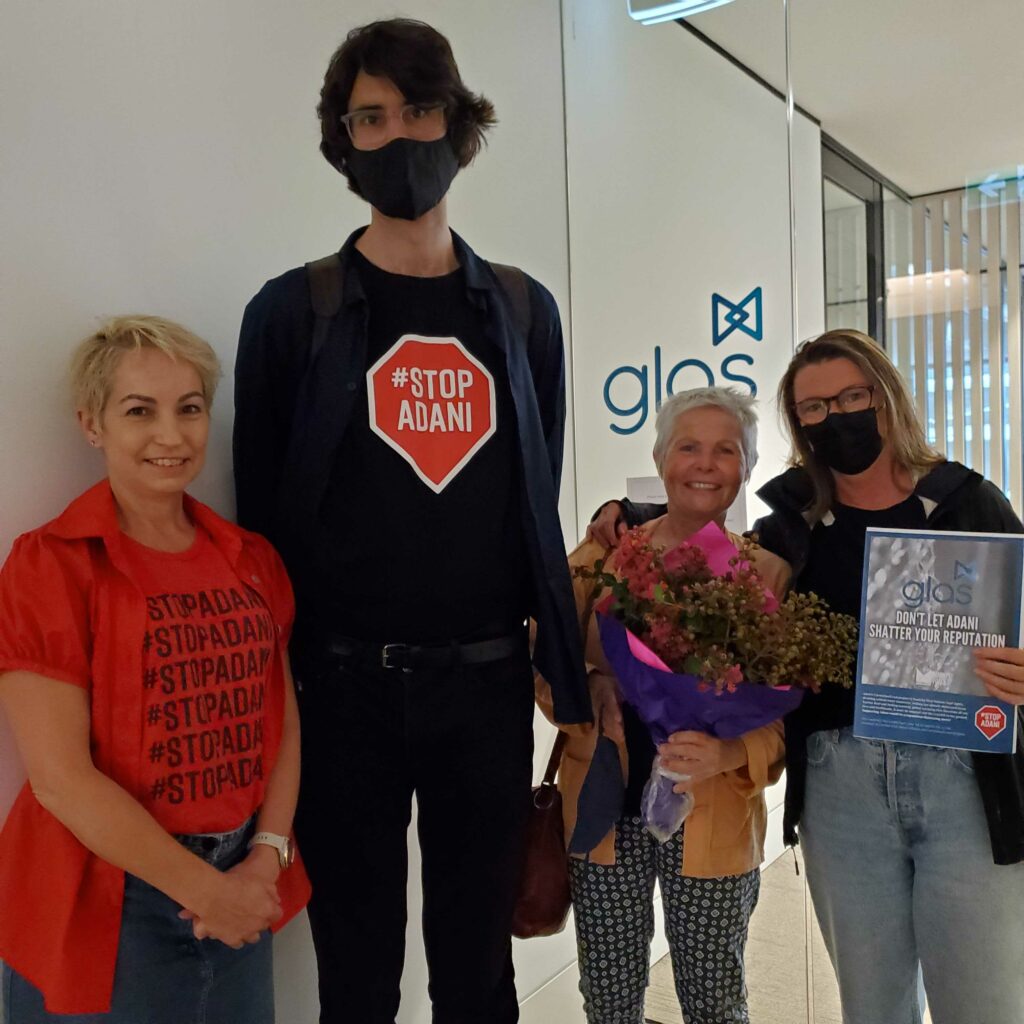 This morning, we delivered a letter to GLAS Chairs calling on them to make an immediate commitment to not provide any financial services to the Adani Group @BravusResources—which is fair enough considering the Carmichael coal mine alone is over ten times the UKs entire emissions. pic.twitter.com/ESuogFulk5

— XR Money Rebellion (@money_rebellion) February 17, 2022
"The SILC Group recognises that every corporate entity has a responsibility to its employees, clients and external stakeholders to ensure that it behaves responsibly in all aspects of its business…As such The SILC Group will not participate in the Adani project."

SILC Group