In the last two weeks, the vast majority of Australia's super funds have voted on your behalf:
To put a climate sceptic into the top job at one of Australia's biggest financial institutions;
Against QBE setting targets to restrict its insurance and investments in oil and gas; and
Against Rio Tinto setting emission reduction targets in line with the Paris climate goals.
These votes have actively obstructed climate action at some of Australia's biggest companies. It's not good enough from super funds that are supposed to act in our best interests.
Take action
Ask your super fund to explain its climate voting failures, and demand support for upcoming climate votes.
AMP's latest governance failure
This is the person most Australian super funds thought was suitable to be in charge of one of Australia's biggest financial institutions: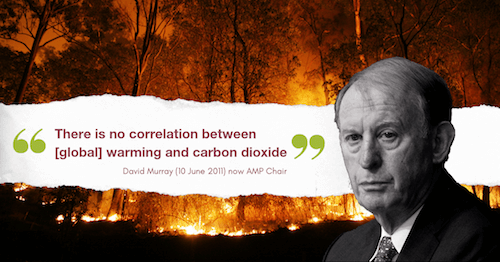 Admittedly those comments were made some time ago. So David Murray was given the perfect opportunity to retract or clarify his climate views.
His response? "My views on climate change are not important."
Lawyers and regulators beg to differ.
According to the Commonwealth Climate and Law Initiative, and consistent with commentary from APRA, ASIC, Noel Hutley SC, directors can breach their duties by disregarding climate risk, failing to make informed independent considerations of its potential impacts on their company, and/or being conflicted by a position of 'default denialism.'
How can someone who thinks climate change isn't a big deal be trusted to fulfil these duties?
That's a question for your super fund.
Super funds buy gas industry spin
At QBE's annual meeting, super funds fell for the gas industry's favourite line: "gas is a transition fuel that will help us meet the Paris climate goals."
Combined, oil and gas produce more greenhouse gas emissions that coal. We know there is no room to expand oil and gas if we are to limit global warming to 1.5°C.
Yet super funds failed to take a wholistic view of the climate problem, and resoundingly rejected the call for QBE to set targets to phase out its support for oil and gas over time.
Rio Tinto's biggest contribution to climate change allowed to go unchecked
The greenhouse gas emissions generated by customers making steel from Rio Tinto's iron ore are equivalent in scale to Australia's total annual emissions. Meeting the goals of the Paris Agreement will require a rapid and drastic reduction in these emissions, presenting a huge financial risk to Rio Tinto.
A shareholder resolution calling on Rio to set targets to reduce these emissions, and therefore its exposure to transitional climate risk, attracted just 6% of shareholder support. That makes it highly likely your super fund voted against the proposal.
Clearly, our super funds are prepared to 'wait and see', rather than proactively ensure members' retirement savings are protected against foreseeable financial impacts of climate change. Those in charge of our retirement savings have failed to live up to their claims of active ownership and commitment to climate action.
It's time to hold them to account.
Take action! Ask your super fund to explain its climate voting failures, and demand support for upcoming climate votes