29 November 2018
"We only have $38 million worth of equipment that may be used in environmentally sensitive areas," Bank of Queensland (BOQ) chairman Roger Davis told the bank's annual general meeting (AGM) in Brisbane today as fires raged around the state. Davis was referring to the tens of millions the bank has lent to fossil fuel companies directly involved in coal mining, oil & gas extraction or petroleum exploration.
And whilst the lending will stop by 2032, that's still half a decade away. The dire warning handed down by the IPCC in its latest report, indicates there's only 12 years left to limit warming to 1.5 degrees. Failing to achieve this could mean the end for the Great Barrier Reef.
Surely that's of grave concern to a bank that profiles customers on its website whose income is derived from the reef and whose boss sits on the Chairman's Panel of the controversial Great Barrier Reef Foundation.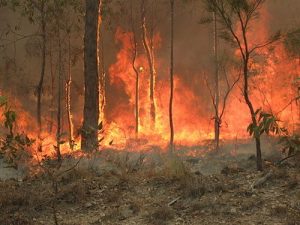 Not to mention that its home state Queensland is currently experiencing  bushfires of hellish proportions. Yesterday was the first time ever that fire danger ratings reached 'catastrophic' levels in the state – an event eerily foreshadowed two months ago in research linking increased risk of fire to climate change in the state. 
So what has the Bank of Qld done so far to demonstrate how it plans to mitigate the physical and transitional risks posed by climate change? At this stage it appears very little.  Based on what its board has said so far, the bank clearly lags way behind its peers. BOQ shareholders are yet to get a clear answer on just how the bank defines and plans to mitigate the risks posed by climate change.
There was confusion too on whether BOQ's auditor considered climate change to be a material financial risk. Davis answered, "No" on the auditor's behalf, but when questioned why BOQ had decided that climate bore no such risk he replied: "We didn't say that." Watch below:
BOQ which owns Virgin Money Australia and St Andrews Insurance has committed to disclosing against recommendations made by the G20 led Task Force on Climate Related Financial Disclosures (TCFD). It joins over 500 companies globally worth almost $8 trillion US. But unlike many of its ASX100 listed peers, the bank has not set a timeline to release these disclosures to shareholders, or said whether it will disclose against all recommendations.
Asked when shareholders will be able to see these disclosures, including detailed scenario analysis, Davis told the meeting that "you'll appreciate the dimensions of trying to respond to some of the climate issues are exceedingly broad it affects housing availability,  insurance, automobiles, there's an extensive array of issues that we have to deal with and properly understand." 
Indeed the issues are broad, and the risks posed by climate wide-reaching, if anything lending weight to the idea that disclosing this information sooner rather than later is important for all parties involved. The big four Australian banks have all set timelines for when scenario analysis will be disclosed to shareholders, with Westpac and CommBank having released partial analysis already.  BOQ needs to get moving.
Take action
Is your super invested in dirty fossil fuel projects? Find out here!