3 August 2016
Australia's big four banks have made a mockery of their 'two degree' commitments, pouring $5.6 billion into the fossil fuel sector since the December 2015 Paris climate change agreement.
Our latest research shows the banks' have failed to come anywhere close to meeting their commitments to help hold global warming to less than two degrees, with each of ANZ, Commonwealth Bank, NAB and Westpac failing to meet even the most basic criteria: ending finance for projects that expand the fossil fuel industry.
The banks policies and actions need to quickly fall into line with their two degree commitments.
Since their pre-Paris announcements, ANZ, Commonwealth Bank, NAB and Westpac have collectively loaned $5.6 billion to fossil fuel projects and companies around the world.
The largest single lender is Commonwealth Bank at $2.2 billion, followed by $2.1 billion from ANZ, $900 million from Westpac and $400 million from NAB. This takes total lending to fossil fuels by the big four banks to over $70 billion since 2008.
Click here to check out our newly-updated Fueling the Fire page and learn more about banks' lending to fossil fuels.
Deals uncovered by our research include NAB facilitating an intercompany loan between beleaguered coal miner Peabody and their Australian subsidiary, which the company is claiming will enable the expansion of their Wambo coal mine in the Hunter Valley.
In April this year, ANZ arranged a loan to InterOil to enable them to develop "one of Asia's largest undeveloped gas fields, Elk-Antelope". Both ANZ and Westpac contributed to the deal.
And despite the environmental disaster caused by the Deepwater Horizon disaster in 2010, CommBank saw fir to help finance the Heidelberg deep water drilling project, 1620m below sea level around 225km off the Louisiana coast in the Gulf of Mexico.
The new lending figures also overwhelm the $1.5 billion invested in renewable energy since the banks' two degree announcements, with only NAB having a positive ration of clean to dirty energy finance in that time. This is completely out of step with global trends, with clean energy attracting twice as much finance as fossil fuels around the world in 2015.
Since their commitments on two degrees last year, for every $1 invested in renewables, Westpac has loaned $11.60 to fossil fuels, ANZ $10.10 and CommBank $4.25.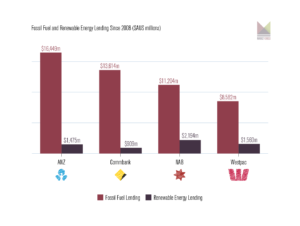 Taking action
Market Forces is calling on customers of the big four banks to put them on notice to send a message loud and clear that while they fail to live up to their climate change commitments, while they continue to finance fossil fuels to the tune of billions of dollars each year, their customers will take their money elsewhere.
You can do this by completing the form below.
To date, customers worth over $500 million in savings alone have put their bank "on notice", warning that unless the banks stop lending to fossil fuels, customers will take their business elsewhere.
It's time we turned that risk into a reality.