In a win that's been a long time coming, news broke this week that Australia's largest independent coal miner Whitehaven Coal is currently unbankable. This is a major development that further proves the effectiveness of the people-powered movement to drive finance out of fossil fuels!
Earlier this week, Whitehaven announced it had failed to renew its $1 billion corporate loan, which had been in place since 2020. The loan facility included lending commitments from Australia's big banks NAB and Westpac, as well as Japanese megabanks Mizuho, MUFG and SMBC among a group of 13 total lenders. This loan was first inked in early 2013, meaning this failure to renew marks the end of ten years of financial backing from major banks.
The fact that Whitehaven has not been able to convince these banks, or others, to renew the loan is a critical tipping point in the campaign to drive finance away from fossil fuel activities that are incompatible with the climate goals of the Paris Agreement.
Whitehaven wanted to refinance this loan. In its last quarterly report, Whitehaven told shareholders it was in talks with its banks and hoped to secure a refinance soon. Its failure to do so shows that banks no longer view Whitehaven as an attractive client, and that people power works.
Congratulations to the thousands of bank customers, shareholders and community members who have taken action to raise the pressure on these Australian and international banks!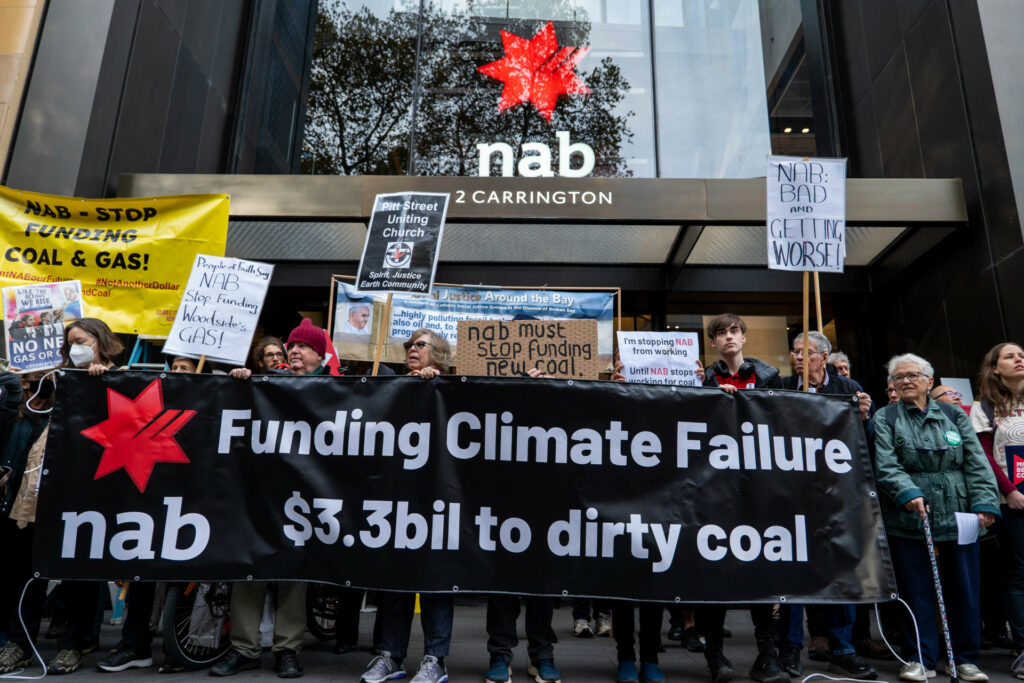 Three years is a long time in fossil fuel finance
In 2020, Whitehaven was able to attract a billion dollars in corporate financing despite commitments made by NAB, Westpac and several other banks in Whitehaven's lending syndicate to support the climate goals of the Paris Agreement and place restrictions on providing project finance to new coal mines. Pure-play coal miner Whitehaven could use this money as it pleased, including for plans to develop new coal mines.
Fast forward three years, and the banks' decision to now turn their backs on Whitehaven is a critical demonstration of the impact of community pressure. This campaign has involved everyone from school students to retirees, First Nations communities, climate-impacted communities, farmers, parents, footballers, bank staff and more. It's a testament to all of their efforts and the power we all hold that this pressure has been able to influence positive change from some of the biggest financial institutions in Australia, and around the world.
What does this mean for Whitehaven?
Whitehaven is planning to develop new and expanded coal mines and is also interested in buying up existing coal mines. The costs of these projects would run into the billions of dollars on top of the costs associated with running its existing operations. The banks' refusal to renew Whitehaven's loan forces the company to finance more of this expenditure internally (i.e. with its own cash reserves, instead of using other people's money) which makes it more difficult overall for the company to pursue its climate-wrecking coal expansion plans.
Whitehaven has $2.6 billion in cash, having raked in profits from the exorbitant coal prices that resulted from the global energy turmoil caused by Russia's invasion of Ukraine. But Whitehaven is facing growing demands to return more of that cash to shareholders, rather than wasting it on coal expansion projects that would be stranded by the rapid energy transition required to meet the climate goals of the Paris Agreement and avoid the worst impacts of global warming.
In 2022, investor support for a resolution calling on Whitehaven to manage down coal production in line with a net zero emissions by 2050 scenario doubled from the previous year to more than 20%. More than a fifth of the company's shareholders rejected Whitehaven's climate-wrecking growth plans and instead demanded the company take its strategy in the opposite direction.
What about other companies expanding fossil fuels?
Whitehaven's failure to renew its corporate loan is a warning to all companies with fossil fuel expansion plans: banks can and will turn off the money tap. But it is up to us as a people-powered movement to hold our banks to account.
Despite this great win, the giant loophole in banks' policies that allows corporate finance to companies whose new fossil fuel plans would be ineligible for direct project financing continues today. This is why there was no guarantee that Westpac, NAB and others would not refinance Whitehaven's loan.
We can't afford to wait another three years for the banks to close their loopholes. If we are to have any chance of a stable climate, we need to act quickly, building on this momentum to secure commitments from the banks to stop all finance to new or expanded coal, oil and gas projects and the fossil fuel companies pursuing them.