On 22 June 2017, some 18 months after committing to support the aims of the Paris Agreement, Australia's big four banks all contributed to a deal to finance more oil and gas exploration and production.
Clearly, ANZ, CommBank, NAB and Westpac are yet to come to terms with exactly what needs to be done to limit global warming to well below two degrees.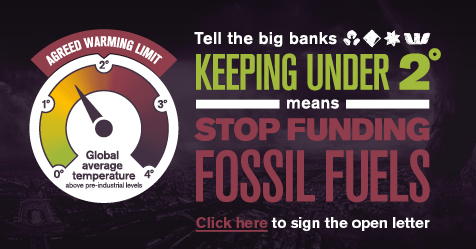 The June loan saw a total of US$600 million flow from a syndicate – including the big four Australian banks and 10 international banks – to Papua New Guinea-based petroleum company Oil Search. The Aussie banks contributed US$55 million (AU$77 million) each.
As reported by IJGlobal, the purpose of the loan was to cover "general corporate purposes including payment of fees under the Finance Documents, capital expenditure, acquisitions, investments and equity commitments under any project financing".
For an oil and gas company like Oil Search, a lot of capital expenditure goes towards finding and developing new oil and gas reserves. Equity commitments under project financing would allow Oil Search to take ownership stakes in new oil or gas production or transport projects like production wells or pipelines.
Out of line with 2°C
Oil Search is one of three Australian-listed companies to have featured in a recent Climate Tracker report, which found that US$2.3 trillion of projected capital expenditure (capex) on upstream oil and gas projects would be wasted under a 2°C warming scenario.
The analysis found that 50-60% of Oil Search's projected upstream capex would be outside the 2°C carbon budget, placing the company in the in the top 10 most exposed publicly-listed oil and gas producers in the world.
To put it simply, the report found that Oil Search's 'business as usual' operations would be completely out of line with the global commitment to limit warming to less than 2°C.
Capacity for change?
Market Forces worked with shareholders earlier this year to produce a commitment from Oil Search to measure and disclose the risks posed to the company under both 1.5 and 2°C warming limited scenarios. This points Oil Search ahead of their peers on climate risk disclosure, but the company isn't shy about its plans to grow its reserves of fossil fuels.
When committing to climate risk disclosure at the company's annual general meeting, Oil Search's Chairman Rick Lee was keen to stress that the company would continue to search for and produce more fossil fuels. While their 1.5 and 2°C scenarios are still the best part of a year away, it's going to be interesting to see how this view gets reconciled with Carbon Tracker's findings.
The big banks aren't getting it
The massive bank loan to Oil Search will clearly go towards projects that expand the scale of the fossil fuel industry. As shown by the Carbon Tracker report, this expansion is out of line with the internationally accepted 2°C warming limit.
So how can the big four banks balance the Oil Search loan with their 2°C commitments? It seems that still, after 18 months, our banks don't understand just what operating in line with the Paris Agreement looks like.
Are you with one of the big four banks? Put them on notice over their fossil fuel lending: