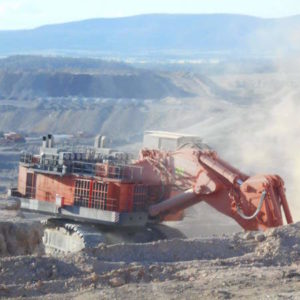 Whitehaven Coal's Maules Creek mine was recently upgraded to the EPA's highest environmental risk category, making it one of NSW's three dirtiest mines. The company is also planning to expand its Vickery coal mine, which the local community is resisting due to grave concerns over environmental impacts.
Despite Whitehaven's appalling environmental record, and the fact that it wants to expand its coal mining operations at the expense of the local environment and global efforts to halt climate change, the company still clearly has the support of Australia's big banks.
ANZ, NAB and Westpac in August arranged a $1 billion, two year extension to a corporate financing deal for Whitehaven. This deal will help fund Whitehaven's dirty operations through to the middle of 2021. To be clear, Whitehaven is a pure play coal miner, meaning its only business is digging up and selling coal. So any corporate finance is going to be used to push us closer to runaway climate change, and continue to damage the environment and endanger communities.
After years of strong and sustained community resistance, Whitehaven's Maules Creek mine began producing coal in 2015, having destroyed part of the Leard State Forest and threatening species in the process. Whitehaven's environmental record while operating its mines is also atrocious, with documents revealed by Environmental Justice Australia showing that all four of Whitehaven's coal mines in the Namoi region of north west New South Wales breached at least one – and in some cases, several – of their licence conditions most years between 2010 and 2016. Breaches included exceeding harmful coal dust pollution levels, and polluting waterways.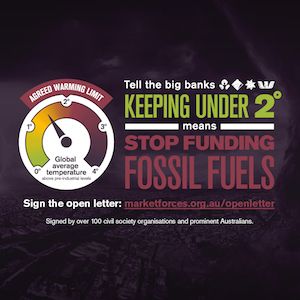 And yet three of Australia's biggest banks are still happy to support the toxic coal company.
Even if you're not a customer of the big banks, you can join our campaign to get them to stop funding fossil fuels – click here to sign our open letter!
Two degrees means no more fossil fuels
Australia's big banks have all publicly supported the global commitment to limit global warming to less than two degrees. But since making those commitments in late 2015, ANZ, Commbank, NAB and Westpac have loaned a combined $17 billion to the coal, oil and gas industry.
Our research shows that the banks direct financing of coal project has dried up since their 2°C commitments. But corporate financing deals, like this latest one for Whitehaven, are enabling companies to expand their coal operations, threatening to push us beyond the 2°C warming limit.
Click here to read our full 2°C Scorecard for the big banks and take action.