Estimating the cost of HESTA's half-hearted divestment
HESTA is an industry super fund for health and community services workers. It manages about $32 billion in assets for approximately 800,000 members across the country.
In September 2014, HESTA made a welcome announcement restricting future thermal coal investments across its portfolios. But their divestment action was limited to just a fraction of their funds under management, and we have been able to estimate that not divesting from coal has cost HESTA around $165 million in the year to 30 September 2015.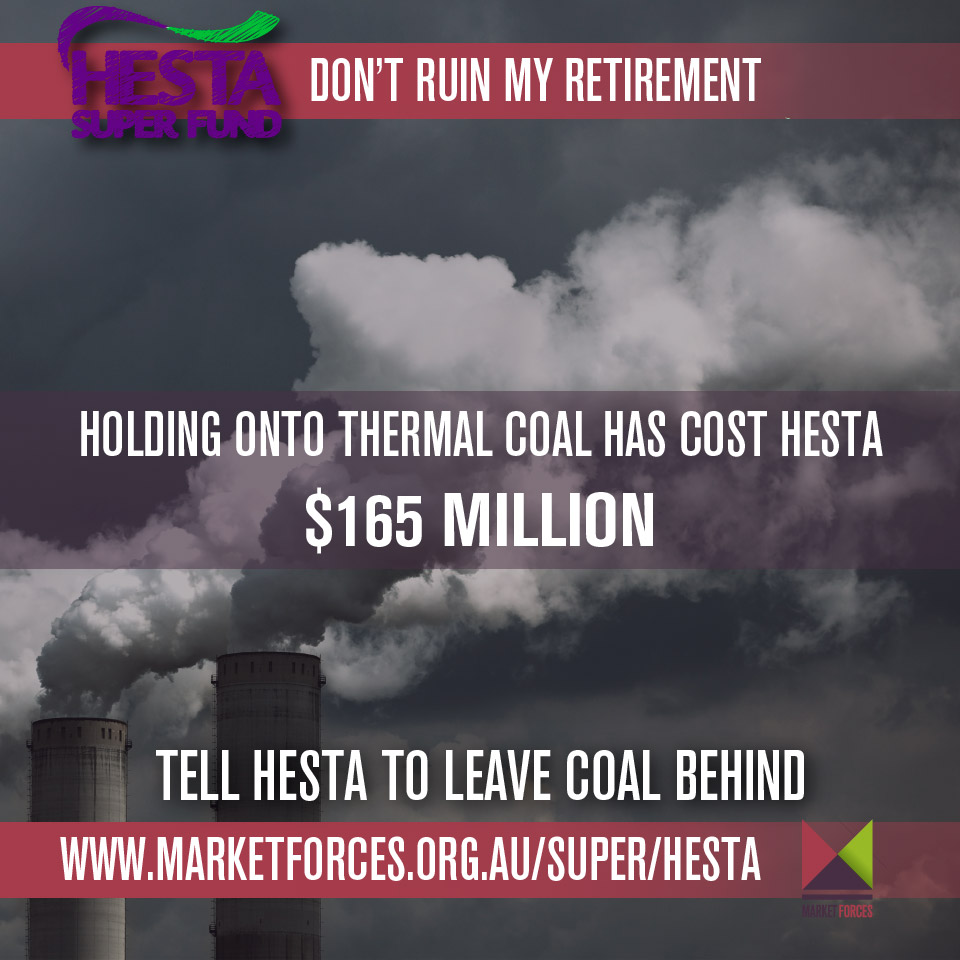 "HESTA is of the view that, new or expanded thermal coal assets face the highest risk of becoming stranded before the
end of their useful life… It is not prudent, nor in the long-term interest of members, to invest in the expansion of these assets."HESTA Chief Executive Officer, Anne-Marie Corboy - Media release, September 2014
How did this translate into policy?
In their largest investment option, the Core Pool (which is also their MySuper default option), HESTA said they would not make any new investments in companies that derive more than 15% of their revenue or net asset value from thermal coal, including exploration, production and transportation. In other words, the restriction only applied to new investments – all existing thermal coal investments would remain.
From their sustainable investment option, the Eco Pool, HESTA committed to divesting from existing thermal coal assets as well as restricting any new investments. This extended to companies generating electricity from brown coal.
So how have the different options fared?
We've gone through the interesting (although painstaking) hypothetical exercise of examining the different impacts each option's coal policy has had over the past year. This isn't as easy as it sounds, check out the methodology section below to find out how we arrived at our findings.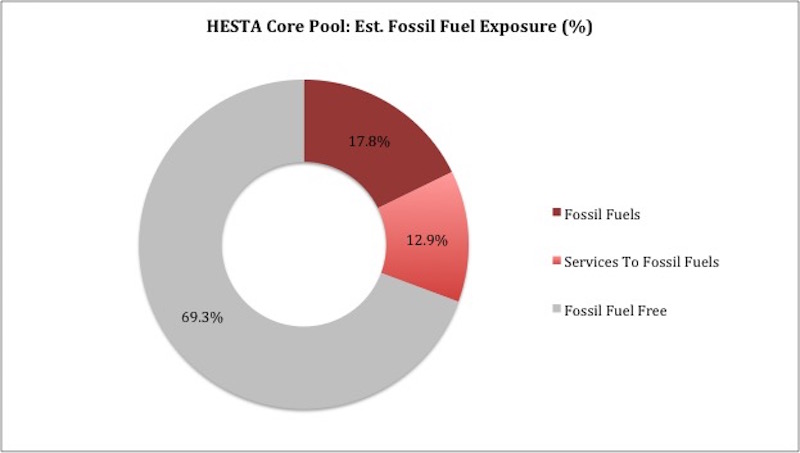 The results are staggering. At the time of last year's announcement, HESTA's fossil fuel exposure was nearly 18% of their entire portfolio. This compares to the measly 3.3% that was publicly disclosed to members.
In short, because HESTA hung on to coal assets in its biggest portfolio, we estimate the fund lost in excess of $165 million in the calendar year to 30 September 2015. This is without including the huge losses on BHP Billiton in the wake of the Samarco disaster in Brazil.
HESTA provided decent returns to their members in the period we analysed. The Core Pool returned 10.03% in the year to 30 June 2015, and the Eco Pool 14.11%. However, the Core Pool return would have been substantially improved by the exclusion of coal exposed companies.
We acknowledge HESTA was making the right noises when it declared a year ago that it was divesting from fossil fuel investments. But this case study highlights why superannuation members need to demand more than the right rhetoric from their funds – they need to demand intellectual consistency and transparency.
Of course life would become infinitely easier for super fund members and Trustees if the industry were given clear guidelines on this long-term issue.
As energy stocks have continued to fall in value over the last year, it is clear HESTA made the wrong call in not divesting coal from its entire portfolio, not just the Eco Pool.