Tell HESTA to divest from Woodside!
An open letter to HESTA from members: it's time to ditch Woodside
Bushfire survivor and HESTA member Jo Dodds recently made headlines by submitting a legal challenge to the fund over its investments in Woodside and Santos. Now other members are getting behind Jo and demanding HESTA divests from Woodside over its decision to develop a new oil field.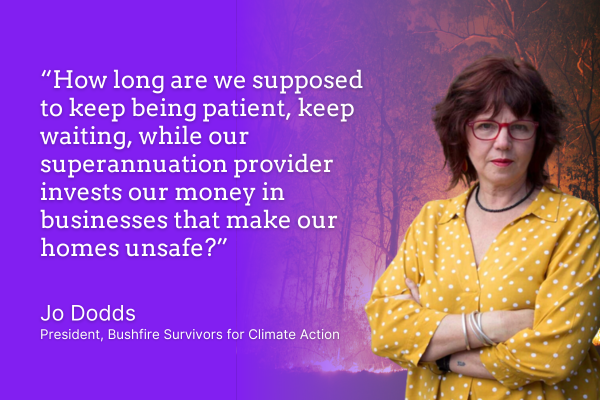 The open letter can be found at the bottom of this page.
Complete this form to add your name to the open letter calling on HESTA to divest from Woodside.
By submitting this form, you consent to having your name displayed as a signatory on the open letter in the form: First name, last initial. The open letter will be sent to HESTA and may be published in print and digital media including newspapers, our website and social media.
HESTA – which has long claimed to be a climate leader – placed climate wreckers Woodside and Santos on a 'watchlist' in 2022, asking these companies to demonstrate how their business strategies are aligned with global climate goals. Yet Woodside has recently made the decision to proceed with a new oil field in the Gulf of Mexico, a massive step in the opposite direction – and so far, HESTA has failed to respond.
The science is clear that achieving global climate goals means no new fossil fuels, but companies like Woodside continue to recklessly pursue oil and gas expansion plans which are destroying our chances of meeting these goals.
HESTA must now live up to its claims of climate leadership by demonstrating to Woodside that fossil fuel expansion is unacceptable as it is incompatible with a safe climate future.
HESTA: It's time to ditch Woodside.
Join other HESTA members in signing on to the open letter today!
Read the open letter below.
Join the open letter: call on HESTA to divest from Woodside!
Subscribe for email updates: be part of the movement taking action to protect our climate.