28 August 2020
All five of Adani's Abbot Point coal port's existing Korean creditors have now ruled out providing any further funds to the port linked to the disastrous Carmichael mine and rail project.
Market Forces and Bushfire Survivors for Climate Action first wrote to Samsung Securities, Hanwha Securities, Mirae Asset Daewoo, Korea Investment and Securities and the Industrial Bank of Korea on 5 June. These companies were involved in two loans to Abbot Point, made in 2018 and 2019.
We asked these companies to rule out any further funds for the coal port, due to its links to the Carmichael coal project and the damage to the climate, water supplies and local ecosystems that the mine and railway project would cause.
Starting with a commitment from Samsung on 17 July after a protest outside one of its stores in Sydney, all five of these companies have now confirmed they will not provide any further funds as Abbot Point tries and fails to refinance its substantial debt.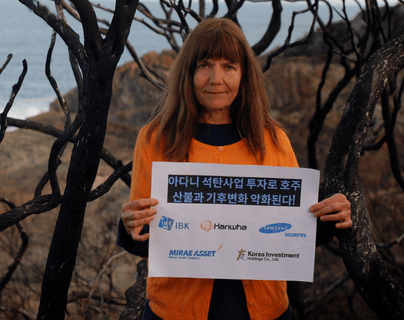 Click here for more information on Abbot Point's debt
Adding to Adani's Abbot Point problems, on Thursday it lost a case in Queensland's Supreme Court brought by four of its coal port customers, with a judge ordering Adani to pay $106m.
According to a report in the Courier Mail, the judge blasted Adani's "dishonest behaviour" which she said was "deliberate, not just heedless or indifferent".
Take action by filling out the form on this page to ask Adani Abbot Point's remaining creditors to walk away once their current debt matures. Pressure from #StopAdani and other climate activists has been a key factor in convincing creditors to walk away from funding both Carmichael and Abbot Point.