22 November 2018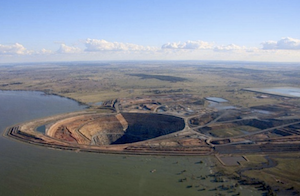 Evolution Mining is a gold mining company with operations mainly in Queensland and Western Australia.
The gold miner scored dismally low in our latest Investing in the Dark research released in August. The company has not:
clearly acknowledged the science of climate change 

considered climate change as a material financial risk

developed an emission reduction plan or set absolute emission reduction targets.
There has been some shift in the last few months as their annual report published in October stated: "Evolution acknowledges that climate change is occurring and its effects have the potential to impact our business. In FY19 we plan to identify and assess climate-related impacts to our business."
However, this commitment was not reflected at today's annual general meeting when several shareholders raised concerns about Evolution's management of climate-related risks.
One asked the board if they support the Paris climate accord that the Australian government is signatory to, chairman Jacob Klein simply responded: "We have not made a decision to support that agreement."
When asked if climate risk was considered as a financial risk in the audit, the answer was no. Not satisfied with this response, the shareholder asked how the board reached that conclusion.
Climate policy an issue for government, not gold miners
"Climate policy is an issue for the government," replied Klein. "Our job as a company is to produce gold at the lowest cost possible as efficiently as possible." He then referred to page 29 of the 2018 Annual Report which mentions that Evolution Mining plans to "identify and assess climate-related impacts to our business" in the coming financial year.
Klein also had a comment for shareholders concerned about the impacts of climate change: "If you're invested in this company and consider it a material risk to the company, then you need to assess that as a shareholder of the company."
But as we know, directors of companies are legally required to consider climate change risk. If Klein thinks it's only a matter for investors, he'd do well to read Noel Hutley SC's 2016 legal opinion 'Climate Change and Directors' Duties.'
When asked if the company stress tests their major investment decisions against different climate scenarios before making a final investment decision, Klein once again shifted the onus outside his company.
"As I said I think policy with respect to climate change is government policy," he replied.
With an increase in climate-related extreme weather events, and a global commitment to limiting warming well below 2°C, mining is one of many sectors facing a myriad of risks. Companies that are lagging behind on disclosure must evolve quickly to manage these risks and keep investors informed.
Take action
Your super fund might be invested in Evolution Mining, so it's a good idea to ask your fund to demand that companies like Evolution act responsibility with your money, and start taking climate risk seriously.
Do you own shares in a company? Tell us if you do, and we can let you know how you can use your voice to get companies doing the right thing!