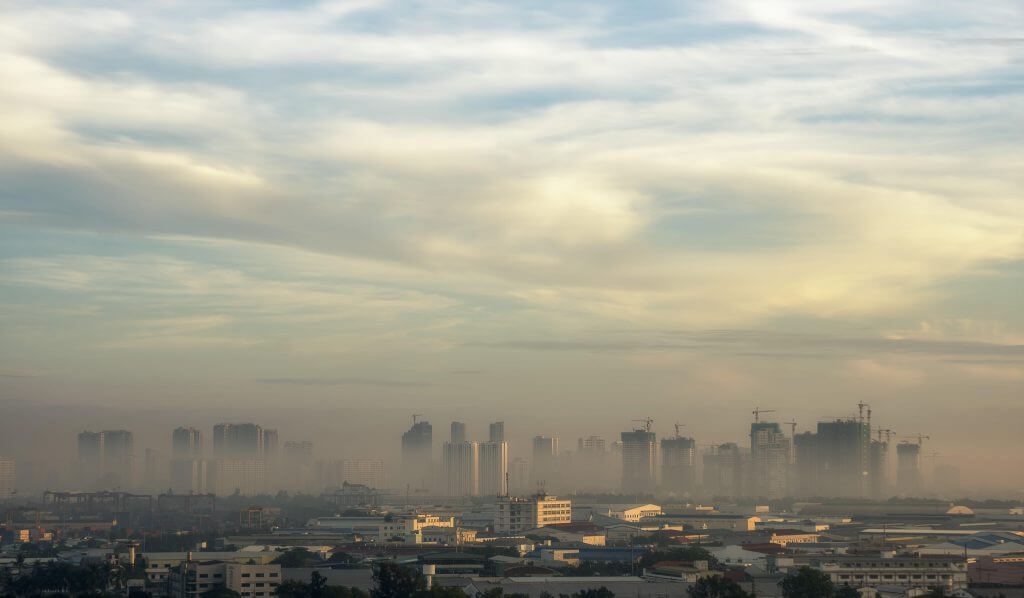 Right now, there are several Japanese-financed coal-fired power stations in the pipeline in Vietnam and across Asia — Van Phong 1 is a prime example of how dirty and polluting these projects can get.
What does this highly-polluting technology mean for locals living in areas around the plant? The Greenpeace Global Air Pollution Unit has produced a report on the health impacts of the recently financed Van Phong 1 coal power project in Vietnam to answer this question.
Outdated, polluting technology
This Sumitomo-sponsored plant uses outdated, highly polluting technology, producing up to nine times more pollutants than the average new coal power plant in Japan, Korea or China.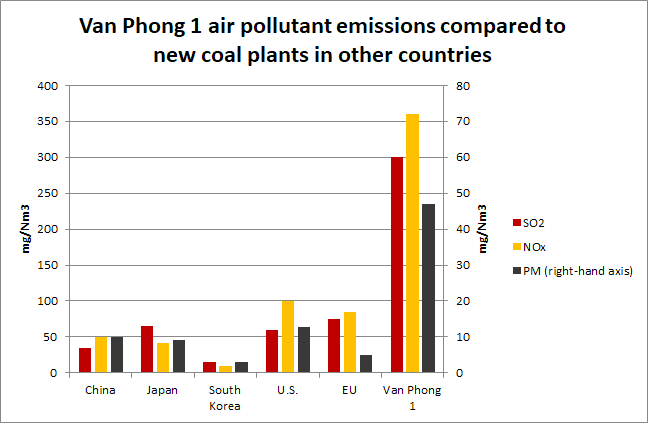 The increased emissions causes elevated levels of toxic particles (such as atmospheric particle matter of less than 2.5 micrometers, aka PM2.5) and nitrogen oxide (NO2). These toxins increase risk of diseases such as stroke, lung cancer, heart and respiratory diseases in adults, as well as respiratory infections in children. In the region surrounding Van Phong 1, this would result in more than 60 premature deaths per year from exposure to PM2.5 and NO2, or approximately 1,900 premature deaths over the plant's operating life of 30 years.
Emissions from Van Phong 1 would also expose an estimated 10,000 people to concentrations of sulfur dioxide (SO2) that exceed limits set by the World Health Organisation. This exposure carries a significant risk of acute respiratory symptoms, especially for vulnerable groups such as children and the elderly, and people with pre-existing respiratory ailments.
Emissions from the plant also cause acid rain, which can affect crops and soils, as well as fallout of toxic heavy metals such as arsenic, nickel, chrome, lead and mercury. In total, approximately 15kg of mercury per year is projected to be deposited on land surrounding Van Phong 1. With 37% of the projected deposits falling on cropland, there's a significant risk of methylmercury absorption in rice crops — a staple food in Vietnam.

Forced relocation and other intimidation tactics
Local residents have told Vietnamese community organisations they're worried about the mitigation of the coal ash, as well as the impact of cooling water discharge on fish in the nearby Van Phong Bay. Organisations report that although the communities living on the proposed site of the coal power station have been resettled in terms of housing, little thought has been given to alternative livelihoods for farmers and near-shore fisherfolk.
The AFP recently reported that Vietnamese authorities tried to evict a 99-year-old grandma. Although they demolished Grandma Ca's home to make way for the coal fired power plant, she has refuses to leave because the land that's been offered to her family is not suitable for farming.
Who's funding this?
The Japan Bank for International Cooperation, Mitsubishi UFJ Financial Group (MUFG), Sumitomo Mitsui Banking Corporation (SMBC) and Mizuho Financial Group (Mizuho), Sumitomo Mitsui Trust Bank (SMTB), DBS Bank, and OCBC signed a loan agreement to finance this project on 19 April 2019.
By financing the polluting Van Phong 1 coal-fired power station, the sponsor Sumitomo Corporation and the syndicate of banks are responsible for the health impacts and the affected livelihoods of the communities, and they must be held accountable.
Take action on the Japanese banks!