Japanese banks: respect your commitments
日本の銀行、国際合意を守って!
Don't fund dirty coal projects like Van Phong 1
---
---
Media release: JBIC and commercial banks shamelessly agree to finance Van Phong 1, despite multiple unresolved issues
---
19 April 2019: The decision by the Japan Bank for International Cooperation (JBIC) and a consortium of commercial banks to finance the proposed Van Phong 1 coal-fired power station in Vietnam has been branded as shameless and cowardly by clean energy advocates.
JBIC announced on its website that financing had been concluded, despite:
Van Phong 1's Environmental and Social Impact Assessment (ESIA) revealing air pollution rates would be up to nine times higher than those of the average Japanese coal power station,
The community consultation process was handled by the local government instead of an independent entity, and no evidence that replacement livelihoods were offered to dozens of families relocated from the area. One of them is 99 year old Grandma Ca who refuses to move from the site.
The fact that Van Phong 1 plans to use supercritical boiler technology, which is not allowed under the OECD sector understanding on coal power stations.  Read Market Forces' press release.
Read our letters to Aon, the insurance broker for the lenders, and Marsh, the insurance broker for the sponsor.
Financial: Sumitomo Mitsui Banking Corporation (SMBC)
Legal: Allen & Overy and Vietnam International Law Firm
CTCI (Taiwan)

IHI (Japan)

Toshiba (Japan)

MES (Japan)

Doosan Heavy
Marsh (advisor to Sumitomo)


Aon (advisor to lenders)
Loan signed 19 April 2019, Financial close reached 26 August 2019.

Estimated Cost: US$2.58 billion
Export Credit Agencies (ECAs)
Japan Bank for International Cooperation (JBIC):
US$1.5-US$1.8B: reported
Nippon Export and Investment Insurance (NEXI)
Banks:
Sumitomo Mitsui Financial Group (SMFG)
Mizuho Financial Group (Mizuho)
Mitsubishi UFJ Financial Group (MUFG)
DBS Bank
OCBC Bank
Bank of China
Lenders involved in Van Phong 1
---
Export Credit Agencies: JBIC and NEXI
Under the OECD Sector Understanding on Export Credits for Coal-Fired Electricity Generation (OECD Sector Understanding), to which Japan is a party, export credit finance can only be provided to projects that either 1) use ultrasupercritical technology, or 2) have an emissions intensity lower than 750g CO2/kWh.  As neither criteria applies to Van Phong 1, JBIC and NEXI should not have supported this project.
JBIC may claim that Van Phong 1 has been grandfathered in by the OECD Sector Understanding. The transitional clause of the OECD Sector Understanding states that:
The terms and conditions of this Sector Understanding are applicable to final commitments for goods and services covered by this Sector Understanding as of 1 January 2017, with the exception of those projects for which a request for proposals was issued prior to 1 January 2017, on the basis of a fully completed technical feasibility study and environmental and social impact assessment, and provided that an application for export credit support for any such project is submitted and acted upon expeditiously.
Although initial ESIAs were completed in 2011 and 2015, the most recent ESIA was completed in October 2017.  As Van Phong 1 had a completely new ESIA that superseded the previous documents, it did not fall into the above exception.
Further, given the earlier 2011 and 2015 ESIAs were completed eight and four years ago respectively, it cannot be argued that the project was "submitted and acted upon expeditiously."
JBIC and NEXI appear to have subverted the OECD Sector Understanding which is intended to only permit finance to technologies that have lower emissions intensities.
Commercial banks: SMFG, MUFG AND MIZUHO
Market Forces has carried out a detailed analysis of projects currently being considered by SMBC, Mizuho and MUFG, and found that Van Phong 1 would be ruled out by their coal policies.
SMBC has a coal power policy that explicitly rules out finance to coal-fired power stations that are not ultrasupercritical.  Mizuho and MUFG have coal power policies which reference compliance with international agreements such as the OECD Sector Understanding.
The OECD Sector Understanding regulates the funding of coal-fired power stations by certain countries, including Japan.  The Sector Understanding provides that for Japan (through JBIC) to be able to provide export credit finance to Van Phong 1, it would have to use ultrasupercritical technology or have an emissions intensity lower than 750g CO2/kWh.  As noted above, Van Phong 1 will use supercritical technology, which would be expected to have an emissions intensity between 750g and 850g CO2/kWh.
Given the technology type of Van Phong 1, SMBC, Mizuho and MUFG, would not be eligible to provide finance to this project.
Unacceptably high emissions
---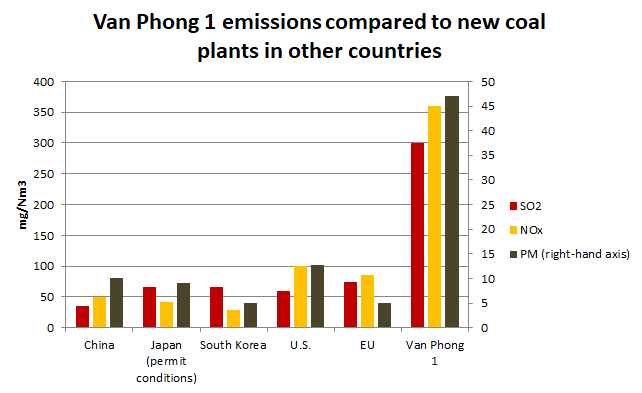 Analysis by Lauri Myllyvirta, Lead Analyst, Greenpeace Global Air Pollution Unit, based on 2017 ESIA
Greenpeace Global Air Pollution Unit has determined Van Phong 1 would produce air pollutants at rates significantly higher than the average new coal fired power stations in other countries.
Compared to the average new Japanese coal-fired power station, Van Phong 1 will emit five times as much particulate matter, five times the SO2 and nine times the NOx.
Dumping high polluting technology on Vietnam is unacceptable and creates significant legal and reputational risk for the companies involved.
Human Rights and other environmental concerns
---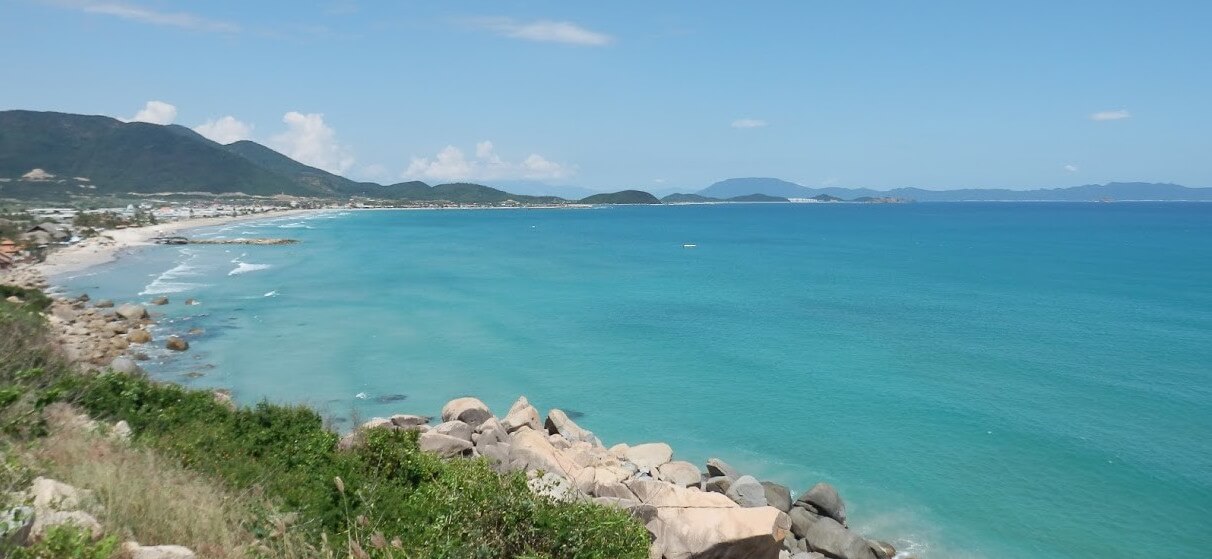 Van Phong Bay, near the planned Van Phong coal-fired power plant
---
Globally, JBIC and NEXI have agreed to support six coal plants (including Van Phong 1) and are considering another six. These would emit up to 71.3 million metric tons of CO2 annually — equivalent to the per capita emissions of 7.4 million people in Japan. Building these plants would defeat the goals of the Paris Agreement. In order to limit temperature rises to 2ºC, let alone the 1.5ºC the IPCC now recommends, the executive director of the International Energy Agency has stated that "We have no room to build anything that emits CO2 emissions."
The Japanese government is openly seeking to limit global warming.  Prime Minister Abe himself has publicly committed to halting runaway climate change, which he linked to the unprecedented devastation in 2018 from torrential rain in western Japan, heatwaves in North America and Europe, and typhoons in the Philippines.  Japan's Ministry of Economy, Trade and Industry, in its 2018 Strategic Energy Plan, stated that the government "supports the introduction of power generation equipment that is in principle at or above ultra-supercritical pressure." Funding the Van Phong 1 project blatantly contradicts Japan's own energy plan.
Local residents have told Vietnamese community organisations they are worried about the mitigation of the coal ash and the impact of discharge of cooling water on fish in the nearby Van Phong Bay. These organisations report that although the communities living on the proposed site of the coal power station have been resettled,  little thought has been given to alternative livelihoods for farmers and near-shore fisherfolk.
According to the AFP, Vietnamese authorities have evicted a 99-year-old Grandma Ca and demolished her home to make way for this coal fired power plant.  She refuses to leave as the land they have been offered is not suitable for farming.
---
References
Mia Tahara-Stubbs, IJGlobal, "Sumitomo Corp closes on Van Phong coal-fired" (30 August 2019)
Minerva Lau, Project Finance International, (15 February 2019), 'Vietnam - Singapore banks to join Sumitomo's CFPP',
Alexandra Dockreay and Mia Tahara-Stubbs, IJGlobal, "Bank syndicate on Van Phong coal-fired" (12 February 2019)
Chisaki Watanabe, Bloomberg, 'These 3 Coal Plants Might Not Get Japan Funds Under New Rules', (28 August 2018).
ANT Lawyers, Infrastructure Expertise.
Minerva Lau, Project Finance International, (2 August 2018), 'Van Phong 1 into due diligence',
Khanh Hoa Online (18 March 2018), 'Sẵn sàng cho Nhiệt điện Vân Phong 1'
Project Finance International (14 February 2018), 'Sumitomo receives Van Phong IPP certificate'
Mia Tahara-Stubbs, IJGlobal (8 Jun 2017), 'Vietnam Van Phong coal-fired investment certificate to sign'
Vietnam Investment Review (25 Nov 2013) 'Sumitomo red tape tangle delays power plant project'
Power Engineering International (8 Jan 2013) 'Contract awarded for 1320 MW coal plant in Vietnam'
Information last updated: 2 September 2019
In addition to the references noted above, Market Forces also considers information from financial journals, companies' public disclosures, and news reports.