Coal cuts
Three leading Japanese banks' coal policies rule them out of over a third of new coal power deals
In recent months, Sumitomo Mitsui Banking Corporation (SMBC), Mitsubishi UFJ Financial Group, Inc. (MUFG) and Mizuho Financial Group (Mizuho) have all updated their policies on support to coal power.
Market Forces has analysed the banks' prospective financial support under these policies:
SMBC, MUFG and Mizuho were reportedly planning to financially support new coal power projects that would collectively result in the emission of 1.4 billion tonnes of CO2 over their lifetimes.
SMBC and MUFG's new policies definitively rule them out of 32% and 54% respectively of the prospective new coal power projects by capacity.
Although Mizuho's policy is less explicit, it appears they would be ruled out of 40% of their pipeline projects by capacity.
---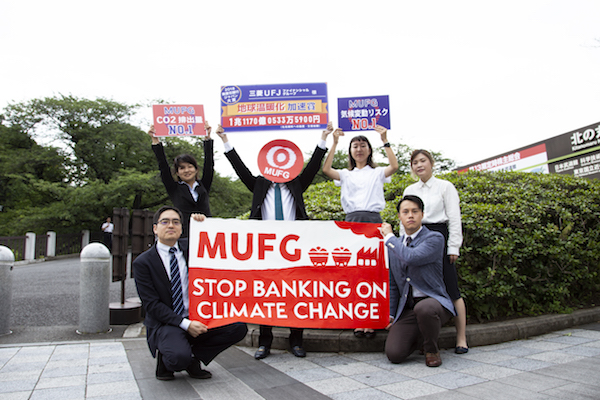 350.org Japan presents Mitsubishi UFJ Financial Group (MUFG) with the "Most Irresponsible Bank" Award for Coal Finance at Annual General Meeting (June 28, 2018)
What do the Policies say about coal power?
---

SMBC's policy states:
Our policy for new financing will be stricter, limiting financial support to only coal-fired power plants that use USC* or more advanced technologies which are considered highly efficient.
*Ultra-supercritical (i.e., with a steam pressure >240 bar and >593 degrees steam temperature) or Emissions < 750g CO2/kWh


Mizuho's policy states:
For certain sectors such as those listed below, where there is a particularly high possibility of contributing to adverse environmental or social impacts, our decisions regarding whether to engage in business transactions take into consideration any applicable international standards or guidelines, whether the client or project has received relevant certifications, and whether there are any potential conflicts with local communities
… Transactions which require additional due diligence: primary considerations is whether the use of greenhouse gas-producing technology is appropriate due to economic necessity when compared to feasible alternative technologies which offer similar levels of energy efficiency.
However, it can be imputed that Mizuho, when seeking to apply international standards or guidelines will also be applying the OECD Sector Understanding.  Similarly, they will also only be financing projects with ultrasupercritical technology, except in very limited circumstances.
What is the impact of the policies?
Based on publicly available financial information, SMBC, MUFG, and Mizuho are collectively in line to provide financial support for a total of nine power projects (pipeline projects).  These projects have not reached financial close, but the banks are providing advisory services or part of syndicates considering providing finance.
These potential projects represent a total capacity of 8.7 GW of coal-fired power. These projects, if built, would produce total CO2 emissions of 1.4 billion tonnes. 
These projects are to be built in four countries – Vietnam, Mongolia, Botswana and Bangladesh.  70% of the projects by capacity would be in Vietnam.
Number of Projects Bank is Reportedly Involved With; Capacity
Given the changes in policy:
SMBC would be definitively ruled out of 32% of its pipeline projects by capacity.
MUFG would be ruled out of 54% of its pipeline projects by capacity.
Mizuho would be ruled out of 40% of its pipeline projects by capacity.
The only projects that would remain are ultrasupercritical.  Where the technology type is unknown, it is assumed that the banks would be ruled out of these projects if it becomes evident that they are subcritical or supercritical.
| Coal-Fired Power Station | Country | Technology Type | Cost of Project (US$bn) | SMBC Involvement? | SMBC Policy Compliant? | MUFG Involvement? | MUFG Policy Compliant? | Mizuho Involvement? | Mizuho Policy Compliant? |
| --- | --- | --- | --- | --- | --- | --- | --- | --- | --- |
| Kohelia | Bangladesh | Ultrasupercritical | Unknown | | | | | | |
| Matabari | Bangladesh | Ultrasupercritical | 4.5 | | | | | | |
| Morupule | Botswana | Subcritical | 0.8 | | | | | | |
| Tavan Tolgoi | Mongolia | Subcritical | 1.0 | | | | | | |
| Van Phong 1 | Vietnam | Supercritical | 2.5-3.0 | | | | | | |
| Vung Ang 3 | Vietnam | Unknown | 2.4 | | | | | | |
| Vung Ang 2 | Vietnam | Unknown | 2.2 | | | | | | |
| Nam Dinh 1 | Vietnam | Unknown | 2.3 | | | | | | |
| Long Phu 1 | Vietnam | Supercritical | 1.6 | | | | | | |
Taking the banks at their word, and adopting a conversative reading of the effectiveness of the policies, we could expect SMBC, MUFG and Mizuho to no longer participate in any of the new coal power deals they have been involved in that do not comply with their policies, as per the table above. 
An important start, but Japanese
Banks' Policies are behind the times
According to the 2018 Banking on Climate Change report, SMBC, MUFG and Mizuho have provided US$8.6 billion in finance to the coal power sector from 2015 to 2017.  MUFG ranked fifth, behind the large Chinese banks (ICBC, China Construction Bank, Bank of China and the Agricultural Bank of China) as the biggest backers of coal power from the banks surveyed.
It is therefore imperative that Japanese commercial banks show leadership to redirect finance away from all polluting coal projects through policy and practice.
Despite these recent updates, SMBC, MUFG and Mizuho are trailing behind other financial institutions which have indicated that they will stop financing coal power.  For example, Societe Generale committed in late 2016 to "no longer finance the coal-fuelled power plants or related infrastructure anywhere in the world". Other Japanese financial institutions have gone further in 2018:
In May 2018, Daiichi Life Insurance decided to not provide project financing for all new overseas coal-fired power projects.
In July 2018, Nippon Life Insurance decided to halt funding to all new coal-fired power generation projects.
Also in July 2018, Sumitomo Mitsui Trust Bank stated that it would stop providing project finance for new coal-fired power stations.
While continuing to support new coal power in any form, SMBC, MUFG and Mizuho find themselves increasingly out of touch with other Japanese financial institutions.
These policies should therefore only be seen as a first step, albeit a significant one, towards further policy change.