Whitehaven Coal is the biggest undiversified coal mining company on the Australian share market.
Whitehaven's plans to massively expand the coal industry are completely at odds with the Paris Agreement goal of limiting global warming to 1.5ºC. To justify its business plans, Whitehaven refers to coal demand scenarios consistent with a catastrophic chance of almost 3ºC of global warming.
Whitehaven is funded by at least 13 Australian and international banks, including NAB and Westpac. Most of Australia's top 40 super funds are also yet to rule out investment in Whitehaven. Many of these financial institutions claim to support the Paris Agreement and goal of net zero emissions by 2050 yet have continued to support a company pursuing new coal projects inconsistent with these goals.
As the latest climate science makes clear, there is no time to waste. It's time for these banks and super funds to walk away from Whitehaven.
TAKE ACTION!
Send a message to the banks funding Whitehaven​:
Your email will be sent to Bank of China, Sumitomo Mitsui Banking Corporation, Industrial & Commercial Bank China, National Australia Bank, Westpac, Mizuho Bank, Bank of Communications, MUFG Bank, Caterpillar Finance Corporation, Deutsche Bank, China Everbright Bank, and Nippon Export and Investment Insurance.
Despite several of Australia's biggest super funds having divested from Whitehaven, 26 of the top 40 funds by assets under management have failed to publicly disclose any fund-wide divestment or exclusion of coal companies (or plans to do so). A further three funds have policies in place that would likely see a reduction in investment exposure to coal companies like Whitehaven, but these policies are not fund-wide exclusions.
Is your super fund one of the laggards that still hasn't ruled out investment in Whitehaven? Check the list below and take action! You can also find out more about super funds' investments in coal, oil and gas companies via our super funds comparison table.
ACSRF

AMP

APSS (PostSuper)

BT Financial Group (BT Super)

CareSuper

Cbus

Colonial First State

CommBank Group Super

Energy Super (now merged with LGIA Super)

Equipsuper (including Catholic Super)

HOSTPlus

HUB24

IOOF

LGIAsuper (now merged with Energy Super)

LUCRF

Macquarie

Mercer

Mine Super

MLC (owned by IOOF)

Netwealth Super

OnePath (now owned by IOOF)

Qantas Super

QSuper

Russell Investments

Spirit Super (formed after the merger between MTAA Super and Tasplan Super)

Statewide Super

Suncorp

Sunsuper

TWU Super
Take action using the form on this page if you're with one of these super funds.
Many of the banks funding Whitehaven have publicly stated their support for the Paris Agreement and the goal of achieving net zero emissions by 2050. The International Energy Agency has confirmed that reaching net zero emissions by 2050 means no new coal mines or expansions can proceed:
"No new coal mines or extensions of existing ones are needed in the [Net Zero Emissions scenario] as coal demand declines precipitously."
Similarly, the latest Intergovernmental Panel on Climate Change (IPCC) report again highlighted the need for coal supply to urgently and dramatically decline. Under its low or no overshoot 1.5ºC aligned models, coal use falls 75% by 2030 and 95% by 2050 (on 2019 levels). This is consistent with other studies which have concluded limiting global warming to 1.5ºC means 95% of Australia's coal reserves must remain unburned, and coal supply must decline 11% every year between 2020 and 2030.
In stark contrast, Whitehaven is planning to spend around $2 billion on three new coal mines and expansions: Vickery, Narrabri Stage 3 and Winchester South. These mines have marketable coal reserves of almost 500 million tonnes. When emissions from digging up and burning the coal are added, over their lifetimes these three mines would unleash over 1.1 billion tonnes of carbon emissions, the equivalent of more than twice Australia's annual emissions.
In the last decade Whitehaven has more than doubled its production. At the company's 2021 AGM, CEO Paul Flynn confirmed Whitehaven could more than double its coal production again by 2030 through these new coal projects. Whitehaven's own data shows the company is planning to double coal production by 2030 and sustain very high levels of production through to 2040.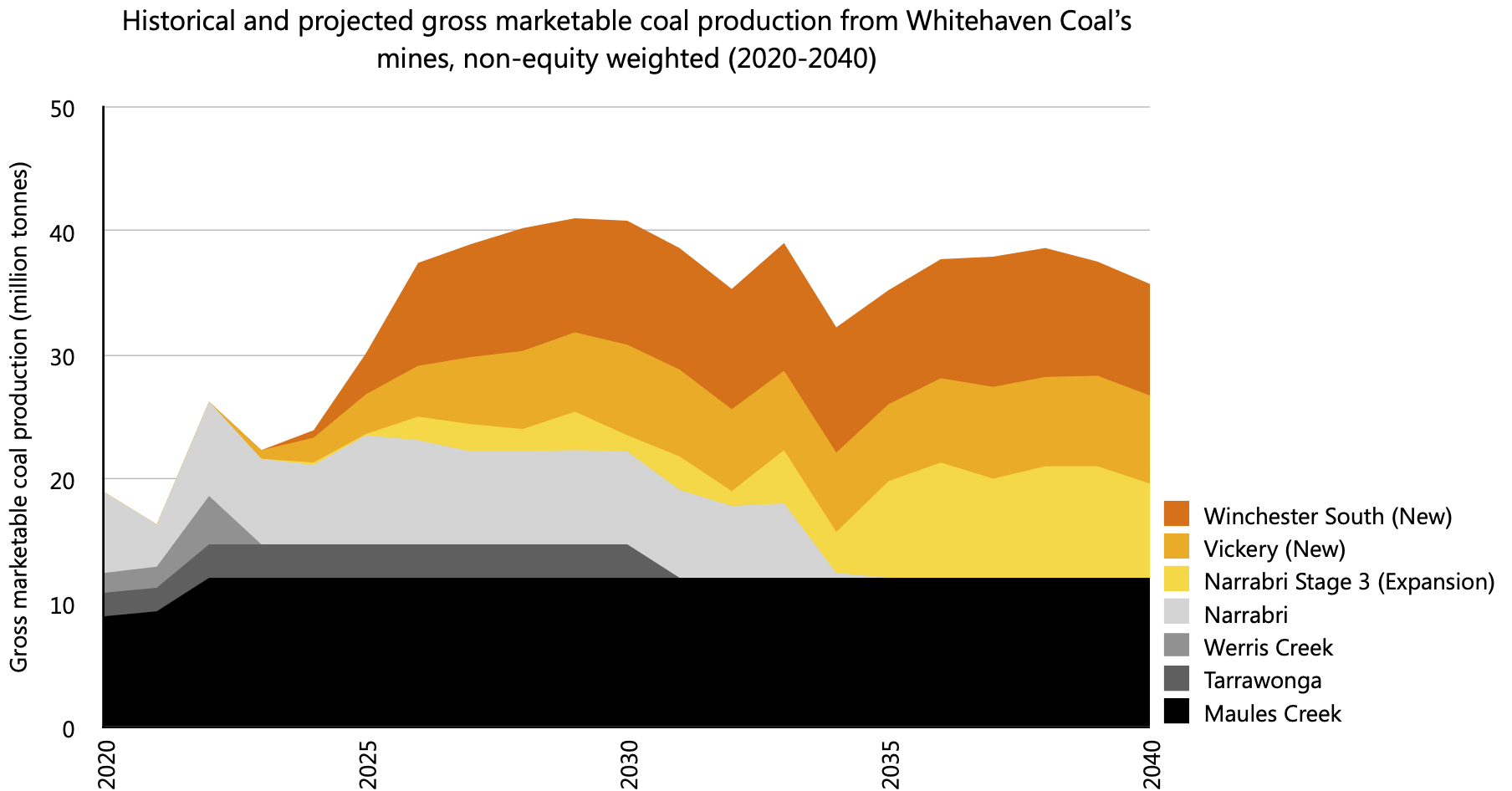 To justify future demand for its dirty coal, Whitehaven refers to coal demand scenarios that rely on the failure of the Paris Agreement and are consistent with almost 3ºC of global warming by 2100. Even at 2°C of warming, the expected increases in temperatures, drought conditions, bushfires, extreme storms and flooding in Australia would be devastating. Global warming of 2ºC would also spell the death of the Great Barrier Reef.
Put simply, Whitehaven's business model depends on catastrophic ecological, social and economic collapse.
Whitehaven's proposed $600 million Vickery coal mine is totally out of line with a safe future. It involves mining approximately 130 million tonnes of coal from the Gunnedah Basin, in New South Wales. When emissions from digging up and burning the coal are added, the mine would unleash around 330 million tonnes of carbon emissions over its 26-year lifespan, the equivalent of about 65% of Australia's entire 2020 carbon emissions.
In 2020, a class action challenging the Vickery coal mine expansion was brought by a group of eight young people from across Australia, represented by Equity Generation Lawyers and assisted by their 86 year-old litigation guardian, Sister Brigid Arthur. The case sought to prevent the federal environment minister from approving the proposed expansion.
In a world-first ruling in May 2021, Justice Bromberg of the Federal Court held that the environment minister has a duty of care to protect young people from the harms caused by climate change. The Court found that the impacts of global warming on young people "might fairly be described as the greatest intergenerational injustice ever inflicted by one generation of humans upon the next".
Although the Full Federal Court overturned Justice Bromberg's decision for legal reasons on appeal, the Court's factual findings about the catastrophic consequences of climate change were unchallenged. The case has laid the foundations for further legal challenges to coal mining approvals.
Federal environmental approval for the Vickery expansion was granted in September 2021, meaning Whitehaven now has the necessary approvals to proceed with construction. The company has not announced a final investment decision (FID) on the project.
Whitehaven's proposed $1 billion Winchester South coal mine involves plans for a large open-cut coal mine in Queensland's Bowen Basin. Despite publicly referring to the mine as a "metallurgical coal mine", the mine will in fact produce at least 40% thermal coal. However, this figure could be a gross underestimate, as analysis by Energy & Resource Insights shows Whitehaven has consistently underestimated thermal coal production at its Maules Creek coal mine.
Winchester South would involve mining approximately 215 million tonnes of product coal over a 30-year project lifespan. When emissions from digging up and burning the coal are added, the mine would unleash almost 550 million tonnes of carbon emissions in total, more than Australia's entire 2020 emissions.
The mine is currently undergoing environmental assessment and has not reached FID.
Whitehaven's proposed $400 million Narrabri Stage 3 project (also known as Narrabri South) would extend the life of the existing Narrabri coal mine from 2031 to 2044. The mine expansion would result in an additional 105 million tonnes of product coal being mined. When emissions from digging up and burning the coal are added, the mine expansion would unleash over 260 million tonnes of carbon dioxide.
According to Lock the Gate Alliance, the Narrabri expansion could be the most polluting thermal coal mine in Australia, based on its fugitive greenhouse gas emissions. Despite this, the NSW Independent Planning Commission approved the mine, meaning Whitehaven can proceed with the project if it can finance it.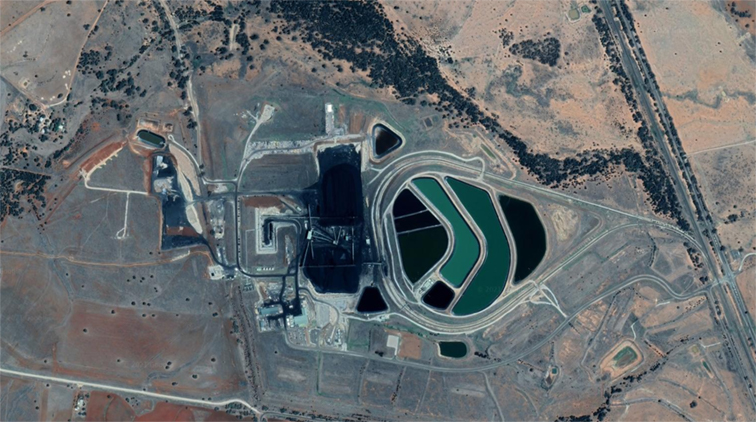 Narrabri coal mine. Image credit: Google, © 8 December 2018 CNES / Airbus
Whitehaven's existing Maules Creek coal mine is one of Australia's most controversial mining projects and was strongly opposed by local farmers and Gomeroi traditional owners. Despite a massive community campaign that included a two year blockade, Whitehaven bulldozed hundreds of hectares of critically endangered forest that provide important habitat for rare and endangered species like the Superb Parrot, Regent Honeyeater and Squirrel Glider. 
Whitehaven assured the government that it could "offset" the loss of this woodland by buying and protecting other areas of habitat. Six years later, Whitehaven had not kept its promises, even after being granted multiple extensions by the federal government. In 2021, after a legal challenge by the South East Forest Alliance, the government again varied Whitehaven's conditions of approval to grant the company a further three years to secure the necessary offsets.
Farmers near the Maules Creek coal mine are also deeply concerned that Whitehaven's water use is drying out streams and bores. Local farmers have been repeatedly outbid on water licences with Whitehaven paying five times the market value at times for water. In April 2021, Whitehaven pleaded guilty to taking one billion litres of water during a severe drought in New South Wales.
This is not the first time Whitehaven has broken the law. The company's mines are renowned for a litany of environmental breaches, many of which Whitehaven sought to keep secret. The incidents range in severity but many involve breaches of conditions that are imposed to protect communities and the environment from the impacts of mining. In August 2021, Whitehaven was fined $372,500 for 19 breaches of its licence, including failures to rehabilitate drill sites and drilling bores that did not meet approval conditions.
Lock the Gate Alliance has compiled a comprehensive list of Whitehaven's law-breaking over the last 10 years. This compilation shows the company and its subsidiaries have been found guilty or investigated 35 times and incurred almost $1.5 million in total penalties.
Credit: Lock the Gate Alliance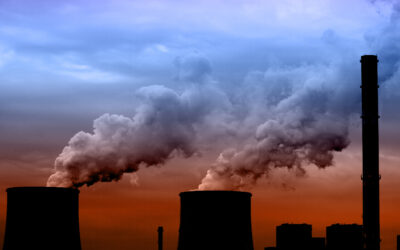 By Antony Balmain, Media and Communications Manager, Market Forces Sometimes it seems as if I am living in a parallel universe. This week, Whitehaven Coal, one of Australia's largest coal miners, announced record profits and forecast growth plans completely...
Page last updated February 2022. Unless otherwise specified, all currencies are in AUD. 
Disclaimer: This site is intended to convey factual information about Whitehaven Coal. It is not intended to provide financial product advice. You should obtain independent advice before making any financial decisions.