We've found out how Adani plans to finance their mega coal mine. And we have two months to stop it.
Click to take action
Adani has been talking to China Machinery Engineering Corporation (CMEC), a Chinese state owned enterprise capable of supporting the construction of the mine, but also with the financial capacity to invest in the project itself.  
If this happens, it completely changes the game for Adani, who would then have access to credit from Chinese banks.
The link between Adani and CMEC, and its potential has been big news recently. Check out some of the coverage by ABC and Julien's op-ed for Fairfax.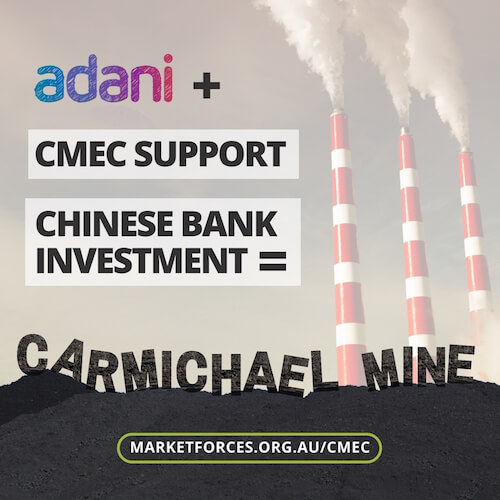 Send a message telling CMEC and three banks it regularly does business with that getting involved in Adani's coal mine would mean supporting one of the most environmentally damaging projects they could find, risking their own reputation.
CMEC has a record of building coal power stations in South Asia, backed by the China Development Bank, China Construction Bank and the Industrial and Commercial Bank of China.
We learned also this week that the Australian Government has been giving assurances to the Chinese Government about the viability of the project. This is a seriously dangerous situation and without a response, we're going to have a new mega coal mine on our hands.
So please take a minute to react. Use the form above to send a message to CMEC and its most likely bankrollers. We need them to get the message loud and clear: getting involved in Adani's coal mine means destroying our environment, and destroying their reputation.
We don't know how far these discussions have progressed but we do know that we can't take any chances. We have to get the big Chinese banks to rule out financing Adani's coal export nightmare just as dozens of other global banks have.