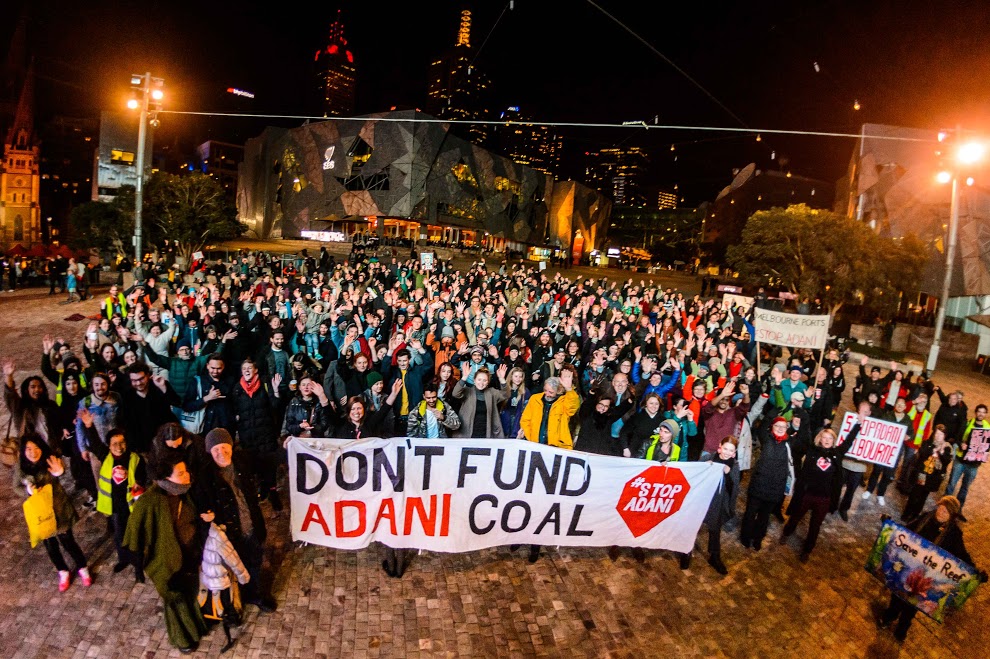 Last Saturday around 300 Melbournians weathered the cold to attend a screening of Guarding the Galilee on Federation Square's iconic big screen. Market Forces was proud to have hosted and organised this inspiring event together with #StopAdani Melbourne.
As people arrived they were greeted with the wonderful songs of the Climate Choir and the climate themed hip-hop of Baba Brinkman..
The evening was presented by Dr Pam Rana, a comedian and Doctor for the Environment who brought some levity to the depressing reality of climate and energy policy in Australia. She ended the evening by calling Environment and Energy Minister Josh Frydenberg live on stage, calling on him to #StopAdani, and directing everyone to hold businesses and politicians accountable for driving the world toward climate disaster.
We were delighted to have Seed National co-Director Amelia Telford inspire us with the story of the Seed Youth Environment Network, and the question of climate justice for First Nations peoples in Australia, including the Wangan and Jagalingou people on the front lines of the opposition to Adani.
A message of support was streamed from Melbourne to activists working with communities in Queensland to oppose the Adani mine in solidarity for the work being done at this absolutely crucial time.
Also present were fellow Stop Adani groups from Melbourne Ports and Eltham, Darebin Climate Action Now, the Bayside Climate Change Action Group, the Australian Youth Climate Coalition, Doctors for the Environment and Sea Shepherd.
Thank you to everyone who came, and the volunteers and donors who made it happen.
Events like this are only possible because of the generosity of our fantastic supporters. If you would like to contribute to future events you can donate here
And take action here to ask corporations not to do business with Adani.
Photo credit: Julian Meehan