7 December 2021
'Tis the season to be jolly… unless, like Deutsche Bank, you're arranging funds for climate-wrecking coal companies. That's why this Christmas we're going to flood Deutsche Bank's CEO with Christmas cards, to remind him that working with Whitehaven Coal will put Deutsche Bank on Santa's naughty list.
So pick up your pen and paper, write a heartfelt Christmas card, and post it to Deutsche Bank's CEO. Together we can flood his mailbox and send a strong message telling Deutsche Bank not to bankroll Whitehaven Coal.
Step 1: Write your Christmas card
Keep your card polite, personalised and to the point. The bank will be more likely to listen to us if we're respectful and clear in our ask. Make sure you ask Deutsche Bank to take no further part in arranging finance for Whitehaven Coal. Some other things you might want to point out:
Deutsche Bank is reportedly preparing to arrange finance for Whitehaven Coal, after the bank recently arranged an investor roadshow for the coal mining company.
Whitehaven's plans to massively expand the coal industry are completely at odds with net-zero by 2050 and the Paris Agreement's goal of limiting global warming to 1.5ºC.
Scientists say limiting global warming to 1.5ºC means 95% of Australia's coal must stay in the ground. Meanwhile, the International Energy Agency says achieving net-zero emissions by 2050 means "no new coal mines or mine extensions".
Whitehaven is planning to spend around $2 billion on three new coal mines and expansions (Vickery, Narrabri South and Winchester South).
When emissions from digging up and burning the coal are added, over their lifetimes these three mines would unleash almost 1.1 billion tonnes of carbon emissions, the equivalent of twice Australia's annual emissions.
You can find more information on our dedicated Whitehaven web page.
If you don't have a Christmas card handy, you can download and print out our template letter instead (please use recycled paper if printing or buying a card).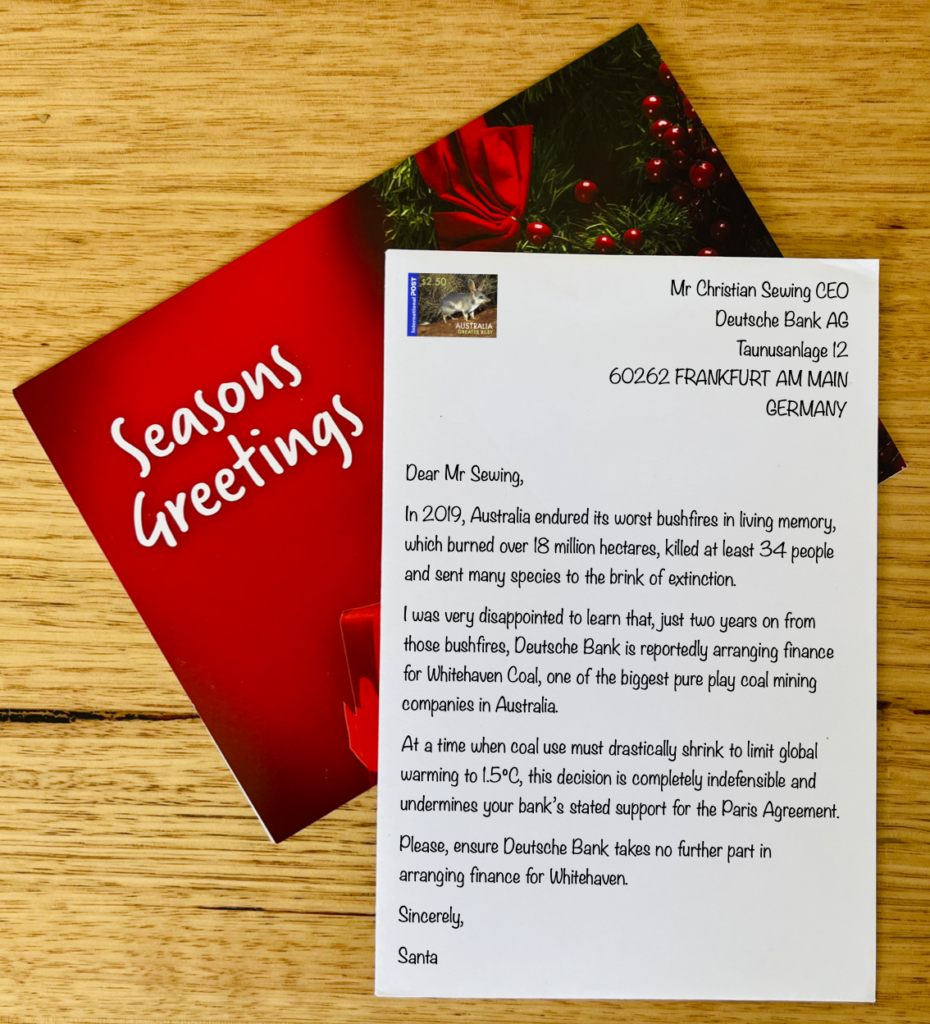 Step 2: Post your Christmas card
Address your card and then take it to your nearest AusPost for sending. Christmas card postage to Germany from Australia should cost around $2.40. Address to:
Mr Christian Sewing CEO
Deutsche Bank AG
Taunusanlage 12
60262 FRANKFURT AM MAIN
GERMANY
With postal services around the world still being disrupted by COVID, there's a chance your card may not arrive by Christmas… but that's OK! It just means Deutsche Bank will enjoy a slightly extended festive season.
Step 3: Share your Christmas card on social media
Before sending your card, make sure to take a photo of it. You can then share that photo on Deutsche Bank's social media pages to double your impact! If you want to add a comment, use the talking points above and remember to keep your comment polite, personalised and to the point.
Here are some of Deutsche Bank's recent social media posts: