19 December 2018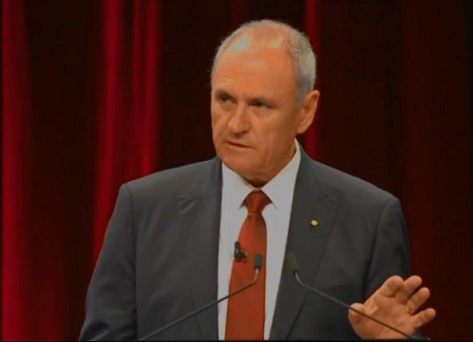 The chair of National Australia Bank (NAB), Dr Ken Henry, told shareholders today that while NAB fully supports the Paris Agreement goal to limit global warming to 2ºC, the bank still plans to "support fossil fuel projects" in the coming years.
The contradictions between NAB's climate and environmental, social and governance (ESG) statements, and the bank's lending activity were laid bare at its annual general meeting (AGM) in Melbourne.
It was a meeting that not only saw the bank grilled over its climate contradictions but also its remuneration report, which in the wake of the banking royal commission suffered an unprecedented 88% rejection by shareholders in revolt.
The bank, one of Australia's "Big Four", was challenged over its investments in fossil fuels. A commitment made at last year's AGM to rule out loans to thermal coal mining projects was a momentous step, making NAB the first of our major banks to do so.
Unfortunately it appears that NAB has reneged on this promise.
This year the bank co-financed a $720 million underwriting debt facility for Coronado Global Resources, the world's fifth-largest coking coal miner. The Curragh coal mine, owned by Coronado, supplies the Stanwell coal power station. This arrangement was recently extended from 2027 to 2038. In spite of calls to cut coal-fired power globally by two-thirds within the next 12 years, according to Coronado, this is "expected to materially extend mine life until around 2038."
In response to a shareholder's question on NAB's increased coal exposure, Dr Henry was adamant this was because of metallurgical coal investment rather thermal coal. NAB, he said, still "stands by that commitment…we've not breached that commitment" despite the fact that the bank's Coronado loan does exactly that. 
Contradicting its own policies
This year NAB released a new ESG risk management statement, claiming it "will not finance oil and gas projects within or impacting the Arctic National Wildlife Refuge area and any similar Antarctic Refuge."
Burning fossil fuels has myriad and obvious negative effects on the Arctic and the Antarctic. So under NAB's ESG statement this should preclude all fossil fuel projects from its lending.
When a shareholder asked if NAB would confirm its withdrawal of all credit exposure and refuse finance for any oil and gas infrastructure to ensure this outcome, Dr Henry told the meeting: "NAB is fully supportive of the high level goal of achieving global warming of less than 2ºC…but we do think it's important that we be able to help in the orderly transition to that future. And that is, inevitably, going to mean for some period of time some credit exposure to fossil fuels." Watch the exchange below:
Failure to commit
NAB's idea of an orderly transition seems to be one where it doesn't have to take responsibility for the climatic effects of its investments and lending.
The International Energy Agency (IEA) recently said there's "no room to build anything that emits CO2 emissions" if we are to meet the goals of the Paris Agreement.
It's a statement consistent with peer-reviewed research from Oxford University, which found that even if the world's entire pipeline of fossil fuel power plants was cancelled, 20% of remaining capacity must be left untouched to meet the Paris climate goals.
So is NAB's climate policy and rhetoric just fancy window dressing? Considering its half-hearted support for the Paris agreement, and its continued thermal coal lending following its supposed ban, this seems to be the case.
If the bank is serious about supporting the Paris goals like it says it is, this would entail refusing to finance new CO2 emitting fossil fuel projects like the Corpus Christi LNG facility. Once built, this US-based climate-busting project that NAB provided a loan for will enable the release of CO2 emissions equivalent to 1.5 times Australia's entire CO2 output in 2017.
Take action: Tell NAB that aligning to the Paris goals means no more funding to fossil fuel projects!