Westpac is still backing dirty coal!
loaned to dirty fossil fuels globally since 2008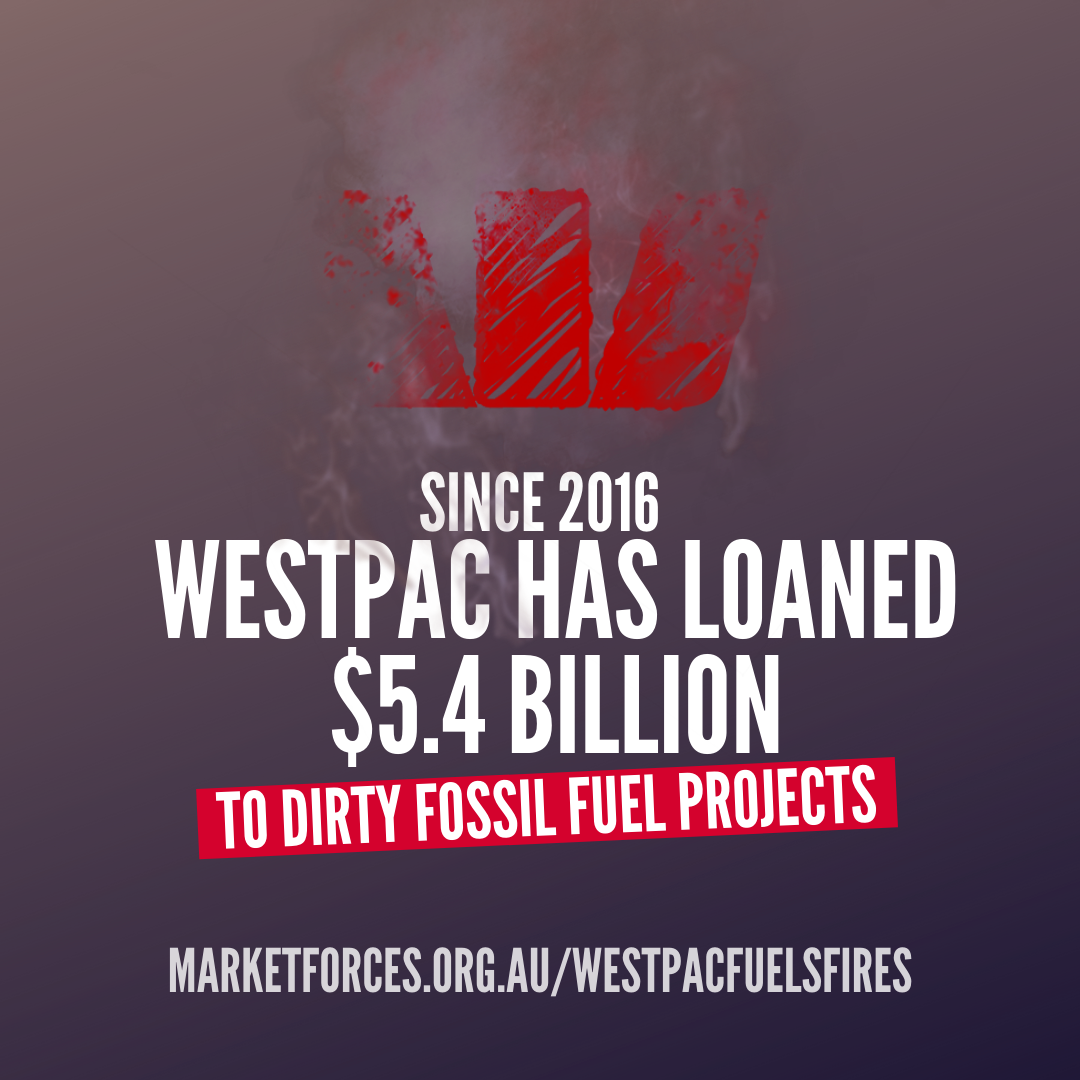 Is your bank funding climate change?
Tell Westpac no more fossil fuels!
Westpac paints itself as a sustainable bank but our figures indicate Westpac has ramped up its lending to fossil fuel projects, moving us dangerously closer to the emissions tipping point that we must avoid for a chance at a safe future climate.
Right now, Westpac's board are making decisions about their fossil fuel lending ahead of their climate policy update due in the coming months. It's critical to let them know they are out of line with the Paris climate accord and out of line with customers who don't want their bank investing in coal, oil and gas.
Email Westpac below, telling it to uphold its pledge to keep global warming below 1.5°C by staunching the flow of money to the dirty fossil fuel industry.
To actually address the climate crisis and reflect the sustainable values that Westpac boasts, it must commit to:
No thermal coal exposure by 2030

Not financing projects that expand the scale of the fossil fuel industry

Not financing clients whose business strategies are based on the failure of the Paris Agreement 
Want to share your divestment story?
Record a short video using your computer or phone (held sideways in landscape) and email us at [email protected] so that we can help you share it.
As a medical specialist, I recognise the adverse health impacts of coal combustion and its central contribution to climate change. This is not a statement of ideology but purely a scientific one.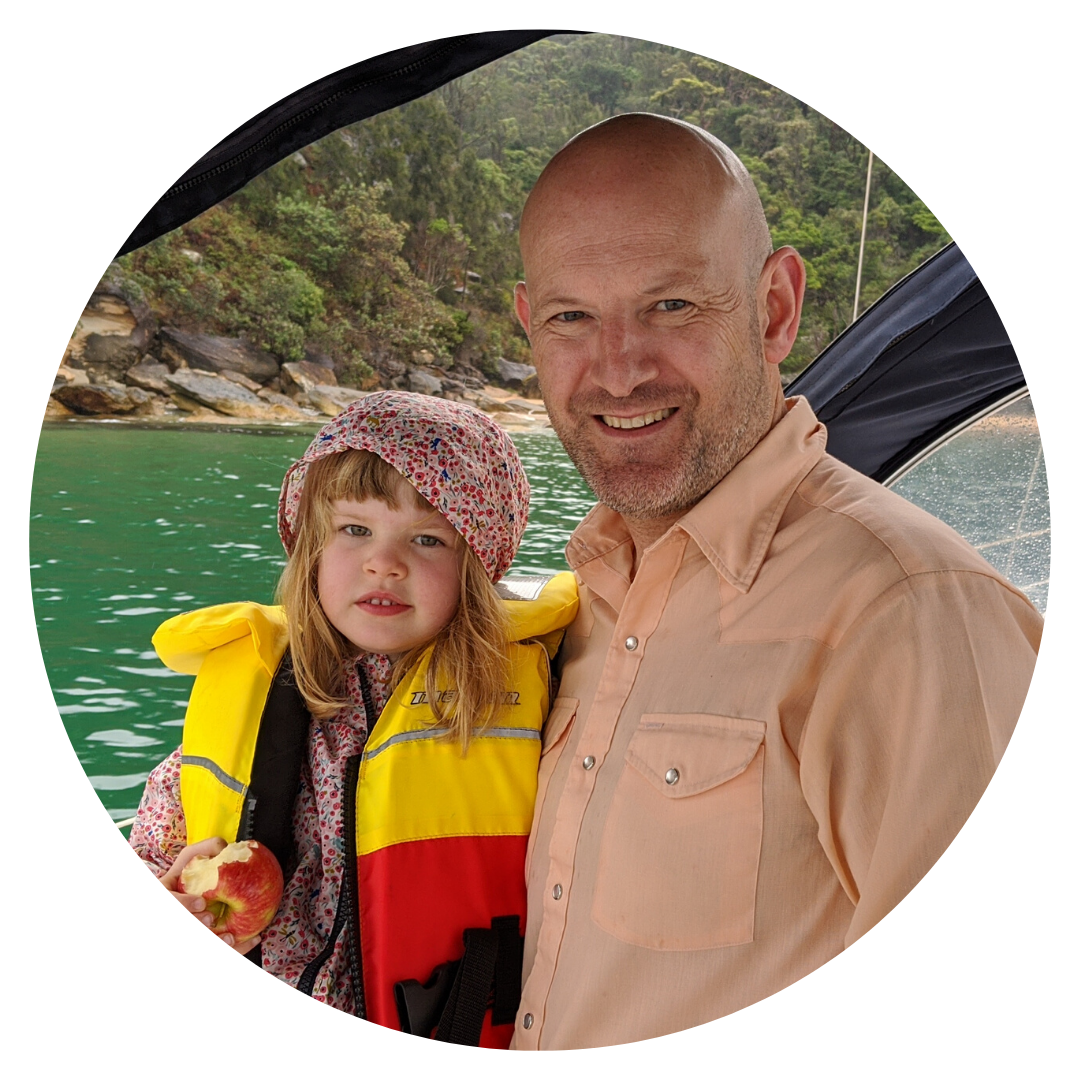 Any bank ignoring this can expect divestment action from their customers. We sent a letter of notice in 2017 but since then Bank of Melbourne/Westpac Group has increased lending to the fossil fuel sector with no discernible strategy to exit coal financing. We are now with a lender more aligned with our values as well as the Paris Agreement.
Westpac staff messages to Westpac decision makers
Market Forces has asked Westpac staff to complete an anonymous staff survey asking whether they support Westpac's lending to coal, oil and gas. Below are some of the messages that Westpac staff wanted to send to Westpac.
Westpac used to be the world's leading financial institution on sustainability. It's one of the reasons I joined. We've slipped, and that diminishes my sense of shared purpose; of focus on mission; of One Team. We in Australia have just witnessed (many endured) the first undeniably attributable climate change event. Our millions of customers need us to do better.
Has Westpac fulfilled its Paris climate pledges?
In short, no.
Since December 2015, when Westpac publicly committed to act in support of international goals to limit global warming to less than 2°C above pre-industrial levels, it has sunk $4.7 billion into fossil fuel deals.
Westpac went further in 2017, ruling out finance for low quality thermal coal and most new coal power and mining — including Adani's Carmichael mine. 
But since selling its Climate Change Action Plan to customers in April 2017, our figures show that the bank has invested at least $3 billion into fossil fuels across 38 deals, including projects that massively expand the impacts of the industry. 
Our figures comparing Westpac's lending from 2017 to 2018 show an 8% increase in lending to the fossil fuel sector.
If Westpac's lending continues at the rate seen for the first half of 2019, Westpac will be on track for its biggest fossil fuel lending year since its Paris Climate Change Agreement pledge in 2015.
Moreover, according to the banks own documents, Westpac more than doubled its exposure to coal mining between 2017 and 2018.
Check out our full analysis of what Westpac's climate policy update means for their future fossil fuel support.
The revelation in 2019 that ANZ secretly plans to cut its exposure to thermal coal by 75% by 2024 means Westpac is now the only big four bank without a strategy to reduce lending to thermal coal.
Although stepping in the right direction, Westpac's policy doesn't go far enough to line up with its commitment to the Paris climate goals.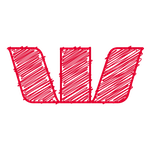 Scorecard since 2°C commitment
---
total lending to fossil fuels
Total lending to expansionary projects
Policy to reduce fossil fuel exposure?

FAIL
Policy restricting fossil fuel lending?

PARTIAL
How is Westpac expanding fossil fuels?
Westpac is contradicting its pledge by continuing to lend to expansionary fossil fuel projects that are out of line with Paris Agreement climate goals. 
In October 2019 Westpac loaned $111 million to Woodside Petroleum for its planned expenditure on projects such as Pluto LNG. Woodside is also planning other massive gas projects, including the $20.5 billion Browse project which it calls "Australia's largest untapped conventional gas resource."
In February 2018 Westpac loaned $52 million to Australian Gas Infrastructure Group to enable the development of a 440 km gas pipeline in the Northern Territory.
In April 2016, Westpac contributed a massive $90m to a refinancing deal for InterOil to develop one of Asia's largest untapped gas fields, Elk-Antelope in Papua New Guinea, estimated to release 342 Mt of CO2 emissions over its lifetime.These fields will provide gas for a new LNG facility, locking-in decades of production of this highly greenhouse gas-intensive fuel. Aside from Elk-Antelope's huge climate costs, unconventional gas production poses terrible environmental risks.
Between 2017 and 2018 Westpac also increased its exposure to coal mining by more than 140%.
Sustained public pressure from thousands of people across Australia forced Westpac to take a position of fossil fuel lending and again it will take powerful public action to push the bank to commit to stop lending to projects that are out of line with the Paris climate agreement.
Particularly concerning is @Westpac's backing of oil and gas company Woodside, including plans in the Browse Basin, given its ability to help develop a largely untapped conventional gas resource off the Western Australia coast. https://t.co/AHyMBKbRpI

— Market Forces (@market_forces) November 6, 2019
Learn more
Find out more about the extent and impacts of banks financing fossil fuels, compare the lending positions of different banks and learn more about how to switch to a bank that aligns to your values.