10 September 2021
NAB's key executives appeared yesterday at the Australian Parliament's Standing Committee on Economics, and addressed the review of the bank's oil and gas policy—due for release "in the coming months".
While the bank had previously stated it's "taking into account" the conclusions of the International Energy Agency's (IEA) Net Zero by 2050 report when conducting its oil and gas review, NAB's CEO Ross McEwan yesterday said the bank will be "measuring ourselves against" the conclusions.[1]
Released in May 2021, the IEA's 'Net Zero by 2050' report gave us the best insight yet of the rapid energy transition required to achieve that outcome. The conclusion is clear: there is no room for new or expanded coal, oil and gas projects.[2]
Take action: tell NAB if Ross means it, then stop funding new fossil fuels!
NAB plays a crucial role in funding expansion of the fossil fuel industry, and its withdrawal would have major impacts. Since 2016, it has loaned more than $1 billion for new or expanded fossil fuel projects that would enable the equivalent of four years of Australia's greenhouse gas emissions.[3]
Over that timeframe, the bank has also ploughed more than $1 billion into climate-destructive companies pursuing plans consistent with the failure of the Paris Agreement, including Santos, Whitehaven Coal and Origin Energy.
Tell NAB: measuring up to net-zero by 2050 means no funding new fossil fuel projects, or the companies pursuing them.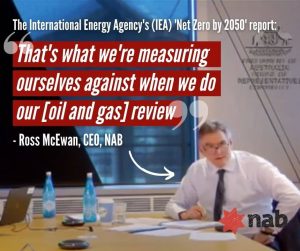 Take action!
Tell NAB to put its money where its mouth is – stop funding new fossil fuels!