OPINION | Koh Matsuki CEO, Proxy Watcher
Some of Japan's biggest energy and resources companies are pushing full steam ahead to expand fossil fuel projects across Asia. But banks across Asia and corporate Japan – including Mitsubishi, Mizuho Bank and J-Power – are feeling the heat from major investors calling for greater action to tackle the climate crisis.
Let's make no mistake, concern is mounting globally over continued funding for fossil fuel projects by major Japanese companies and governments in Asia.
Late last year, the International Energy Agency (IEA) reaffirmed its landmark decision in Net Zero by 2050, that there must be no new coal mines, and oil or gas fields in order to have any chance of limiting global warming to 1.5°C degrees to prevent catastrophic climate change.
It's essential for the future of humanity that Japan's biggest companies take more responsibility for fixing the climate crisis right now. Not by 2030 or 2050 but right now. Otherwise it will be too late.
The evidence and science is overwhelming. We need immediate action to end investments in new fossil fuel projects.
United Nations Secretary General Antonio Guterres told business and world leaders last week in Davos, Switzerland that the world must "supercharge the renewable revolution", putting an end to "the addiction to fossil fuels" and phasing out coal once and for all.
In the past years, climate-fuelled disasters have become more severe and frequent, battering Japan and other countries across Asia.
Major typhoons, floods and heatwaves are wreaking havoc for hundreds of millions of people each year across Asia and around the world. The forecasts are dire unless we act fast. The climate crisis is creating a perfect storm, undermining food production and devastating global business.
The estimated insured losses from climate-related disasters are enormous, topping US$120 billion in 2023. This whopping figure is just the tip of the iceberg, according to the United Nations Office for Disaster Risk Reduction.
Conservative estimates by the International Labour Organisation have previously shown heatwaves and associated stress would have an economic cost of US$2,400 billion by 2030.
While most Japanese companies have committed to net zero emissions by 2050, many are still investing and financing major fossil fuel projects. This short-sighted investment is dangerous for the planet and economies in the longer run.
Locking in decades of dangerous emissions is seriously undermining global climate action. It's also channelling funds in the wrong direction when there must be massive investment in the renewable energy market and more sustainable solutions to the climate crisis.
In the past year, major Japanese energy and fossil fuel companies faced their biggest backlash ever from shareholders, with 63 proposals to improve business practices on sustainability, governance, environment and climate change.
These power companies, major trading houses and mega-banks faced a record 13 resolutions calling for greater transparency and action to urgently address net zero and climate change commitments.
Company boards are being forced to improve their stance on addressing the climate crisis by improving their policies and putting clear business plans in place with pathways to help achieve net zero carbon emissions. But faster action is needed.
Smaller shareholders have increased efforts to persuade Japanese companies to take more strident measures on climate change. These proposals have been supported by institutional investors representing hundreds of billions of dollars, bringing the pressure for change to a boiling point.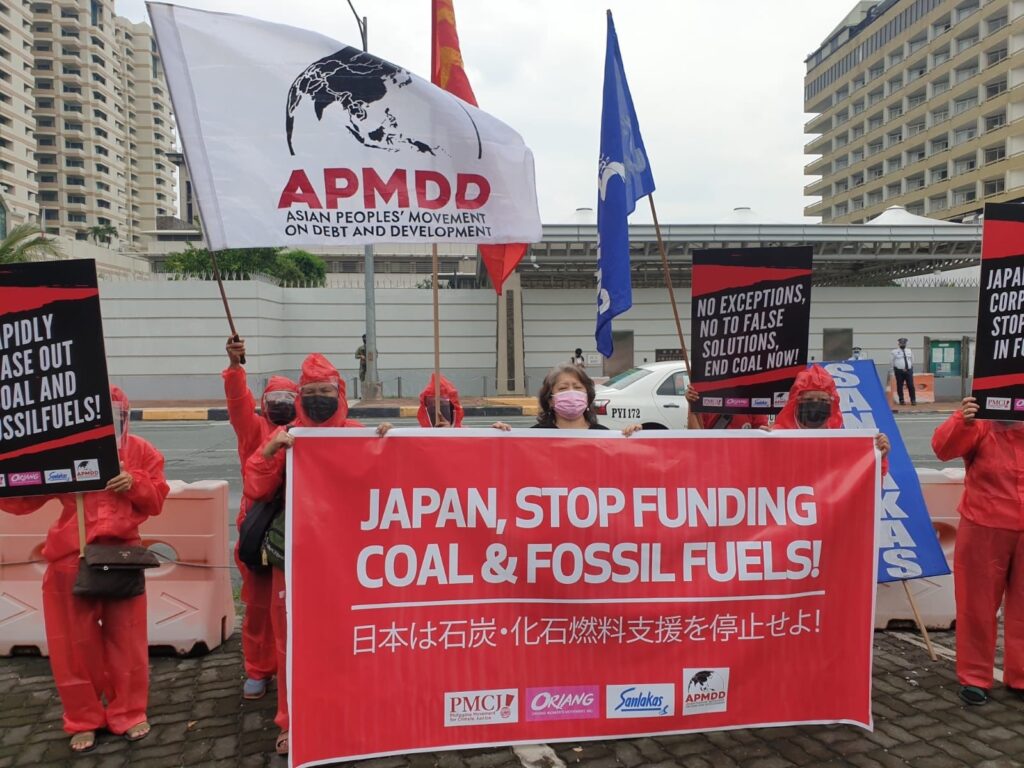 A rally outside the Japanese embassy in Manila, calling on Japan to stop funding coal. Photo Credit: Asian Peoples' Movement on Debt and Development (APMDD)
Across Asia, there is growing investment in preventing the devastating impact of climate disasters. But coal, oil and gas companies and the big financial institutions bank-rolling fossil fuels, need to be brought to account for worsening the climate crisis. 
Most big Japanese companies involved in enabling the climate crisis along with governments across Asia are making commitments to head in the right direction. Yet for the most part, meeting net zero commitments only takes place after scrutiny and public pressure.
Mid last year, the Government of Japan and companies including Sumitomo Corporation were forced to end investment in a huge climate-wrecking coal power plant in Matarbari, Bangladesh after Official Development Assistance was suspended in part due to shareholder influence and public pressure from Bangladeshi and international environment and advocacy organisations.
In the coming months, Japanese companies will face greater scrutiny from major investors.
Shareholders representing US$22 billion of investment last year ramped up pressure on four of Japan's largest companies: Mitsubishi Corporation, Sumitomo Mitsui Bank, and two utilities – Tokyo Electric Power Company Holdings (TEPCO) and Chubu Electric Power Co, which jointly own JERA, the largest thermal power generator in Japan.
Pressure is coming from all directions. The cities of Kyoto and Kobe challenged one of Japan's largest electricity company, KEPCO. Over one in three (36 per cent) shareholders voted in favour of greater transparency and action on meeting net zero and climate commitments.
More than one in four (27 per cent) shareholders from Japan's second biggest bank, Sumitomo Mitsui FG (Financial Group), voted for faster climate action following a proposal by Japanese and international environmental groups, including Market Forces.
Investors are demanding that Japanese companies demonstrate how their business plans are consistent with the Paris Agreement. No-one is exempt.
Boards from Asia's mega companies and banks must all pull their weight and take responsibility for a fair and sustainable climate future.
---
First published in The Bangkok Post