About this content
The following is a literature review of key studies on global coal finance. Additional information and findings of many more studies can be found in the full report and bibliography. The research is current to 30 November 2017.
Scale of the coal industry
Coal mining
Who owns the coal industry?
The IEA estimate 15% of global coal production to be coking coal and the remaining 85% thermal coal.
Influence Map provides information about the ownership of 1/2 of the total global thermal coal production, constituting 117 listed companies, with the ownership of the remaining 1/2 unknown. 
Influence map divides investors into "Strategic" investors (e.g. governments, power companies) that have a reason to be invested beyond a financial return, and "Non-Strategic" investors (e.g. fund managers) who are primarily seeking a return on equity. 
---
Non-strategic Investors in coal mining companies by coal reserves (M Tons)
Source: Influence Map, 2017
Investor
Type
Country
Coal reserves (m tons)
1.
Life Insurance Corporation of India
State
India
1,279
2.
Fude Sino Life Insurance
Private
China
702
3.
The Vanguard Group
Private
United States
462
4.
BlackRock Institutional Trust Company
Private
United States
344
5.
Dimensional Fund Advisors LP
Private
United States
334
6.
HSZ (Hong Kong) Limited
Private
Hong Kong
288
7.
Neuberger Berman LLC
Private
United States
191
8.
Elara Capital Plc
Private
UK
177
9.
Emerging India Fund Management Ltd
Private
Mauritius
170
10.
Accipiter Capital Management Ltd
Private
United States
122
11.
ICICI Prudential Asset Management
Private
India
107
12.
M M Warburg Bank (Schweiz) AG
Private
Switzerland
99
13.
Prosperity Capital Management
State
Russia
84
14.
Templeton Asset Management Ltd
Private
Hong Kong
84
15.
Fidelity Managment & Research
Private
United States
83
16.
BlackRock Investment Management (UK)
Private
UK/US
79
17.
Renaissance Technologies LLC
Private
United States
75
18.
Tontine Asset Management LLC
Private
United States
72
19.
Mangrove Partners
Private
United States
68
20.
Capital World Investors
Private
United States
54
Example of strategic investor:
Central and local government, India
State
India
13,878
Influence Map provides information on the non-strategic investors. The largest non-strategic investors by coal reserve are listed in the table opposite. 
In comparison, listed is an example of a strategic investor, the Central and local Governments in India.
Coal power
Analysis of the companies representing half of global total by coal power expansion plans
Source: Global Coal Exit List, 2017
Graph below: 40 unlisted companies seeking to expand coal power, indicating country of headquarters and ownership status (as identified in the Global Coal Exit List)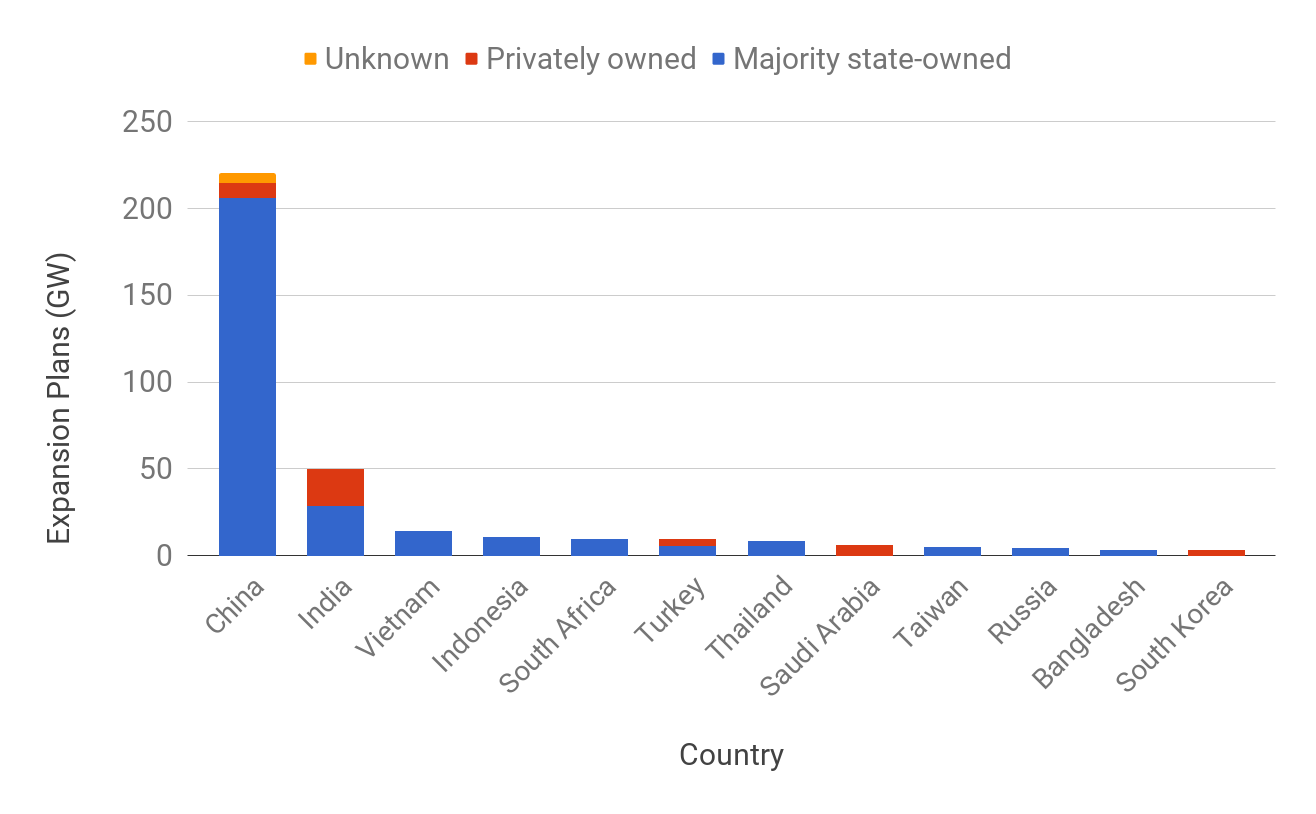 ---
Table below: top 20 shareholders of the 17 listed companies seeking to expand coal power (as identified in the Global Coal Exit List, data provided by GSCC)
Investor
Type
Country
Amount (US$ bn)
1.
Government of India
State
India
$19.63
2.
Shanghai Electric Group
Private
China
$ 8.18
3.
Korea Development Bank
State
South Korea
$ 7.18
4.
CRH Power
Private
China
$ 5.87
5.
Khazanah Nasional Bhd
State
Malaysia
$ 5.60
6.
Life Insurance Corporation of India
State
India
$ 4.21
7.
Ministry of Strategy and Finance Korea
State
South Korea
$ 3.97
8.
Poland State Treasury
State
Poland
$ 3.52
9.
Lawrencium Mikado Holdings
Private
Hong Kong
$ 2.37
10.
Adani Gautam
Private
India
$ 2.26
11.
OAK CLP
Private
Hong Kong
$ 2.22
12.
Employees Provident Fund
State
Malaysia
$ 2.22
13.
Vanguard Group
Private
USA
$ 2.10
14.
Government Pension Investment Fund Japan
State
Japan
$ 1.93
15.
Roseneftegaz
State
Russia
$ 1.78
16.
Lawrencium Holdings
Private
Hong Kong
$ 1.73
17.
Blackrock Fund Advisors
Private
USA
$ 1.53
18.
National Pension Service Korea
State
South Korea
$ 1.42
19.
INTER RAO Capital
State
Russia
$ 1.35
20.
Skim Amanah Saham Bumiputera
State
Malaysia
$ 1.32
The role of corporate v project finance
Fossil fuel supply finance 2011 (IEA)
Fossil fuel supply finance 2016 (IEA)
According to International Energy Agency, World Energy Investment (2017), most coal mining investment takes the form of balance sheet (corporate) finance.
International Energy Agency, World Energy Investment,
2017
Thermal power generation finance 2011
Thermal power generation finance 2016
Note the contrasting conclusions in these two sources of information, indicating the difficulty in quantifying the split between project and balance sheet finance. However, both point to the dominant role of corporate finance in coal power.
Public and private debt finance
Coal mining
---
Commercial bank lending to coal mining, 2014-2016
Source: RAN, BankTrack, Oil Change, Sierra Club, Banking on Climate Change, 2017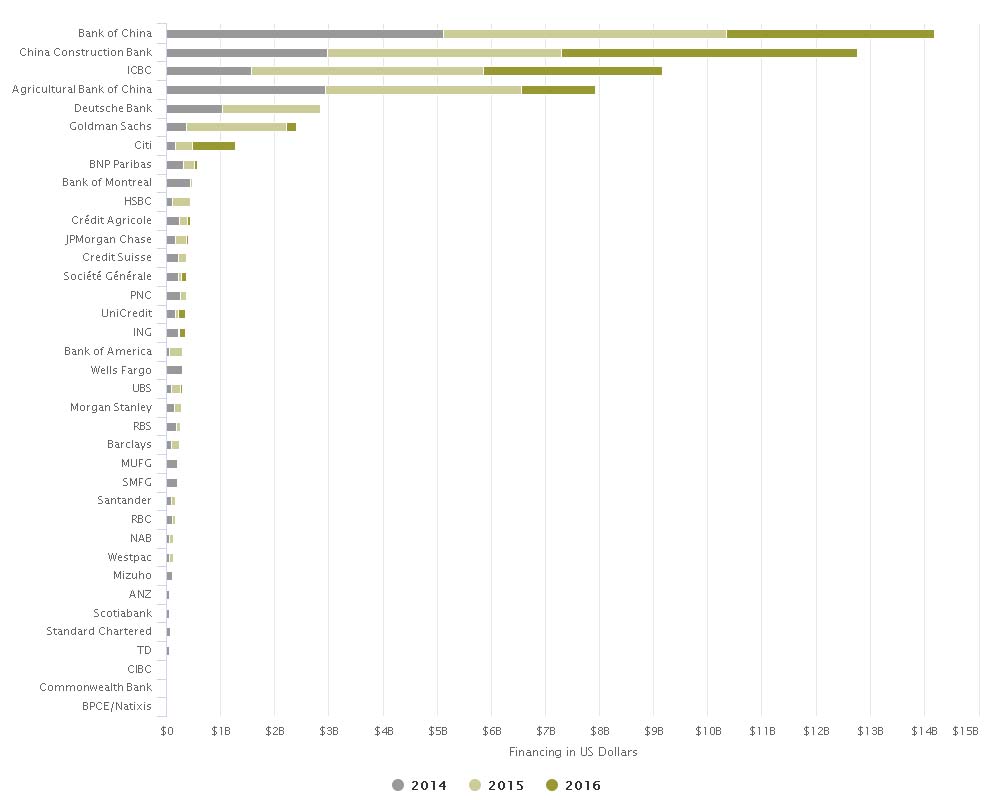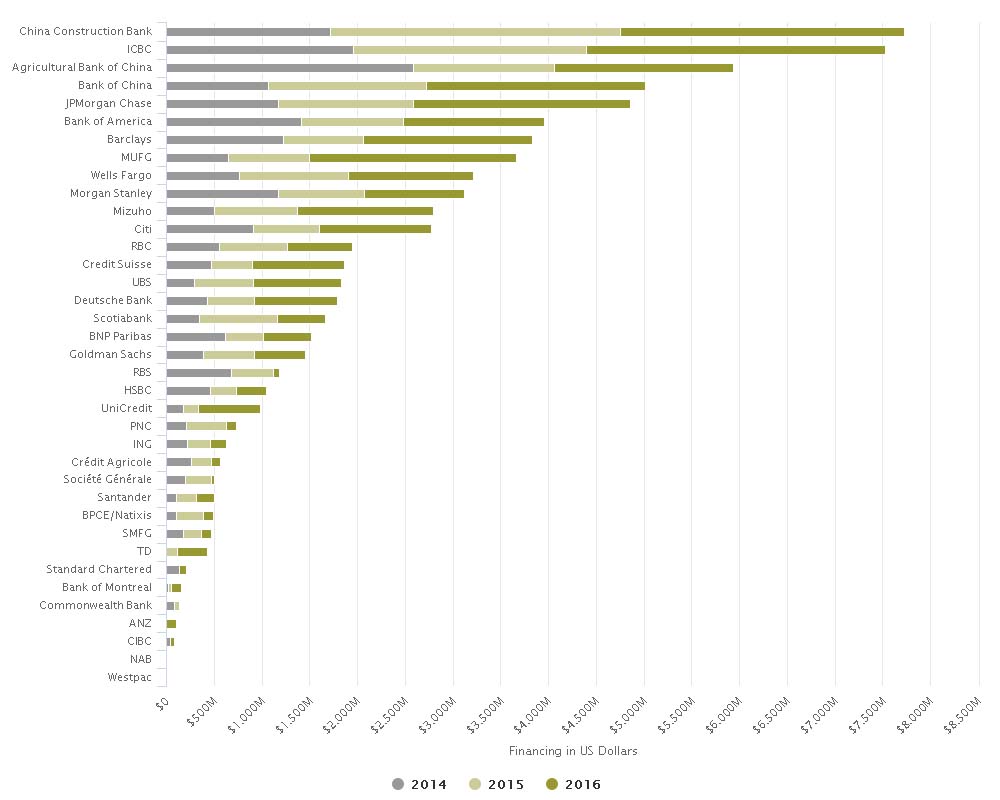 Maturity of Loans and Bonds
Maturity Profiles of Bonds and Loans to Coal Mining Companies from 2017 to 2022
Source: Data provided by GSCC, 2017
Equity raising
Companies will often turn to the equity market to raise capital before seeking more debt finance, as the equity can be leveraged many times over. While equity is often sourced from existing shareholders, companies will seek additional investment through further share issuances. There is no comprehensive study on the role of equity raising in coal finance at this stage.
Trends: China, Japan and Korea's new coal race
Study of 21 new coal-fired power stations in Indonesia financed since 2010
Trends: Corporate restructuring
Bankruptcies are clearly a sign of distress for coal mining companies, but do not mean the end of the companies or their operations. 
Rather, bankruptcies are often part of corporate restructuring during which operations can continue. The intention of a company emerging from bankruptcy is to be in a more secure and healthier financial state.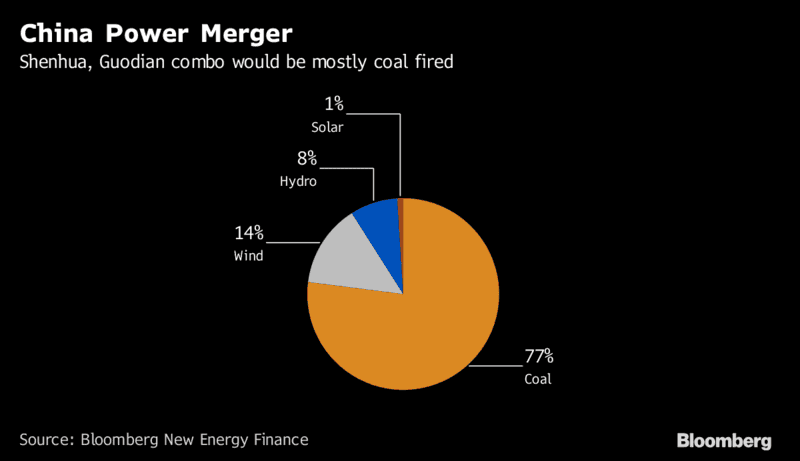 Shenhua Group and China Guodian have merged, creating a company with a combined capacity portfolio of 221 to 225GW, and 500 million tons of coal per year.
Other major M&A activity includes:
Arclight acquisition of AEP's power plants in US.
Vale sale of Mozambique coal mines to Mitsui.
Yancoal acquisition of Coal & Allied Industries.
Enel's 10% stake in Bayan Resources acquired by the company's founder.
At this stage, this debt instrument does not seem significant to global coal finance at present. However, companies may use more project bonds to raise debt
in Asia;
in refinancings; and
following the Basel III regulations coming into effect.
Anatomy of a Project Bond: Paiton Energy, US$2bn, August 2017
Source: Project Finance International, 2017
The breakdown of the investors in the 2010 loan:
The breakdown of the investors in the 2017 bond:
Could coal projects be financed by green bonds?
Voluntary Green Bonds Principles (which include renewable energy and pollution prevention and control) recommend external review.
ASEAN framework of green bonds standards specifically exclude funding of fossil fuels.
However, Chinese coal power plant producer Tianjin SDIC Jinneng Electric Power registered short-term "green bonds" on interbank market for $USD150M to finance a 2,000MW coal-fired power plant in Tianjin. 
Key takeaways
The nature of coal finance varies wildly between countries.
Importance of China and Chinese finance.
Importance of corporate or balance sheet finance.
In several key coal power growth markets, public finance unlocks commercial debt. 

In areas like India, Turkey, Australia, domestic banks are key.
Key studies
Investigates investment in fossil fuel sector selecting 17 fossil fuel companies and to 12 nuclear sector companies.
Looked at which financial institutions provided loans and underwriting to the fossil fuel sector, with Mizuho, Sumitomo Mitsui Financial and Mitsubishi UFJ Financial providing the largest percentage of finance.
Available online.
Provides information on a country-by-country basis on the proven reserves, production and consumption.
Provides analysis of reserve to production ratios, production and consumption by region.
Maps coal prices in the region.
Available online.