Standard Chartered wants to fund dirty coal-fired power stations in Vietnam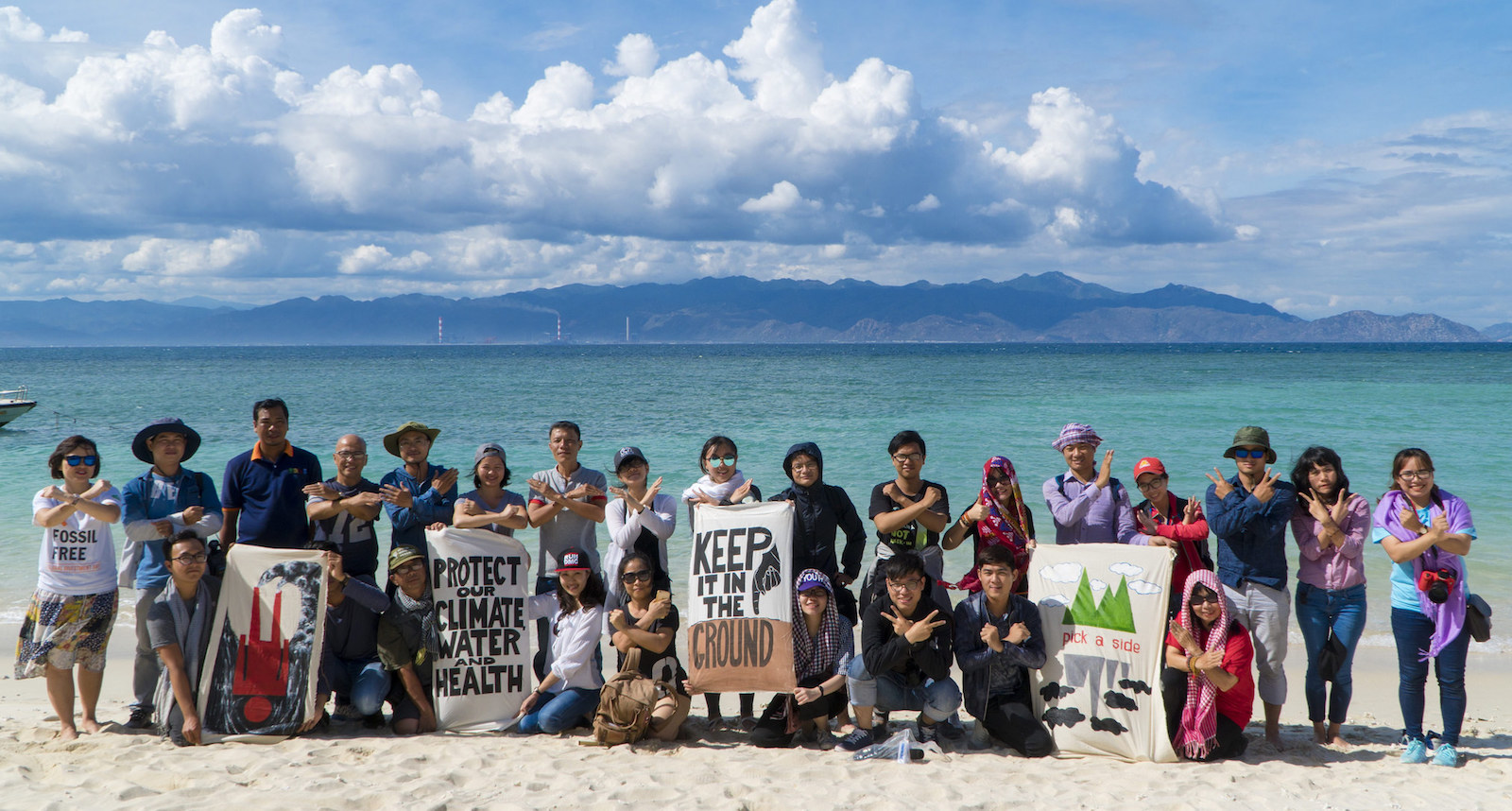 Vietnam's Hon Cau Marine Protected Area is at risk from the Vinh Tan coal fired power plant complex (seen in the distance), which includes the proposed Vinh Tan 3 plant. The project is one of several backed by banking syndicates that include Standard Chartered. Photo: 350.org
"We consider climate change as one of the greatest challenges facing the world today, given its widespread and proven impacts on the physical environment, human health and its potential to adversely impact economic growth."Standard Chartered Bank
These are admirable words from one of Britain's biggest banks. It's a shame however that Standard Chartered – whose longstanding motto is 'here for good' – is failing to live up to them.  As of June 2018, the Asia-focused bank is reportedly part of several banking syndicates backing plans to build three new dirty coal-fired power plants in Vietnam. These are:
Each of the new multi-billion dollar plants:
Standard Chartered is breaching its climate pledges
Earlier this year, Standard Chartered withdrew from a deal to co-finance the  US$1.87 billion Nghi Son 2 coal-fired power plant in Thanh Hoa province, which had faced strong pressure from environmental groups.
"A campaign by green groups Greenpeace and Market Forces pointed out that by financing the coal plant, StanChart was in breach of its own policy on energy and climate change. That policy rules out providing loans for coal plants above a certain emissions intensity.
The coal financing deal also goes against the Equator Principles, a framework for banks to assess the environmental and social risk of the infrastructure projects they finance, that StanChart signed in 2003." – Eco-Business
Standard Chartered has refused to comment on why it pulled out of Nghi Son 2. And despite ditching that deal, it continues to back the three other proposed coal-fired plants.
Vinh Tan 3: a disaster in the making
Vinh Tan 3 is planned to sit within the Vinh Tan complex in the Vĩnh Tân commune, Tuy Phong district, Bình Thuận province, Vietnam. The total capacity of this controversial power complex is 6,224 MW. 
Vinh Tan 3 is expected to come online in 2019. Like the Nghi Son 2 project from which Standard Chartered recently withdrew, serious concerns exist about how this new coal-fired project:
1. Is non-compliant with the Equator Principles
Local communities have not been able to access any information on Vinh Tan 3's expected level and nature of emissions. This contravenes Principle 5 of the Equator Principles, to which Standard Chartered is a signatory, and states that documentation must be readily available to affected communities.
2. Potentially breaches Standard Chartered's own CO2 emissions intensity limit
Like the Nghi Son 2 project, Vinh Tan 3 is expected to employ outdated 'supercritical' technology. According to Standard Chartered's own position statement, the bank's decisions to fund coal plants should be made only if the plants use "the best available technology" and if "the choice of fuel type, technology and resulting emissions cannot be improved".  As noted, no information has been made available that enables calculation of the Vinh Tan 3 plant's expected CO2 emissions intensity.  So it remains unknown whether the plant will breach Standard Chartered's emissions limit specified in its position statement on power generation.
Local people bear brunt of coal pollution from Vinh Tan
Serious pollution from Vinh Tan's existing power complex provoked strong community protest within a year of operations starting at Vinh Tan-2 in 2014. Coal ash from the plant has affected air quality, with many villagers, especially children, reporting respiratory illness. Leaks have also caused damage to farms, and plant water discharged into the sea has caused a decline in fish population, impacting local incomes. In April 2015, hundreds of people in Vĩnh Tân Commune took to the streets, blocking the national highway for two days to prevent trucks from transporting coal slag to the cinder dump. Some of the protestors were even later given prison sentences.
Plans for dredging at Vinh Tan-1 to create a channel for waste transportation also sparked wide concern over potential harm to the pristine 12,500 hectare Hòn Cau Marine Protected Area. The marine park is a spawning ground for shrimp, fish and sea turtles, and home to 34 rare and endangered species.
---
What should Standard Chartered do?
Immediately withdraw from the 3 coal-fired power stations listed above.

Exclude all  financial support for all coal-fired power stations, and,
Exclude all financial support to coal mines.