28 May 2021
In a landmark judgment yesterday about Whitehaven's proposed Vickery coal mine, Australia's Federal Court decided that the national environment minister has a duty of care not to cause harm to young people from climate change.
According to Ava Princi, one of the eight school students who brought the case, "While the Court stopped short of preventing the Minister from approving the Vickery mine extension today, it has ordered parties to come together to find a way forward. We are still optimistic that the climate harms from this mine will not happen." [1]
Whatever happens next, as long as Vickery remains on the table we need to use this moment to ensure Whitehaven can't secure the $700 million required to build it. That's where the banks come in.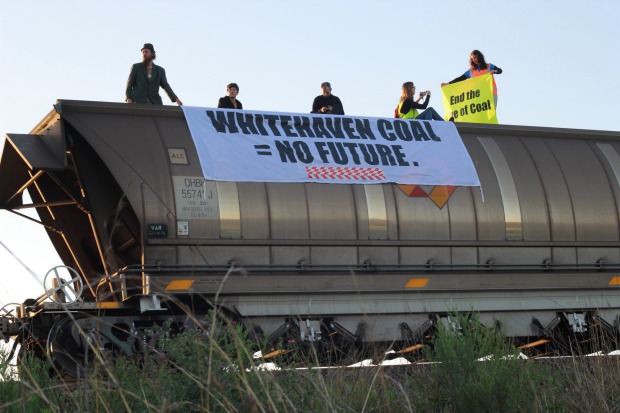 Banks in the spotlight over support for Whitehaven
Whitehaven says its climate-wrecking Vickery coal mine proposal would cost $700 million [2]. But last week's landmark report from the International Energy Agency, an influential energy adviser to the world's governments, makes clear that not another cent can go towards new or expanded coal projects if we're to achieve net zero greenhouse gas emissions by 2050 [3].
"No new coal mines or extensions of existing ones are needed in the [Net Zero Emissions scenario] as coal demand declines precipitously."

International Energy Agency, May 2021
To make sure that happens, Whitehaven's lenders must commit to not renew their existing funding commitments with the company, or make new ones that could support Vickery and other dirty projects like Winchester South or the Narrabri Underground Mine Stage 3.
These lenders include two major Australian banks—NAB and Westpac—and two major European banks—Credit Suisse and Deutsche Bank. All four of these banks have supported the goal of net zero by 2050, and have coal lending policies that either explicitly exclude new thermal coal mines, or set end dates for the bank's exposure to thermal coal mining.
We must hold them to account. These banks, and Whitehaven's other eight lenders, must immediately rule out any further funding for Whitehaven.
Whitehaven's disastrous Vickery mine plans
The Vickery coal mine is totally out of line with a safe future. When emissions from digging up and burning the coal are added, the mine would unleash almost 370 million tonnes of climate pollution over its lifespan [4], the equivalent of about 70% of Australia's annual carbon emissions.
Vickery is part of Whitehaven's environmentally reckless plans to spend over $2 billion expanding Australia's coal industry. To justify these dirty coal expansions, Whitehaven refers to coal demand scenarios consistent with the failure of the Paris Agreement [5], or in other words, catastrophic ecological, social and economic collapse.
Take action!
Tell Whitehaven's financial bankers to rule out funding Whitehaven and its Vickery coal mine!
Your message will be sent to National Australia Bank (NAB), Westpac Bank, Bank of China, Sumitomo Mitsui Banking Corp, Industrial & Commercial Bank, Mizuho Bank, Bank of Communications Co, MUFG Bank, Caterpillar Finance Corp, Credit Suisse AG, Deutsche Bank, and China Everbright Bank.
---
Sharma v Minister for the Environment
The class action about the Vickery coal mine expansion was brought by a group of eight young people from across Australia, represented by Equity Generation Lawyers and assisted by their 86 year-old litigation guardian, Sister Brigid Arthur [6].
The original plan for the Vickery coal mine was approved by the New South Wales government in 2014. However, the mine has not yet been built, and several years ago Whitehaven returned to state and federal governments seeking an expansion of the initial project. The class action sought to prevent the federal environment minister from approving the proposed expansion.
In its decision, the Federal Court acknowledged that the burning of coal from the Vickery expansion "would increase the risk of global average surface temperatures increasing beyond 2°C and the risk of global surface temperatures being propelled into an irreversible 4°C trajectory" [7].
The Court also decided that the environment minister should not make decisions that harm young people, although the judge stopped short of preventing the Minister from approving the Vickery expansion. The judge will make orders on the future of the project at a later date, after further submissions from the parties.
While Vickery remains on the books, we need to shine the spotlight on the banks, who must rule out funding Whitehaven and its climate-wrecking coal mines.
[1]
Equity Generation Lawyers, Students win landmark climate case. In global first, minister has duty of care to protect young people from climate change (27 May 2021)
. [2]
New South Wales Independent Planning Commission, Vickery Extension Project SSD 7480 – Statement of Reasons for Decision (12 August 2020) 11
. [3]
Market Forces, IEA's net zero pathway confirms no room for expanding fossil fuel industry (19 May 2021)
. [4]
New South Wales Independent Planning Commission, Vickery Extension Project SSD 7480 – Statement of Reasons for Decision (12 August 2020) 44
. [5]
Market Forces, Out of Line, Out of Time – The 23 Australian Companies Undermining Climate Action (February 2021)
. [6]
Equity Generation Lawyers, Sharma v Minister for Environment (2021)
. [7]
Federal Court of Australia, Sharma by her litigation representative Sister Marie Brigid Arthur v Minister for the Environment (2021)
.