out of line, out of time
The 21 big Australian companies actively undermining the climate goals of the Paris Agreement
Take action
Take action
Tell your super fund to ditch climate-wrecking companies
Embed socials graphic for sm and xs screens
How super supports climate-wreckers
Australia's superannuation industry invests $2.7 trillion on behalf of the nation's workers. Through those investments, super funds own 37% of the Australian Securities Exchange. That means super funds own a huge chunk of the companies that are driving us towards catastrophic climate change. Companies like Whitehaven Coal, New Hope, Santos and Woodside.
And if your super fund owns a piece of these companies, so do you! Fortunately, this gives us and our super funds a lot of power. We need to harness that power to ensure only those companies that are willing and able to be part of the climate solution see any of our hard-earned dollars.
The 21 'Out of line, out of time' companies identified in this study have had their chance to show they deserve a place in the low carbon transition. Not only have they failed to take that chance, they are actively undermining climate action. And they're using the money invested by our super funds to do it!
It's time for our super funds to get our retirement savings out of the 21 'Out of line, out of time' companies.
The companies holding us back
Market Forces reviewed the public disclosures of all ASX 300 companies to determine the extent to which those companies' business strategies align with the climate goals set out in the Paris Agreement. We found:
Out of line, out of time
21 companies are actively undermining the Paris climate goals by pursuing new fossil fuel projects or banking on scenarios that would doom the Paris Agreement to failure. These companies make up 7% of the total value of the ASX 300. Super funds must ditch these companies if they are serious about playing their part in the fight against runaway climate change.
Out of line, potential shown
3 more companies (AGL, BHP and Origin) still have plans to expand fossil fuels, but have shown some progress towards aligning their businesses with the Paris climate goals. Super funds need to use their power to ensure these companies' overarching climate statements are matched with the targets and action required to meet them. These companies have one last chance to align their business strategies with the Paris climate goals. If they fail to do this, super funds need to divest.
TAKE ACTION: Tell your super fund to ditch climate-wrecking companies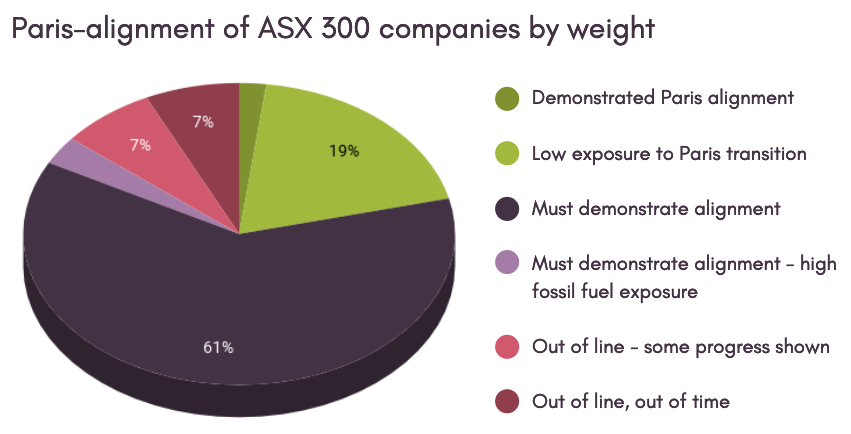 Out of line, out of time companies
| Company | Expanding fossil fuels | Relying on non-Paris-aligned secenario |
| --- | --- | --- |
| APA Group | | - |
| Beach Energy | | - |
| Caltex Australia | | - |
| Cooper Energy | | - |
| FAR | | - |
| Karoon Energy | | |
| Liquefied Natural Gas | | |
| Mineral Resources1 | | - |
| New Century Resources | | - |
| New Hope | | |
| Oil Search | | |
| Santos | | |
| Senex | | - |
| Seven Group | | |
| South322 | | |
| Sundance Energy | | - |
| Viva Energy | | - |
| WH Soul Pattinson | | |
| Whitehaven Coal | | |
| Woodside | | - |
| WorleyParsons3 | - | |
Mineral Resources is predominantly a mining services company and iron ore miner, but

acquired

Empire Oil & Gas in 2017, and is actively pursuing gas development opportunities in Empire's exploration tenements.

South32

has

started

to shift away from thermal coal production, separating its South Africa Energy Coal business and attempting to reduce its ownership in the spun-off company. But during this process, the company approved a 20 year extension to its South African Klipspruit coal mine. South32 also continues to increase its metallurgical coal production in Australia. While the company has disclosed climate change scenario analysis, its 'base case' would see 4°C of warming, and its most ambitious climate scenario gives just a 50% chance of limiting warming to 2°C.
WorleyParsons is not a fossil fuel producer like many on this list, but provides advisory, engineering, and construction services to the fossil fuel industry and is listed in the Energy sector according to the GICS methodology. In 2018, 76% of the company's revenue came from providing services to companies extracting and processing oil and gas.

WorleyParsons' stated

strategic priorities

include growth of its fossil fuel business and pursuing potential LNG opportunities. The company also

refers

to a number of energy scenarios to support the claim that "Oil and gas are both forecast to grow to 2040… as will renewables." This is inconsistent with the IPCC's analysis, which shows oil and gas use must both begin to decline by 2030 if we are to hold global warming to 1.5°C without carbon capture and storage becoming viable.
Case studies
Coal cowboys
Coal miners Whitehaven Coal and New Hope are two of the most obvious examples of companies driving us towards climate catastrophe.
The IPCC tells us 1.5°C means coal's share of the global energy mix will fall by around 70% by 2030, and be practically non-existent by 2050. Glencore, one of the biggest coal miners in the world, seems to at least be coming around to this reality, having committed to cap its coal output.
But both Whitehaven and New Hope are still planning massive coal mine expansions, and telling investors there will be growing demand for coal in Asia for decades to come. What they fail to mention is that those demand projections are based on a scenario that would see catastrophic global warming of around 4°C!
Super funds were given their chance to tell Whitehaven to bring its plans into line with the Paris Agreement at the company's 2018 AGM, but only one (VicSuper) has confirmed it voted for this action.
Some funds exclude investment in coal companies like Whitehaven and New Hope, and this is the kind of action we need to see from all super funds that want to play their part in avoiding runaway climate change.
But what about coal mining's contribution to Australia's economy? Well, Whitehaven has paid $0 in tax in the last three years! Although the company was able to stump up $50,000 for political donations during that period.
Take action: tell your super fund to ditch climate-wrecking companies like Whitehaven Coal and New Hope!
DISCLAIMER
The information provided by Market Forces does not constitute financial advice. The information is presented in order to inform people motivated by environmental concerns and take actions based on those concerns. Market Forces is organising data for environmental ends.
The information and actions provided by Market Forces do not account for any individual's personal objectives, financial situation or needs. It should not be used, relied upon, or treated as a substitute for specific professional advice.
Market Forces recommends all users obtain their own independent professional advice before making any decision relating to their particular requirements or circumstances. Switching super funds may have unintended financial consequences.
For more information about Market Forces, please visit the about page of the site. To see how we profile super funds go to the methodology page.
---