After a horror summer of drought, bushfire, floods, and other extreme weather events, we need to collectively demand action to rapidly reduce emissions in order to avoid the worst impacts of climate change.
But 22 of Australia's biggest companies are dragging us in completely the wrong direction, pursuing new fossil fuel projects and business plans that spell the failure of the Paris Agreement. And they're using our retirement savings to do it.
At the start of 2020, super funds had over $175 billion of Australians' retirement savings invested in the 22 Out of Line, Out of Time companies, plus another $165 billion in BHP, which is teetering on the edge of the list. Our banks research has also revealed ANZ, Commonwealth Bank, NAB and Westpac have loaned almost $7 billion to these Out of Line companies since 2016.
The 22 companies identified in this report have had their chance to align with the goal of holding global warming to 1.5°C, but have failed to take it. They are out of line, and out of time.
TAKE ACTION
Tell your super fund to ditch climate-wrecking companies
---
How super supports climate-wreckers
---
Australia's superannuation industry invests $3 trillion on behalf of the nation's workers, with $2.2 trillion of that managed by super funds, rather than self-managed. Through those investments, super funds own 40% of the Australian Securities Exchange. That means super funds invest a huge chunk of our money in companies driving us towards catastrophic climate change. Companies like Whitehaven Coal, New Hope, Santos and Woodside.
And if your super fund owns a piece of these companies, so do you! Fortunately, this gives us and our super funds a lot of power. We need to harness that power to ensure only those companies that are willing and able to be part of a decarbonised economy are supported with our hard-earned dollars.
The 22 'Out of line, out of time' companies identified in this study have had their chance to show they deserve a place in the low-carbon transition. Not only have they failed to take that chance, they are actively undermining climate action.
It's time for our super funds to get our retirement savings out of the 22 'Out of line, out of time' companies.
---
The companies holding us back
---
The 22 companies in this table are undermining climate action by:
Expanding the scale of the fossil fuel sector; and/or
Relying on scenarios consistent with the failure of the Paris Agreement to justify their future business prospects.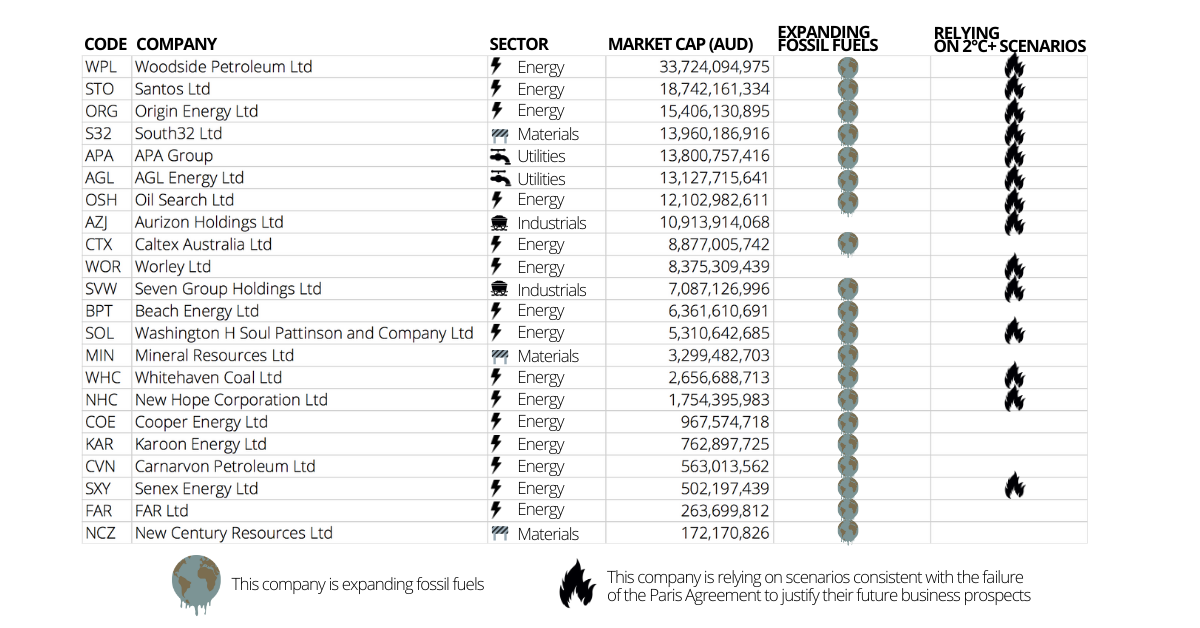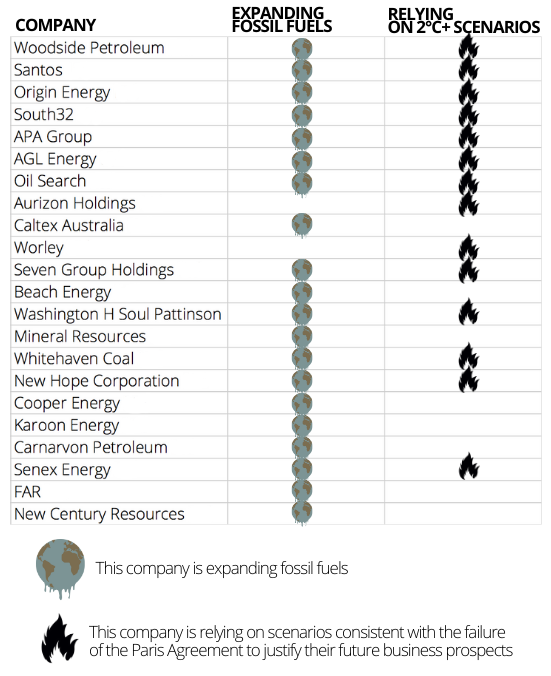 As at 16 January 2020
At the start of 2020, these companies represented 7.54% of the ASX 300 by market capitalisation, or 15.56% if we include BHP (see below). On 19 March, in the midst of the Coronavirus pandemic and massive oil price fall, the 22 Out of Line, Out of Time companies represented just 5.77% of ASX 300 market cap (13.61% including BHP).
Each of these companies has had years of public pressure, and warnings from shareholders, investors and regulators about the need to manage climate risks, and stay in line with the Paris climate goals. In the face of the climate crisis, super funds can no longer justify remaining invested in any Out of Line, Out of Time company. In order to align investments with the Paris climate goals and meet the expectations of members, super funds must cease investment in these 22 Out of Line, Out of Time companies immediately.
---
---
How do the rest of the ASX 300 align with the Paris Agreement?
---
Almost half of the 300 largest publicly owned companies in Australia (126 companies representing 60% of market capitalisation) do not meet the Out of Line criteria, but still need to demonstrate how they will bring their business models into line with the goals of the Paris Agreement.
Investors must work with these companies to ensure they produce Paris-aligned plans and targets as part of their annual reporting.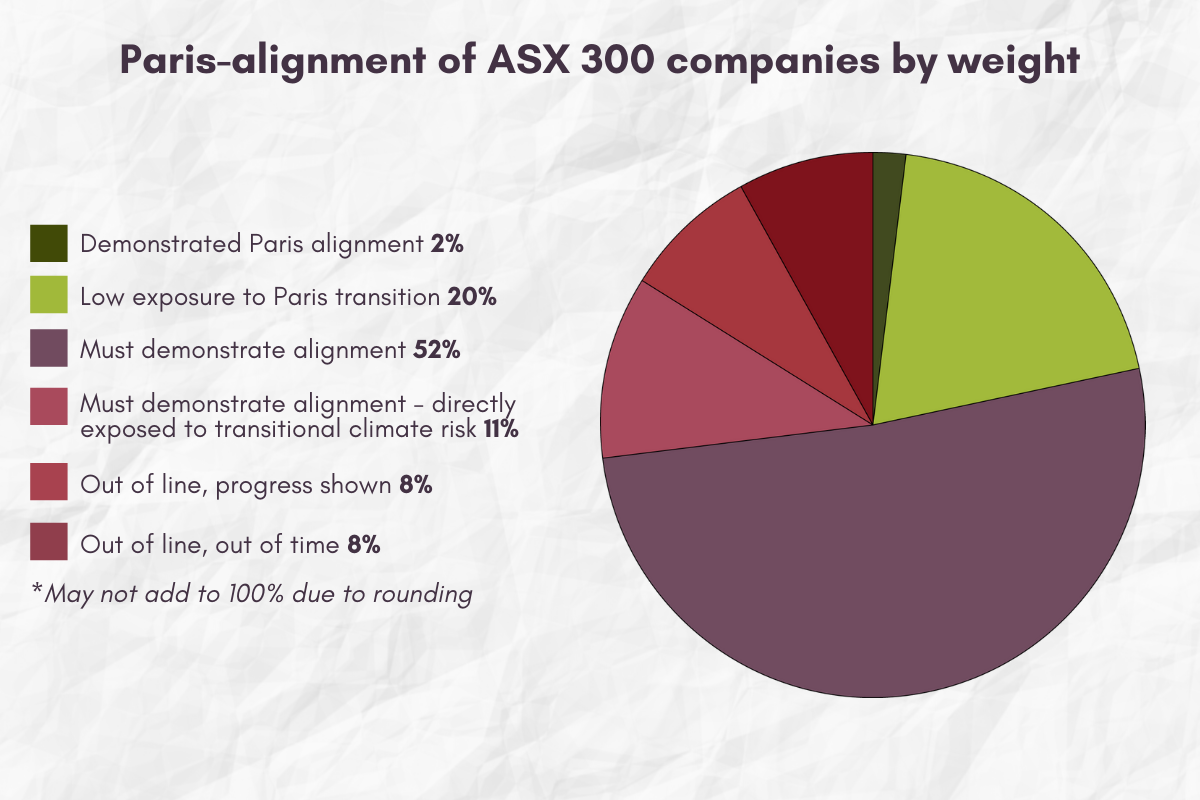 Directly exposed to climate transition risk
Of these companies, 26 were found to be directly exposed to the transition away from fossil fuels required to meet the climate goals of the Paris Agreement. These companies either provide services to support the fossil fuel sector, such as mine operators, or rely on fossil fuels to process their products, such as iron ore producers.
These companies must face strong, targeted investor engagement to ensure they manage down their significant exposure to climate change transition risks by shifting their business models away from their current reliance on fossil fuels. If they are unable or unwilling to transition, super funds must consider divestment.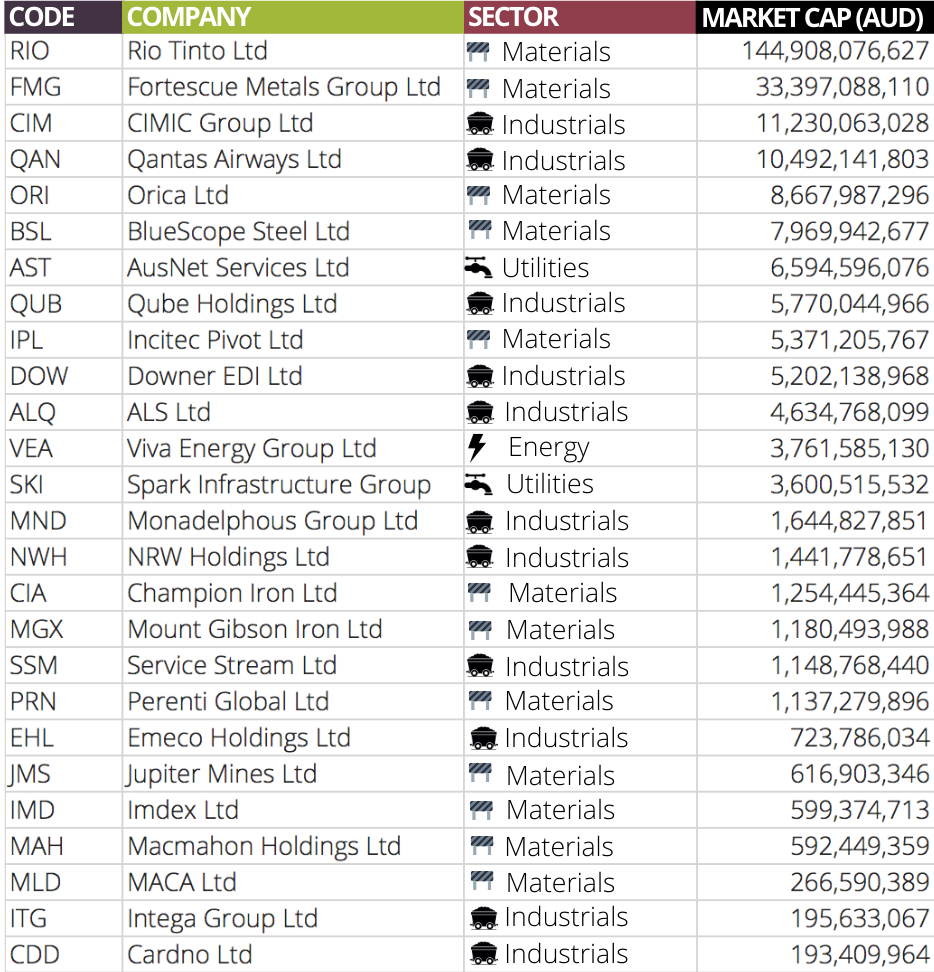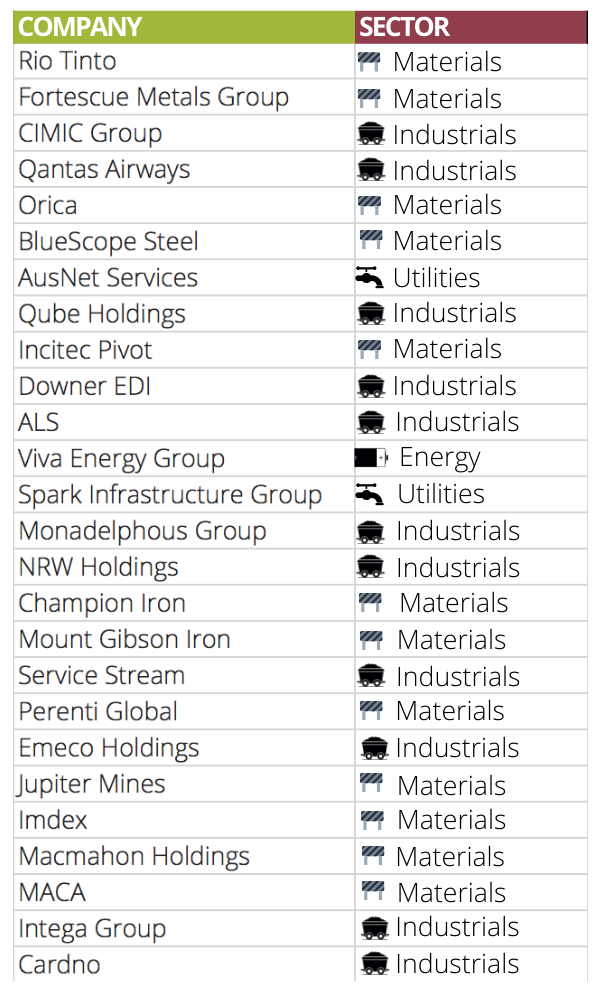 As at 16 January 2020
---
TAKE ACTION: Tell your super fund to ditch climate-wrecking companies
DISCLAIMER
The information provided by Market Forces does not constitute financial advice. The information is presented in order to inform people motivated by environmental concerns and take actions based on those concerns. Market Forces is organising data for environmental ends.
The information and actions provided by Market Forces do not account for any individual's personal objectives, financial situation or needs. It should not be used, relied upon, or treated as a substitute for specific professional advice.
Market Forces recommends all users obtain their own independent professional advice before making any decision relating to their particular requirements or circumstances. Switching super funds may have unintended financial consequences.
For more information about Market Forces, please visit the about page of the site. To see how we profile super funds go to the methodology page.
---