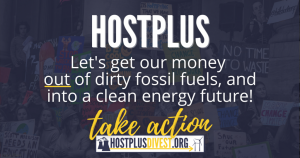 We've launched a targeted campaign just for you at HostplusDIVEST.org.
Hostplus invests $50 billion on behalf of hundreds of thousands of young Australians working in cafes and restaurants, as well as workers in the tourism, sports, and recreation sectors, which face the brunt of climate impacts.
Members want to see their fund investing in a clean, renewable future that protects the places and activities we love, not the polluting industries of the past.
Tell Hostplus to get our retirement savings out of dirty coal, oil and gas, and into the 21st century!
Australian share investments
Key: Fine Work to do Borderline Out of line Not Disclosed
Hostplus discloses its top 100 Australian and top 100 international shareholdings. At least 12% of the Balanced option's Australian share investments is in companies actively undermining the climate goals of the Paris Agreement, including BHP, Santos, Woodside Petroleum, AGL, and Origin Energy.
Terms and methodologies explained
---
Known fossil fuel exclusions
Hostplus has no explicit fossil fuel exclusions.
---
General fund information
Fund type: Industry
Assets under management: $49.8 billion
Members: 1,302,000
Date as at 31/03/2020
Reference: https://hostplus.com.au/
Other funds by the same provider
---
Take action
Use the form below to tell your fund
to lift its game on climate action!
* These fields are required.