11 June 2021
Data released last month shows that coal company New Hope splurged over $650,000 on the 2020 Queensland election, ranking fourth on a 'big spenders' list headed by Clive Palmer's Mineralogy Pty Ltd [1].
The bulk of the company's expenditure was on advertising, marketing and public relations advice [2], as New Hope sought to pressure the Queensland government to grant approvals for an expansion of the company's New Acland coal mine.
| Category | Expenditure |
| --- | --- |
| Advertising | $418,717 |
| Media, Marketing & Public Relations | $129,327 |
| Research & Polling | $99,544 |
| Travel & Accomodation | $7,788 |
| Other | $3,152 |
| Total | $658,528 |
New Hope's expenditure on the 2020 Queensland election [2]
Fossil fuel corporations' influence over our democracy is wrecking our climate. Market Forces analysis has previously revealed that fossil fuel companies are also huge donors to Australia's political parties [3].
New Hope is financially supported by its bankers. ANZ, Macquarie, NAB, Caterpillar and Mizuho loaned a combined $600 million to the company in November 2018.
Disastrous coal expansion plans
New Hope's Queensland advertising blitz was intended to pressure the state government into handing over approvals for New Acland Stage 3, even while the expansion had a pending High Court appeal – an appeal that was successful in February [4].
Stage 3 is a proposed 12 year expansion to the existing New Acland thermal coal mine that would produce over 170 million tonnes of carbon emissions [5]. It would see three vast open-cut coal pits dug on the prime agricultural land of the Darling Downs.
New Hope's plans to expand the coal industry are totally inconsistent with a pathway to limit global warming to 1.5ºC. To achieve this, no new mines or expansions can proceed, and global coal production must decline 11% each year between 2020 and 2030 [6].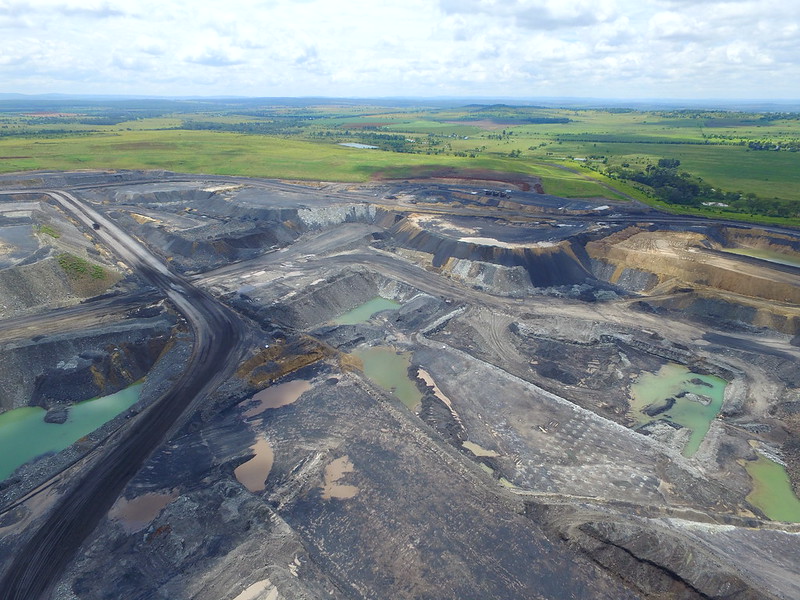 Breaking environmental laws
Not only is New Hope wrecking our climate, it's operations at New Acland are renowned for breaking environmental laws.
In 2018, the company was fined by the Queensland government for drilling 27 illegal water bores [7]. In 2020, documents obtained under freedom of information laws revealed that New Hope had been caught breaking noise limits on its operations 34 separate times in a 10 week period [8]. As of 11 June 2020, New Hope is also under investigation for allegedly mining $500 million worth of coal outside its approved open-cut pit boundaries [9].
This dirty coal corporation simply can't be trusted – with our climate, water or environmental laws. It's time for New Hope's banks to walk away.
[1] Jack McKay (The Courier Mail), Full list: 2020 state election top spenders revealed (18 May 2021).
[2] Compiled from Electoral Commission Queensland, Election Summary Return – New Hope Corporation Limited (May 2021).
[3] Market Forces, Dirty Money – Political Donations from the Fossil Fuel Industry (1 February 2021).
[4] David Chen, Elizabeth Byrne and Elly Bradfield (ABC News), High Court orders fresh hearings into approvals for New Acland coal mine expansion (3 February 2021).
[5] Market Forces, Australia's pariah projects: the fossil fuel proposals threatening to bust our climate goals (2020).
[6] SEI, IISD, ODI, E3G and UNEP, The Production Gap: 2020 Special Report (2020).
[7] Ben Smee (The Guardian), New Acland coalmine caught drilling illegally at 27 sites – and fined just $3,152 (30 July 2019).
[8] Ben Smee (The Guardian), New Acland coalmine fined just $9,461 for 34 separate noise violations (24 June 2020).
[9] Elly Bradfield and Nathan Morris (ABC News), New Acland Coal operation under investigation after allegations of illegal mining (18 June 2020).
Take action!
Tell New Hope's financial backers to stop funding companies expanding the climate-wrecking coal industry!
Your message will be sent to ANZ, NAB, Macquarie Bank, Cat Financial and Mizuho.
---
Woah big spender! #Coal company New Hope splurged $650K on the 2020 #QLD election promoting its dirty New Acland mine expansion?

Tell New Hope's bankers @ANZ_AU @Macquarie @NAB to wave goodbye to this #climate wrecking company! ?#ClimateCrisishttps://t.co/xnjpr9H4NH

— Market Forces (@market_forces) June 11, 2021