21 October 2019

AIG's refusal to make a one sentence statement has drawn New Zealand Rugby into the #StopAdani campaign, tarnishing the All Blacks brand during the Rugby World Cup.

In early September 2019, just days after a massive petition signed by over 100,000 people was presented to AIG's offices in Australia calling on it to rule out insuring the disastrous Adani Carmichael coal project, an AIG staff member contacted the #StopAdani campaign and revealed AIG was indeed insuring Adani's preliminary ground works at the Carmichael mine site, and that the policy would expire on 30 September. The employee said that AIG's head office in New York didn't want the policy renewed but that the Australian office was willing to keep Adani Carmichael as a customer – ignoring staff concerns.

Despite repeated requests and thousands of emails from #StopAdani activists, AIG has refused to clarify its position, even while two other insurers have done so this month. Sixteen major insurance companies from Europe, Australia and the USA have now ruled out insuring Carmichael coal, due to both reputational risk and the urgent need to phase out coal use to help us avoid catastrophic global warming. The latter is something insurance companies understand more than most, with worsening extreme weather hitting their profits hard.

AIG's refusal to clear the air has resulted in its sponsorship of the All Blacks and Black Ferns NZ rugby teams being challenged by the #StopAdani campaign and groups SumOfUs and 350 Aotearoa. All have called on NZ Rugby to drop AIG as a sponsor, until AIG confirms it is no longer insuring climate-wrecking Adani Carmichael.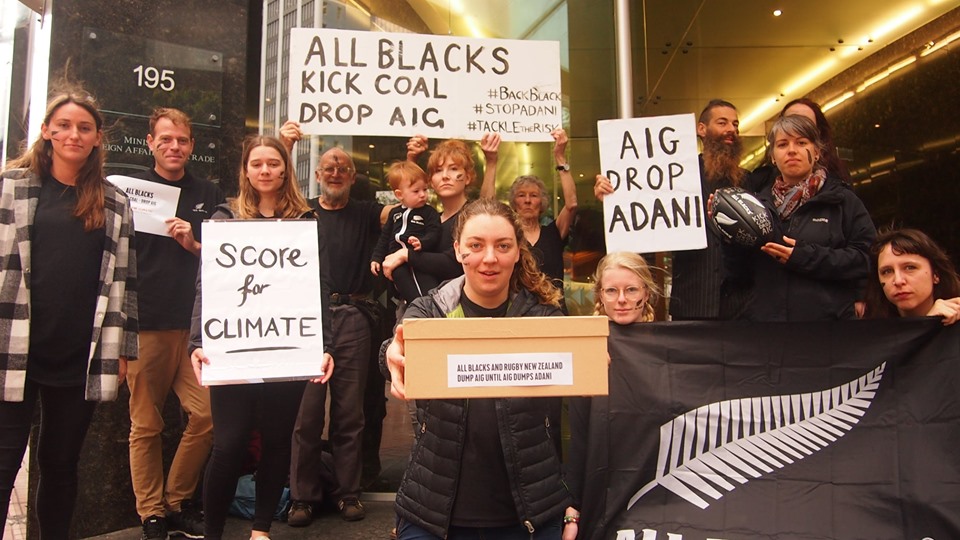 This has generated media attention both in New Zealand and Australia, giving the All Blacks management and players an unwanted distraction during the Rugby World Cup. Tens of thousands of people have written to or signed petitions addressed to NZ Rugby. The organisation has so far refused to review its links to AIG, despite rugby fans feeling angered by the All Blacks being linked to a massive new coal project in the midst of the climate crisis.

If it is true that AIG is no longer insuring the Adani Carmichael project, then its refusal to clear the air is a devastating show of disrespect to NZ Rugby and the All Blacks. With one sentence AIG could have made all this go away, yet so far it has chosen to maintain its silence and allow the All Blacks brand to be dragged through the mud along with its own.

Any other organisations looking at partnering with the insurance company should note AIG's behaviour as an indication of how little it cares about its existing partners.
Find out which companies are working with Adani on the destructive Carmichael coal project at the Adani List website.