Shareholder resolutions call for fossil fuel wind up plans
13 August 2020
Market Forces is supporting shareholders to propose resolutions, calling on pure play (undiversified) coal, oil and gas producers to demonstrate how they will 'wind up' (bring about an end to) their current operations over time, protecting investors' money from being wasted on new projects, and supporting workers as the economy rapidly moves on from fossil fuels to meet the Paris Agreement.
Shareholder resolutions are formal proposals raised by shareholders, which must be voted on by all of a company's investors at its annual general meeting (AGM). These particular resolutions have been prepared for the four biggest pure play fuel producers on the Australian share market that have AGMs to be held in the second half of 2020: Whitehaven Coal, New Hope Group, Beach Energy, and Cooper Energy.
Investors should be making the same demands of all coal, oil and gas producers that have failed to produce plans to transition their business away from fossil fuels, regardless of whether these demands are in the form of a shareholder resolution.
Managing the necessary decline
The companies facing these resolutions have no place in a decarbonised economy. Their business models rely on digging up and selling more dirty coal, oil and gas, when we know these industries must rapidly decline in order to meet the Paris Agreement's goal of holding warming to 1.5°C.
By failing to plan for and manage this necessary decline, these companies risk burning cash on projects that cannot go ahead if we are to avoid the worst impacts of climate change. This failure exposes workers and investors – including our super funds – to the economic and social shocks of abrupt project closures.
Investors must realise their moral and financial imperatives to take this opportunity to call on coal, oil and gas companies to wind up their operations in a manner consistent with the Paris climate goals, while protecting and supporting workers through the transition to a net-zero carbon economy.
Take action: Use the form on this page to tell your super fund to demand fossil fuel producers wind up their operations.
This page contains factual information that is not intended to imply any recommendation or opinion about a financial product. 
TAKE ACTION
Tell your super fund to demand fossil fuel producers wind up their operations.
---
Why are these resolutions being proposed?
The latest science paints a very clear picture: holding global warming to 1.5°C means the world cannot accommodate any new or expanded fossil fuel projects, including supply (coal mines and oil & gas reserves) and power plants.
The amount of CO2 embedded in existing and under-construction fossil fuel projects is more than double the IPCC's 1.5°C budget. It is absolutely clear there's no room for new or expansionary fossil fuel supply projects.
A brutal lesson in climate reality
The last six months has provided a glimpse into what action on climate change, commensurate with the scale needed to meet the Paris Agreement's goals, entails for the fossil fuel industry if it is unplanned and unmanaged.
Fossil fuel demand has plummeted, with CO2 emissions from the sector expected to fall 8% for the year 2020. The UN Environment Programme tells us this scale of emission reduction must occur every year for the next decade if we are to hold warming to 1.5°C.
Put simply, 2020 can serve as a model for the falling fossil fuel demand required under a Paris-aligned scenario. And 2020 has not been kind to fossil fuel producers.
As coal, oil and gas demand and prices have plummeted throughout 2020, we've seen the Australian Energy index lose over 35% of its market value, with fossil fuel companies writing off tens of billions worth of fossil fuel projects that don't stack up in a low demand world. Some international fossil fuel producers, like BP, have started moving in the right direction by committing to reduce production over time. In Australia, companies including Woodside, Whitehaven Coal, Santos and Origin Energy have delayed major new projects investment decisions, but still cling to the hope that conditions will pick up enough to allow them to continue their unsustainable expansion plans.
In order to meet the Paris climate goals, coal power must be phased out globally by 2040, and fall by 80% below 2010 levels by 2030. The Paris-aligned coal phase out dates for the major export destinations of Australia's two pure play thermal coal producers in the ASX 300, Whitehaven Coal and New Hope are shown below.
PARIS-ALIGNED COAL PHASE OUT DATES FOR MAJOR EXPORT DONATIONS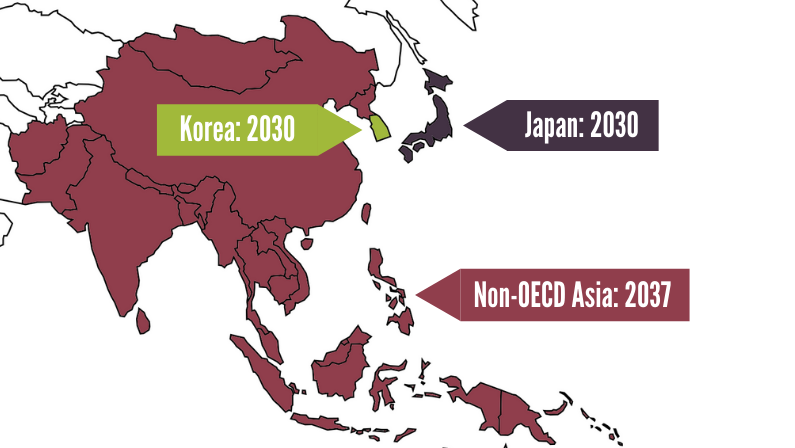 Almost 65% of Whitehaven's current thermal coal market would be gone by 2030, and 95% by 2037. For New Hope, it's 50% by 2030 and 90% by 2037.
Yet Whitehaven and New Hope each have plans to almost double production between now and 2030, at a cost of around $2 billion each, with some projects projected to run into the 2050s. These plans would see Whitehaven and New Hope producing a combined 650 million tons of coal that could not be sold into their current markets, based on the Paris-aligned phase out dates above.
Whitehaven and New Hope key thermal coal market demand vs combined production capacity
While the Paris-aligned transition away from oil and gas will occur more gradually than coal, the need to begin a managed decline in production is vital to limiting warming to 1.5°C. IPCC analysis shows gas use for primary energy must fall globally by 25% by 2030 (from a 2010 baseline), with oil's role in primary energy falling 37% over the same time frame.
Each of Australia's large, pure play oil and gas producers – Woodside, Santos, Oil Search, Beach, and Cooper – have plans to significantly increase production over the next five years and beyond, and are continuing to invest in further exploration and development projects.
"The time to begin planning for a wind-down of gas production is, as with other fossil fuels, already upon us."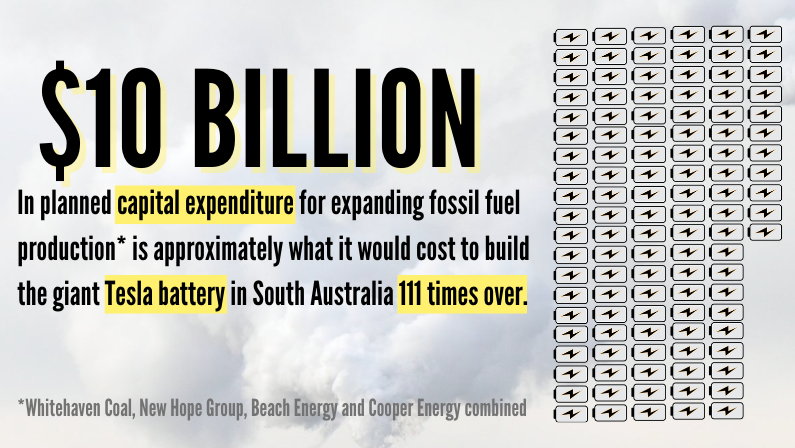 TAKE ACTION: use the form on this page to tell your super fund to demand fossil fuel producers wind up their operations.
Protecting our futures, in every sense
While Market Forces believes companies receiving these resolutions should not enjoy the support of any investor committed to avoiding catastrophic climate change, the fact remains that, through our super funds, almost every working Australian owns shares in these pure play fossil fuel companies.
Recognising this, these resolutions give big investors the opportunity to take ownership of the necessary decline in fossil fuel operations that can be expected from action to meet the climate goals of the Paris Agreement.
"The fact remains that, through our super funds, almost every working Australian owns shares in these pure play fossil fuel companies."
The erosion of value and financial performance in the pure play fossil fuel industry is not a new phenomenon. Australia's listed pure play coal, oil and gas producers have significantly underperformed the market over the past 10 years. Market Forces' May 2020 analysis showed an index tracking the sharemarket performance of the 11 pure play fossil fuel companies in the ASX 300 had halved in value since January 2010, while the ASX 300 had risen 20% over that time. The performance gap has increased over the past 10 years, and the trend has been exacerbated during the Covid-19 pandemic. Experts now suggest we may have passed peak global fossil fuel demand.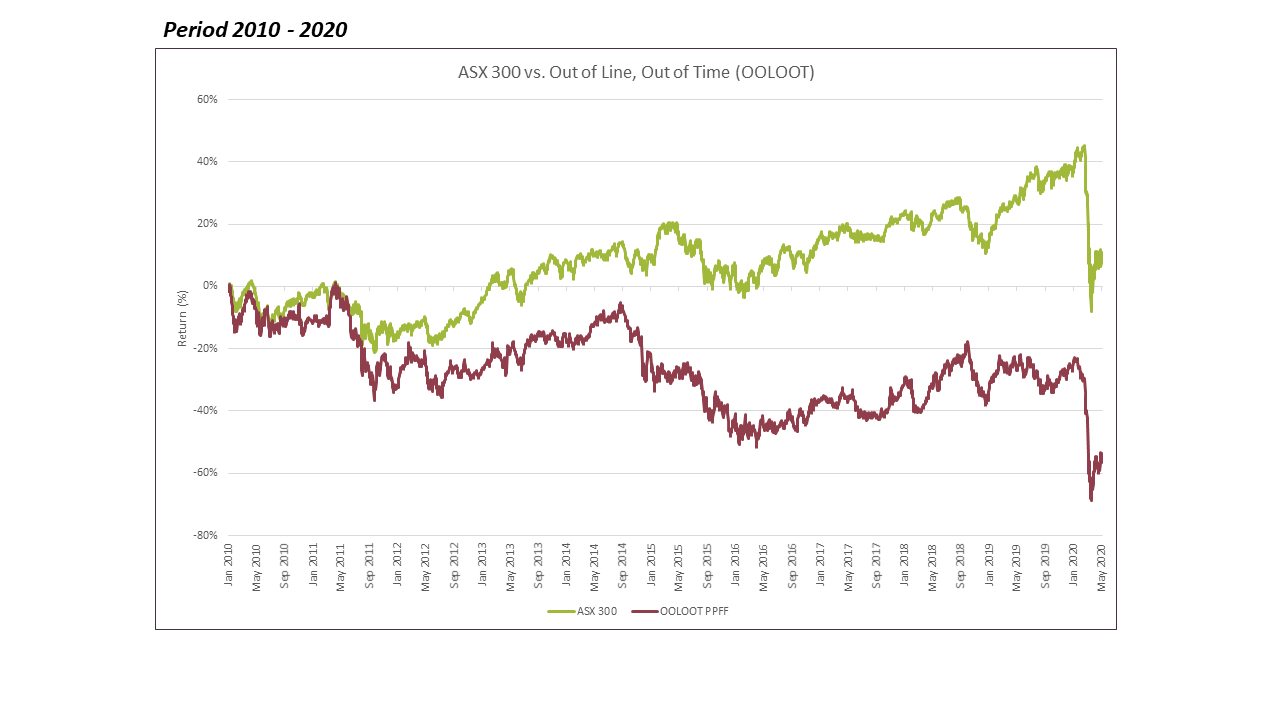 The resolutions are intended to avoid sudden and unplanned job losses as a result of market shocks that the low-carbon transition poses to fossil fuel assets, giving staff the opportunity to be retrained, financially supported and assisted in finding future employment. They are intended to avoid the financial shocks of stranded assets, wasted capital and unpredictable revenues, instead maximising the value of the company's existing assets and providing predictable yields to investors.
The investors that get it
Many investors recognise the need for an orderly wind down of coal, oil and gas companies. In February 2019, Legal & General fund manager Nick Stansbury said of Shell, "In our view the most shareholder-friendly option is to make a commitment now to a managed decline."
Illustrating this line of thinking, a 2019 survey of 39 major fund managers with a combined $10 trillion in assets under management found the vast majority (86%) want oil companies to align their strategies with the Paris climate goals, and "more than two thirds (67%) want oil companies to switch their investment to support a low-carbon transition consistent with these targets, but a quarter (24%) want them to wind down their businesses altogether and return cash to shareholders, believing that they are not a good investment over any time frame." This is down slightly from 29% in 2018, demonstrating that this understanding is not a new phenomenon.
TAKE ACTION: use the form on this page to tell your super fund to demand fossil fuel producers wind up their operations.
The first cabs off the rank
The four pure play (undiversified) fossil fuel companies facing these resolutions in 2020 are Whitehaven Coal, New Hope Group, Beach Energy, and Cooper Energy.
All of these companies have been identified in our Out of Line, Out of Time research as undermining climate action by expanding the scale of the fossil fuel sector; and/or relying on scenarios consistent with the failure of the Paris Agreement to justify their future business prospects.
Whitehaven Coal states "We expect to grow our portfolio from a managed level of approximately 22Mt in 2019 to over 40Mt by 2030." To achieve this, Whitehaven plans to spend almost $2 billion building two new coal mines, which would see the company producing around twice as much coal as it does today well into the 2040s. Whitehaven has repeatedly justified this strategy by reference to coal demand projections that are consistent with a catastrophic 4°C of warming.
New Hope Group plans to spend over AU$2 billion on projects that would significantly increase production out to 2039, and continue production beyond 2050. Like Whitehaven, New Hope regularly refers to the International Energy Agency's New Policies Scenario to talk up the prospects of ongoing coal demand, despite the fact that this scenario would usher in a 4°C warmer world.
Beach Energy is rapidly expanding, with a focus on increasing gas production for the Australian east coast market. The company plans to spend $4 billion to increase oil and gas production by around 50% over the next 5 years, after having already doubled production since 2017.
Cooper Energy has pursued rapid growth in oil and gas production through acquisitions and development in recent years. The company plans to continue on this path with a "5 year development program that can lift gas production more than 10 times FY19 levels, excluding exploration."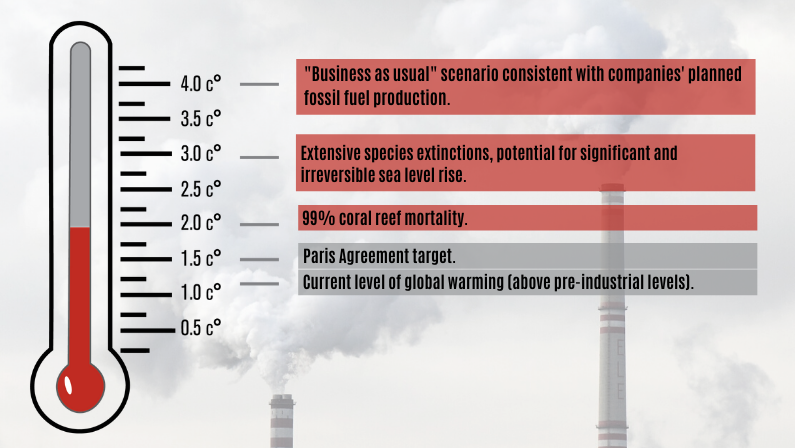 "Drowned cities; stagnant seas; intolerable heatwaves; entire nations uninhabitable… A four-degree-warmer world is the stuff of nightmares and yet that's where we're heading in just decades."

– Gaia Vince, The Guardian
Use the form on this page to tell your super fund to demand fossil fuel producers wind up their operations.
Calculations and assumptions