JAPANESE MEGA-BANKS, GET OUT OF COAL
NOVEMBER 2020
The Japanese megabanks, Mitsubishi UFJ Financial Group (MUFG), Mizuho Financial Group (Mizuho) and Sumitomo Mitsui Financial Group (SMBC Group), are propping up the coal industry, and more broadly supporting fossil fuels.
If we are to have any hope of meeting the global goals of the Paris climate agreement, these banks need to phase out their support of these polluting industries.
Based on publicly available financial information, SMBC Group, MUFG, and Mizuho are collectively in line to provide financial support for a total of four power projects, and all four could go ahead even with these new policies in effect. This includes controversial new coal power projects in Vietnam and Bangladesh.
Collectively, these plants represent close to 4.5GW of coal power, and would produce total CO2 emissions of close to 700 million tonnes.
Their collective lending to coal mining is also significant, having lent US$1 billion to the 30 largest coal companies since the Paris Agreement was signed. In Australia alone, the banks lent US$1.5 billion to coal mining since 2016.
The banks' phase out plans are not suited to the scale of the problem. MUFG, Mizuho and SMBC Group limit their phase out plans to lending to coal power projects, which represent a small fraction of their exposure. Fossil fuel finance forms a material percentage of MUFG, Mizuho and SMBC Group's total financing. By not putting into place phase out plans, these banks are exposed to climate risk and are at serious risk of falling behind other banks.
To ensure a safe climate, MUFG, Mizuho and SMBC must stop their finance to coal power and coal mining projects immediately and phase out their lending to all fossil fuel projects and companies in line with the climate goals of the Paris agreement.
The megabanks are integral in pushing the polluting coal power industry. Meanwhile, the Executive Director of the International Energy Agency has stated that to limit temperature rises to 2ºC, let alone the 1.5ºC scientists recommend, "We have no room to build anything that emits CO2 emissions."
Mizuho: US$4.244 billion | MUFG: US$5.048 billion | SMBC: US$1.114 billion
The megabanks have all made changes in the last year to their coal power lending policies, stating they will no longer fund coal power projects, with very broad exceptions.

The English translation of Mizuho's policy, which came into effect on June 1, 2020 states the bank will not be involved in finance that is intended for new construction of coal power with the following exceptions:
They will be grandfathering in any projects they have committed to before June 2020.
They will consider financing replacement coal power where it is indispensable for stable energy supply for host countries and where this would lead to reduced greenhouse gas emissions.
They will also continue financing next generation coal power projects.
Mizuho also commits to phasing out credit exposure to coal power projects by 2050, and it will half its current balance of 300 billion yen by 2030.

SMBC Group's policy, which takes effect on May 1, 2020, states:
"Support for newly planned coal-fired power plants, in principle is not provided. Exceptions may be considered for those projects which use environmentally friendly technologies, such as ultra-supercritical pressure and for those projects which have been provided support before the revision. SMBC Group also support the development of technologies which contribute to carbon recycling, such as carbon dioxide capture and storage."
In its 2020 Integrated Report, SMBC Group committed to reducing its credit balance of project finance related to coal-fired power generation to zero by 2040.

MUFG's policy which takes effect on July 1, 2020, states:
"MUFG will not provide financing for new coal-fired power generation projects once the revised Framework takes effect…MUFG will take a cautious approach to projects regarding which financial assessment has been ongoing since before the revision to the Framework.
Exceptions may be considered where we will take into consideration the energy policies and circumstances of the host countries, international standards such as the OECD Arrangement on Officially Supported Export Credits, and the use of other available technologies when deciding whether to provide financing. We concurrently support the adoption of advanced technologies for high efficiency power generation and Carbon Dioxide Capture and Storage (CCS) technologies which contribute to a reduction in the emission of greenhouse gases."
MUFG has also stated that its credit exposure to coal power projects will be phased out by 2040.
How do these policies compare?
All three banks now purport to rule out lending to new coal projects, but with significant loopholes.
SMBC Group and Mizuho both explicitly grandfather projects that they are already "supporting". The banks have left it open as to what this includes. If it is all projects that have not reached financial close, then SMBC Group would be financing three new coal power stations, and Mizuho would finance one, Vung Ang 2 in Vietnam.  MUFG should not be financing any "grandfathered"coal power projects based on its policy.
All three banks may make exceptions for technologies of coal power projects. While Mizuho has said that this does not include ultrasupercritical coal power, SMBC Group has explicitly stated that it would consider projects that use this technology. MUFG has also included possible exceptions for ultrasupercritical projects by citing the OECD Arrangement on Officially Supported Export Credits and "advanced technologies for high efficiency power generation and Carbon Dioxide Capture and Storage (CCS) technologies."
MUFG has the ability to finance coal power by "taking to account the circumstances of the host country", which may not include the host country's commitments under the Paris climate agreement or other climate considerations. Mizuho similarly discusses host country needs, but restricts its finance to replacing existing coal power projects.
Based on publicly available financial information, SMBC Group, MUFG, and Mizuho are collectively in line to provide financial support for a total of four power projects (pipeline projects).
These projects have not reached financial close, but the banks are providing advisory services or part of syndicates considering providing finance.
These potential projects represent a total capacity of 4.3 GW of coal-fired power.
These projects, if built, would produce total CO2 emissions of 674 million tonnes.
All three banks would still be able to finance Vung Ang 2, a new polluting coal power project in Vietnam.
These projects are to be built in Vietnam and Bangladesh.
Capacity (Gigawatts) of the projects each bank is reportedly involved with
Mizuho: 1.2 GW, 1 project | MUFG: 2.4 GW, 2 projects | SMBC: 3.1 GW, 3 projects
Vung Ang 2 is a controversial 2 x 600MW coal-fired power station planned in Central Vietnam. All three megabanks, as well as Japan's export credit bank, Japan Bank for International Cooperation (JBIC), are currently looking to finance the project despite a myriad of problems including environmental and human rights issues which will lead to real financial and reputational risk.
Vung Ang 2 is proposed to be constructed proximate to the site of the Formosa toxic chemical spill which caused the most serious environmental disaster in Vietnam's history. It is also near the Vung Ang 1 coal power plant which has seen controversy due to the proximity of coal ash heap to residential areas and farmland, as well as air pollution resulting from the plant. An expert analysis of the environmental impact assessment for Vung Ang 2 emissions by the Centre for Research on Energy and Clean Air found that weaker emission standards, 5-10 times weaker than those in Japan or Korea, will be applied. The construction of Vung Ang 2 will therefore cause further impacts to livelihoods of these local communities.
Furthermore, the plant is being planned, when, according to a recent report from financial think tank Carbon Tracker, it is already cheaper in Vietnam to invest in new solar PV than new coal. Any new coal capacity commissioned after 2020, including Vung Ang 2, would be more expensive than renewables creating the risk that Vung Ang 2 could quickly become a stranded asset.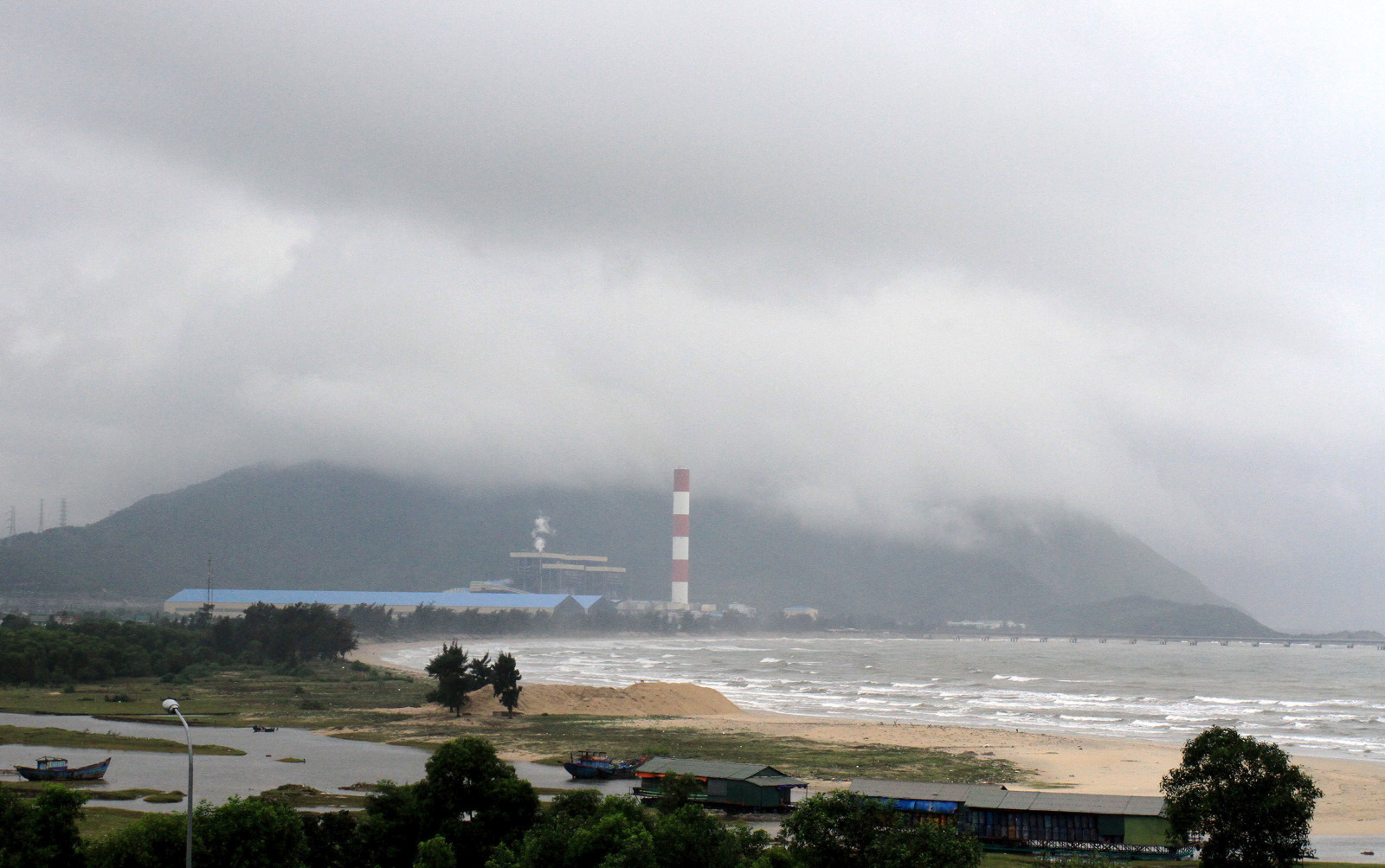 Vung Ang 1 in Central Vietnam

SMBC is financial advisor to the under-construction 1,200 MW Matarbari Phase -1 and the proposed 700 MW Kohelia Phase-1 coal fired power plants in Matarbari, Bangladesh. SMBC is also the financial advisor to the plants' adjacent coal import infrastructure, the Matarbari Deep Sea Port. A second phase of this dirty coal project with additional 1,200 MW capacity is also proposed.
The cumulative impact of Matarbari Phase-1 and 2, and the Kohelia projects, due to their close proximity will be felt by the densely populated communities of Bangladesh. According to a 2020 Centre for Research on Energy and Clean Air (CREA) report, pollution from Matarbari (Phase 1 and 2) and Kohelia (Phase 1 and 2) is projected to result in over 10,000 premature deaths over the projects' operational years.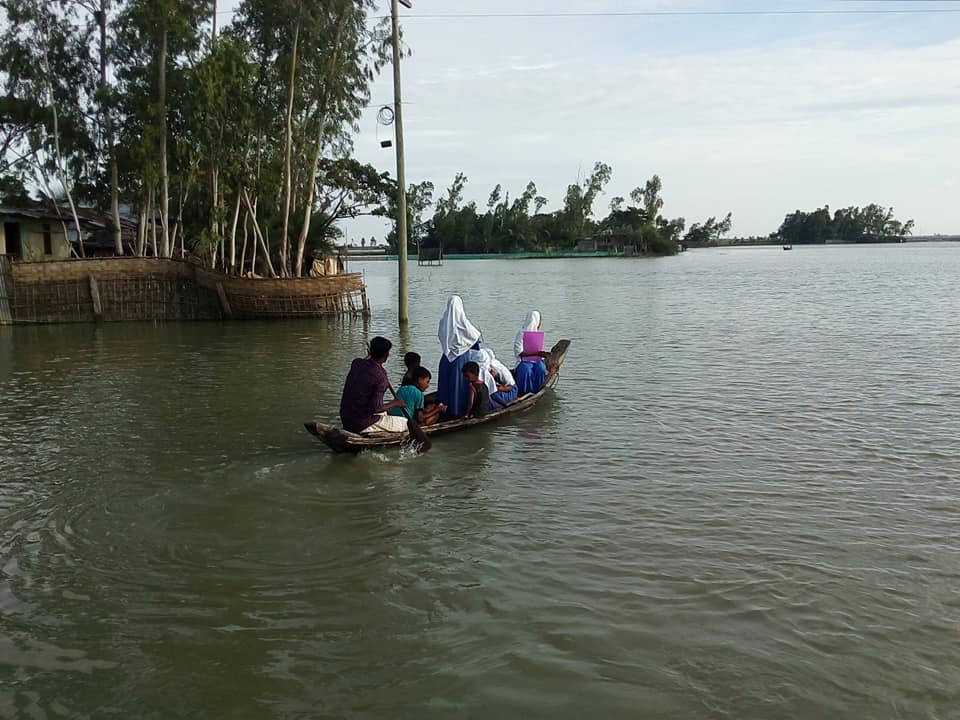 School children at Matarbari heading to school on small boat as Matarbari is water logged due to coal plant construction. Photo Credit: CLEAN (Coastal Livelihood and Environmental Action Network) Bangladesh
The people of Matarbari island are already struggling; they live in climate-vulnerable Bangladesh's coastal area and frequently experience extreme weather and storm surges. The construction of Matarbari Phase-1 worsened these impacts, blocking natural drainage systems. In 2018, locals reported "five incidents of death by drowning, of which all were children," after a heavy rainfall event resulted in waterlogging.

In addition, people who have lost their homes and livelihoods to Matarbari Phase-1's development work have not been adequately compensated. In reviewing the Kohelia project, a Bangladesh government monitoring team  expressed "dissatisfaction over the lesser payment to the affected people." The team also found "anomalies and sloppy work" during their site visit, increasing the costs of the project significantly.
The Japanese megabanks support the coal industry at other parts of the supply chain as well, providing financial support to the coal mining industry.
Mizuho: US$291 million | MUFG: US$536 million | SMBC: US$229 million
Looking at lending to the coal mining industry in Australia alone, the Japanese megabanks have lent close to AU$1.5 billion since the Paris agreement was signed.
Mizuho: AU$376 million | MUFG: AU$412 million | SMBC: AU$630 million

"We recognize that coal mining, when not managed properly, entails risk of adverse environmental and social impacts, which may include damage to ecosystems from hazardous waste produced in coal mines, as well as deaths or injuries resulting from mining accidents. Accordingly, our decisions regarding financing and investment for coal mining projects involve a thorough examination of the impacts on the environment, industrial safety and health, and other areas.
We do not provide financing or investment to coal mining projects employing the mountain top removal method, due to the severe impact this method has on the environment. Further, in light of the fact that coal and other fossil fuels contribute to emissions of greenhouse gases, we undertake engagement with clients to confirm their measures for addressing transition risk accompanying climate change."

"In addition to the risks of stranded assets associated with the transition to a low carbon society, it is important to consider human rights with respect to the elimination of illegal labour and child labour in coal mines and biodiversity issues associated with mining.
The scope of environmental and social risk assessment that takes into account Equator Principles is expanded for coal mining businesses when we consider lending. Through this, environment and social risks are identified and evaluated.
In addition, we don't provide support for coal mining projects that are conducted using the Mountain Top Removal method, as this method has a large environmental impact."

"MUFG recognizes that coal mining operations, if not managed responsibly, can have negative social and environmental impacts, including death and injuries from mine collapse, human rights abuse, and impacts on local biodiversity from toxic mine waste. Moreover, coal burning in power generation emits relatively large amounts of greenhouse gases compared to other energy sources. We recognize that the development of new coal mines to supply thermal coal for power generation projects could result in an increase in greenhouse gas emissions in the future. When considering whether to provide finance to the development of new coal mines we assess the status of such client's consideration for environmental and social impacts. The assessment includes how the client addresses the impacts of the development on local ecosystems, relationships with local residents, and occupational safety and health issues.
We will not provide any financing to coal mining projects using the mountaintop removal (MTR) method which has severe and negative impacts on the natural environment."
One of coal companies the Japanese megabanks have lent to is Adaro, Indonesia's second-largest producer of thermal coal which mainly runs coal mining operations in Kalimantan. In 2019, Adaro's coal production was 58.03Mt, almost 10% of Indonesia's total coal production.
Adaro has promoted itself as committed to contributing to Indonesia's economy through taxes and royalty. However, according to watchdog NGO Global Witness' report, Adaro has used its corporate network in tax havens to avoid taxes for years. Adaro has transferred its profit to its network of foreign companies, resulting in minimizing taxes from 2009 to 2017 totalling US$125 million.
Adaro's subsidiary owns 34% of Bhimasena Power Indonesia, the special purpose vehicle for the development of the controversial 2,000 MW coal-fired power plant in Batang, Central Java, Indonesia. Greenpeace reported that Batang coal-fired power plant could cause 30,000 premature deaths over an operating life of 40 years and would release 10.8 million tons of carbon into the atmosphere. 
During the land acquisition process for the plant, the residents of the area who have opposed the projects and refuse to sell their land have been subject to human rights violations, such as intimidation and the destruction of the irrigation canals.
Direct Action at Batang Coal Power Plant in Indonesia. Activists from the Break Free Coalition, consisting of Greenpeace, WALHI and JATAM, joined by local fishermen, occupy the piling barges operating in East Roban waters, Batang Regency, Central Java. © Ulet Ifansasti / Greenpeace
Whitehaven plans to spend almost AU$2 billion (est. US$1.5 billion) on coal mining expansion projects, which would see the company almost double production by 2030, and continue production beyond 2050. In 2020 alone, the Japanese megabanks lent AU$265M (est. US$178M) to Whitehaven. 
In its annual report, the company states: "We expect to grow our portfolio from a managed level of approximately 22Mt in 2019 to over 40Mt by 2030."
To achieve this, Whitehaven plans to spend a combined AU$1.9 billion (on the Vickery and Winchester South expansion projects. These projects have a combined run-of-mine (ROM) production capacity of 25Mtpa across 25 year lifetimes. With the Maules Creek and Narrabri mines proposed to operate until 2055 and 2045 respectively, Whitehaven's current plans would see the company producing up to 43Mtpa ROM well beyond 2040.
Climate Analytics shows that, in order to meet the Paris goals, coal power must be phased-out globally by 2040, and fall 80% below 2010 levels by 2030. 
At present, there is no evidence that the megabanks are engaging with these companies to get them out of coal mining.  Whitehaven faced a shareholder resolution in 2020 seeking that the company plan its own closure in an orderly fashion to make sure employees can have a safe transition to other work and to preserve shareholder capital.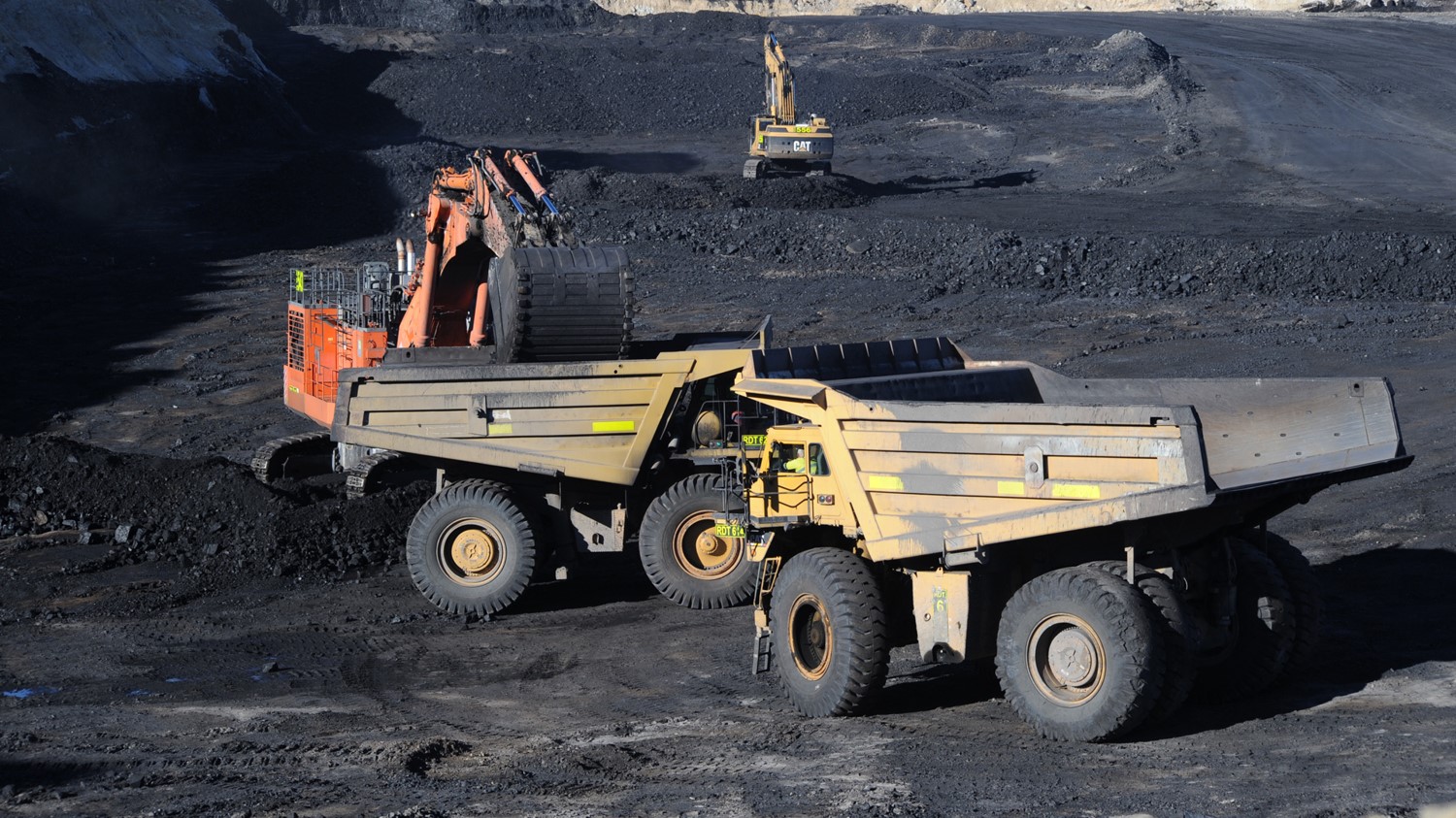 Coal trucks at a Whitehaven mine. 
All of the banks claim to place importance on aiding the transition to a low-carbon society, however, all remain significantly exposed to fossil fuels.  Of the 35 banks reviewed in the 2020 Banking on Climate Change report, MUFG is ranked 6th, Mizuho is ranked 9th and SMBC Group is ranked 20th in terms of their finance to fossil fuels since the Paris agreement.
Japanese Megabank financing for 2,100 companies active across the fossil fuel life cycle from 2016 to 2019
Mizuho: US$103.079 billion | MUFG: US$118.811 billion | SMBC: US$59.559 billion
The megabanks are also providing a significant percentage of their financing to fossil fuels, leaving them exposed to climate-related risk.
Note: Of the 35 banks reviewed in the 2020 Banking on Climate Change report, MUFG was ranked 3rd in respect of fossil fuel financing as a percentage of total financing. Included for comparison are Scotiabank (with the highest proportion of fossil fuel financing at 18%) and Deutche Bank (with the lowest proportion of fossil fuel financing at 2.3%).
In contrast, the banks themselves claimed that their carbon asset exposure as of March 2020 was:
Mizuho: 7.3%
MUFG: 6.2% (of JPY 99.1 trillion)
SMBC 6.9%
The banks do not provide sufficient details about how this exposure is calculated, and what companies are included in their assessments.
Both MUFG and SMBC Group have announced that it will reduce its credit balance of project finance related to coal-fired power generation to zero by 2040.

Mizuho has targets on when it will phase out any of its exposure to coal power, cutting its exposure of 300 billion yen ($2.8 billion) to loans to coal power projects in half by 2030 and reducing it to zero by 2050.
However, if the banks continue to finance new coal power stations as suggested below, it is unclear how the bank plans to meet this target.
MUFG actually minimises the risk of coal exposure, and claims in its 2020 Integrated report that the effect on climate change on their portfolio will be limited, despite significant global consensus to the contrary.
While these are welcome announcements, by limiting their coal phase out to only coal power projects, rather than including corporate lending and underwriting, the banks leave significant gaps. For example, from 2016 to 2019, Mizuho provided US$4.24 billion to coal power through lending and underwriting.
None of the Japanese banks explicitly restrict corporate lending as yet, falling behind the global standard.
Furthermore, these phase out plans aren't Paris aligned. Climate Analytics has since stated that to meet the goals of Paris, coal needs to be phased out by 2031 in OECD countries, and 2040 globally.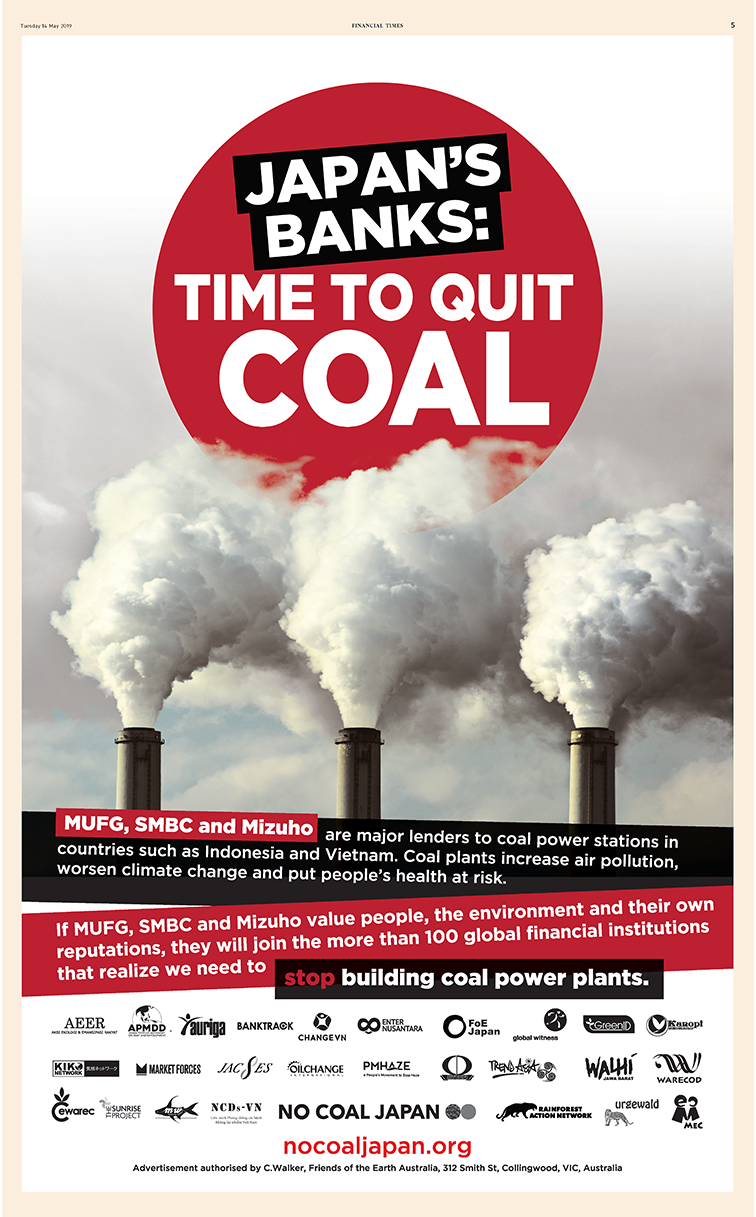 No Coal Japan ad in the Financial Times paper, May 2019
Examples of bank coal policies seeking Paris-alignment
Coal power projects
No lending to coal power projects
Client criteria
No new clients with a reliance on coal above 25%. No support for clients expanding coal operations. All clients must have by 2021 a detailed plan in line with this timeline
Phase out
Coal phase out by 2030 in EU / OECD countries, 2040 in China and 2050 elsewhere. 
For clients in breach of the 25 per cent threshold, only loans dedicated to renewable energy or GHG reduction projects will be authorised.
Coal power projects
No lending to new coal power projects
Client criteria
Only support clients who actively transition their business to generate less than 10% of earnings from thermal coal by 2030
Phase out
January 2021: no clients 100% dependent on thermal coal earnings 
January 2025: no clients 60% dependent on thermal coal earnings 
January 2027: no clients 40% dependent on thermal coal earnings 
January 2030: no clients 10% dependent on thermal coal earnings
We call on the banks to:

Stop financing all new coal power and mining with no exception
Decarbonize their portfolios by phasing out corporate and project lending and underwriting in line with the climate goals of the Paris agreement
Improvement of disclosure of physical and transitional climate risks in order for shareholders to better manage their own portfolios