Japanese Megabanks, Get out of coal!
On May 15, 2019, Mitsubishi UFJ Financial Group (MUFG) updated its policy claiming to rule out support to new coal power. The policy is a welcome change, but contains significant loopholes which could allow it to continue this finance.

On  May 22, 2019, Mizuho Financial Group updated its policy to explicitly exclude the funding of ultrasupercritical coal power, joining Sumitomo Mitsui Banking Corporation (SMBC).
Even if applied without exception, SMBC's policies would only rule them out of 12% of their pending coal power pipeline.  Mizuho's policy would allow it to remain in the project it wishes to finance.
All of these banks have significant coal power pipelines. Based on publicly available financial information, SMBC, MUFG, and Mizuho are collectively in line to provide financial support for a total of five power projects.  Collectively, these plants represent close to 5GW of coal power, and will produce total CO2 emissions of approximately 800 million tonnes.
These banks, along with other commercial banks and the Japan Bank for International Cooperation (JBIC), recently agreed to finance the controversial Van Phong 1 coal power station. This power station will produce air pollutants at rates significantly higher than the average new Japanese coal-fired power station.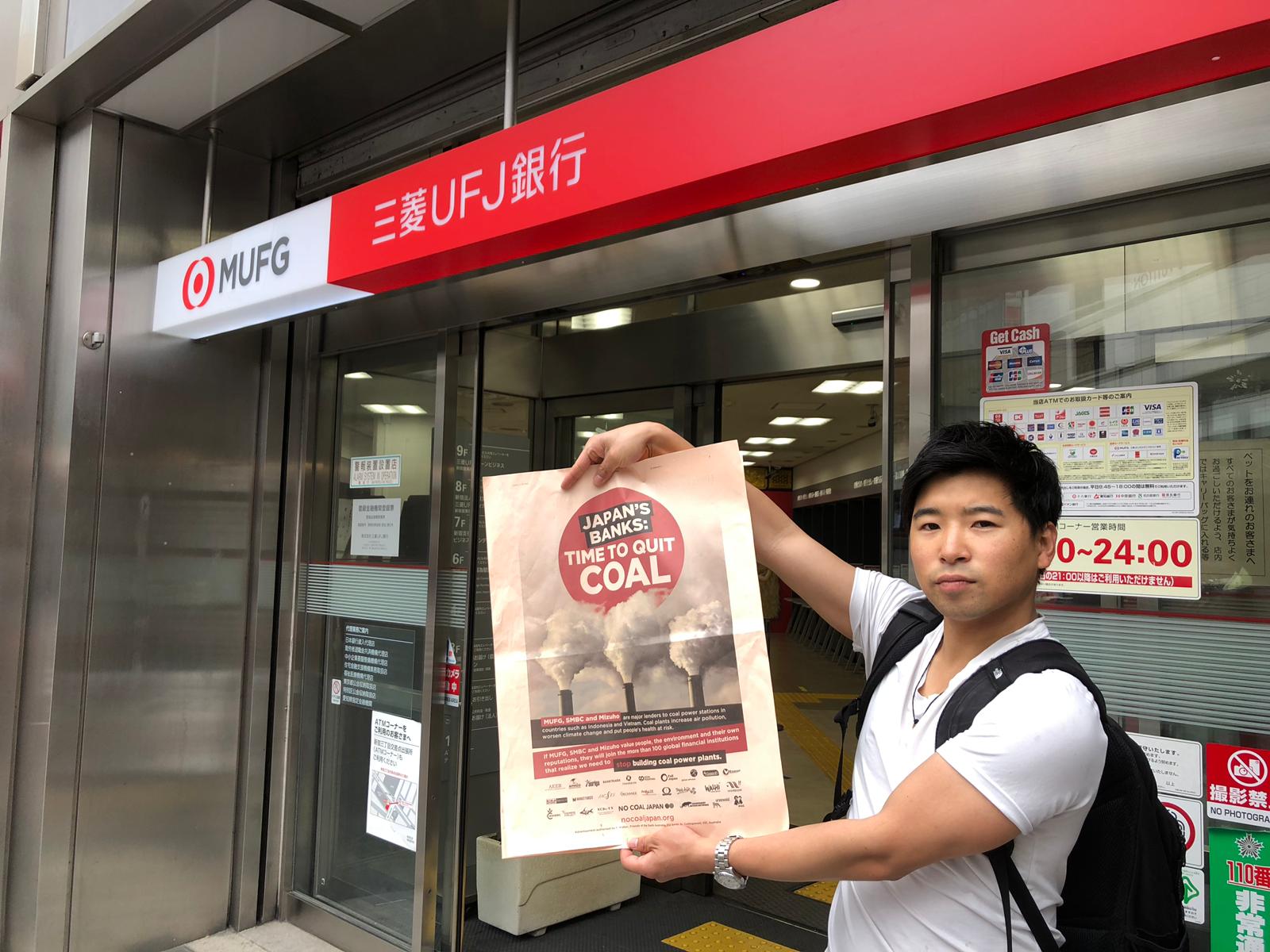 International NGOs advert in Financial Times (Asia), 14 May 2019

---
Tell the megabanks to quit coal!
WHAT'S IN THE PIPELINE?
---
Based on publicly available financial information, SMBC, MUFG, and Mizuho are collectively in line to provide financial support for a total of five power projects (pipeline projects).  These projects have not reached financial close, but the banks are providing advisory services or part of syndicates considering providing finance.
These potential projects represent a total capacity of 4.7 GW of coal-fired power. These projects, if built, would produce total CO2 emissions of 761 million tonnes. 
SMBC's policies would only explicitly rule them out of approximately 12.68% of the projects they are reportedly in line to support financially. Mizuho would still be able to finance Vung Ang 2, a new polluting coal power project in Vietnam.
These projects are to be built in three countries – Vietnam, Mongolia and Bangladesh.  76% of the projects by capacity would be in Vietnam.
Number of Projects Bank is Reportedly Involved With vs. Policy Applied; Capacity
If SMBC policy applied: 3 projects, 3.1GW
If MUFG policy applied - 0 projects; 0 GW
Mizuho - 1 project; 1.2GW
If Mizuho policy applied - 1 project; 1.2GW
What do the Policies say about coal power?
---

MUFG's policy which takes effect on July 1, 2019 states:
MUFG will not provide financing for new coal-fired power generation projects once the revised Framework takes effect…MUFG will take a cautious approach to projects regarding which financial assessment has been ongoing since before the revision to the Framework.
Exceptions may be considered where we will take into consideration the energy policies and circumstances of the host countries, international standards such as the OECD Arrangement on Officially Supported Export Credits, and the use of other available technologies when deciding whether to provide financing. 

SMBC's policy states:
Our policy for new financing will be stricter, limiting financial support to only coal-fired power plants that use USC* or more advanced technologies which are considered highly efficient.
*Ultra-supercritical (i.e., with a steam pressure >240 bar and >593 degrees steam temperature) or Emissions < 750g CO2/kWh

The English translation of Mizuho's policy states:
"Investment and financing for construction of new coal-fired power projects will be provided consistent with international guidelines (such as OECD Official Export Credit Guidelines), energy policies and climate change measures in host countries, and Japan's energy policy. In principle, financing will be limited to the world's most advanced ultra-supercritical pressure and higher efficiency projects. (That said, this change will not impact projects for which declarations of support have been made before the enactment of this policy.)
NO SPACE FOR ANY MORE COAL
---
This page was updated on 10 October 2019