30 November 2018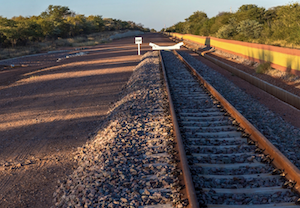 Resource Generation (Resgen) has only one asset — a coal mine they want to build in South Africa. They haven't yet been able to reach financial close for this mine but that was not the only issue raised at their annual general meeting in Brisbane today.
India's decreasing coal demand
Resgen asserts that demand for South African coal will be mostly from India. However, according to The Economic Times, India is pushing to restrict coal imports going forward. Coal demand is also expected to decrease globally as countries move to implement policies in line with the Paris Agreement, and the latest Intergovernmental Panel on Climate Change report shows coal consumption for power needs to be cut by two-thirds over the next 12 years to keep global warming to 1.5°C.
Yet Resgen confirmed today it had not tested whether the company is viable in a 1.5°C world.
"Has the company assessed the resilience of the Boikarabelo project under multiple climate change scenarios, including one in which global warming is held to 1.5°C ?" asked a concerned shareholder.
"We haven't actually made any kind of analysis when it comes to that," responded chairman Lulamile Xate. "We know that we will be susceptible to the rules and regulations, we haven't really got to that stage yet." 
Despite evidence suggesting otherwise, Xate was confident India would import their coal. "We have got agreements in place to export this coal. We are pretty confident — this agreement is for 30 years — that the coal we will produce will go to India."  
Criminal investigations
Noble Group is supposed to be providing additional working capital for the Boikarabelo Coal Mine. It has been widely reported that Noble Group "is being investigated by three Singaporean agencies, including a white collar-crime police criminal probe, for 'suspected false and misleading statements' and breaches of disclosure requirements." Noble Group has also previously faced allegations about the unreliability of the group's accounts.
"Is the board confident about Noble Group's ability to secure the required additional working capital given the ongoing investigations by Singaporean agencies? If yes, can the board explain to shareholders how and why it has such high confidence?" asked a shareholder.
Xate confirmed they were aware of the allegations but explained "without Noble's funding we would have been dead six years ago." An alarming admission it has to be said, given the allegations against Noble.
According to Resgen's company report, their mine will supply middlings to Eskom and Transnet Freight Rail will be used for transportation.

The South African National Treasury is currently investigating the findings of a report that recommends criminal investigations against Eskom and Transnet.
Shareholders wanted to know if the plan was still to do business with these companies despite them being implicated in criminal investigations.
"I can confirm that is the plan," Xate said.
Recently Emkon emitted air pollution from their coal fired power stations is likely to kill 333 people every year.
Take action 

This year we worked with other groups which led to Standard Chartered ruling out coal, which has affected projects such as Resgen being financially viable. Yet Australia's big four banks continue to invest millions of dollars annually into dirty fossil fuels. Tell the big four to get out of coal, oil and gas, which are funding dangerous climate change.