21 October 2019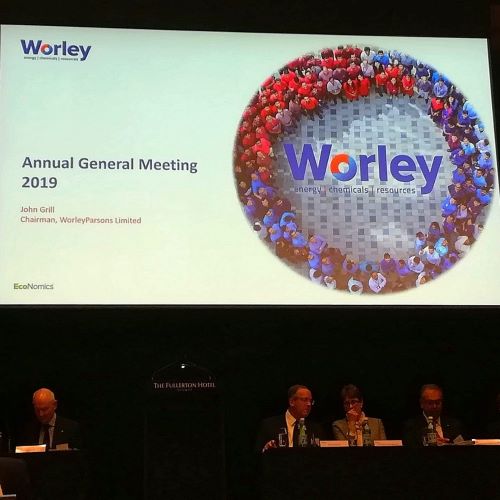 After years of pressure, Worley has finally confirmed it "has no intention" of working on the Adani Carmichael coal mine project.
Engineering firm Worley was previously engaged to provide the design and construction of Adani's original railway plan to haul coal from the Carmichael mine to the Abbot Point coal export terminal.
While the rail project has changed completely since then, Worley had refused until today to publicly rule out working on any aspect of the Adani Carmichael project in the future.
However, confirmation finally came at the company's annual general meeting in Sydney today. In response to a shareholder's question, CEO Andrew Wood stated "we are not working on the Adani Carmichael project and… we have no intention to."
That statement brings the total number of companies that have ruled out working on the Carmichael project to 61. Find out more about who's still in and take action.
BREAKING: We're at the @Worley_ECR AGM in Sydney right now and it has ruled out working on the Adani Carmichael #coal project!

"We are not working on the Adani project and we have no intention to"

61 companies now refusing to work on the #climate-wrecking project.#StopAdani

— Market Forces (@market_forces) October 21, 2019
"We are not working on the Adani Carmichael project and… we have no intention to."

Andrew Wood, Worley CEO
New fossil fuels still on the agenda
It wasn't all good news at today's AGM however, with Worley failing to make a commitment to ensure all new projects it works on are consistent with the Paris Agreement. Given that the company derives a large chunk of its revenue from the fossil fuel industry, climate change concerns were high on the agenda of Worley's shareholders.
The tone for the AGM was set by the Australian Engineers Declaration, which was launched earlier today, with 1000 engineers and 90 organisations making the commitment to: "Evaluate all new projects against the environmental necessity to mitigate climate breakdown."
Worley's board was asked why the company hadn't signed the declaration, and if it too could promise to make sure all its future projects align with the Paris climate goals.
While Mr Wood said projects were broadly assessed by reference to the UN's Sustainability Goals, consistency with a 1.5°C or well-below 2°C warming limit, as imposed by the Paris Agreement, was not necessarily a prerequisite for working on a project.
This is especially worrying, given Worley's role in supporting and facilitating new fossil fuel development projects. Worley's 2019 annual report states "While long term energy forecasts differ slightly between our major customers, energy agencies and industry bodies, all outlooks forecast growth in the Upstream oil and gas markets to 2040."
However, this seems to disregard the IPCC's Special Report on Global Warming of 1.5°C, which shows that the role of gas for primary energy must decline globally by 25% by 2030 (from a 2010 baseline), and oil's role also needing to fall 37% over the same timeframe.
As demonstrated by today's Engineers Declaration, and other community movements such as the School Strike for Climate, the shift against fossil fuels is gathering great momentum, especially among younger people. Worley was challenged over how it expects to attract the best and brightest graduates entering the workforce when the business continues to back fossil fuels.
Worley's ongoing willingness to facilitate the expansion of the fossil fuel sector saw it named as one of the 21 big Australian companies actively undermining the Paris climate goals in Market Forces' March 2019 report, Out of Line, Out of Time.
With no commitment to avoid climate-wrecking projects in the future, Worley should face divestment from investors, including our super funds, who claim to care about climate change.
Take action – tell your super fund to ditch all companies that are facilitating the expansion of dirty coal, oil and gas!