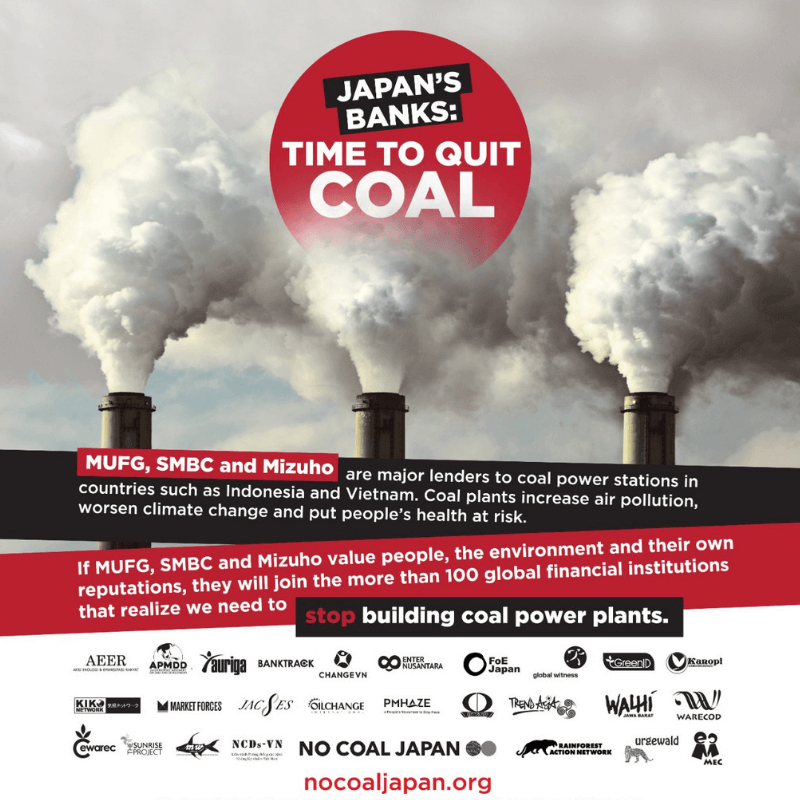 ---
NGOs from Vietnam, Indonesia, Japan and around the world have placed a full-page advertisement in the Financial Times today calling for Japanese megabanks – Mitsubishi UFJ Financial Group (MUFG), Sumitomo Mitsui Banking Corporation (SMBC), and Mizuho Financial Group (Mizuho) – to stop funding coal power.
MUFG, SMBC, and Mizuho, along with other commercial banks and the Japan Bank for International Cooperation (JBIC), recently agreed to finance the controversial Van Phong 1 coal power station. This power station will produce air pollutants at rates significantly higher than the average new Japanese coal-fired power station, and is not compliant with the Equator Principles to which the banks are signatories.
The financing of coal power from these banks shows no signs of abating. Their policies do not rule out funding to new coal power, putting them behind other commercial banks in Asia – such as DBS, OCBC, UOB, and Standard Chartered – in formally addressing the need to transition to clean energy. In February 2019, SMBC, MUFG and Mizuho were reportedly planning to financially support new coal power projects that would collectively result in the emission of 1.4 billion tonnes of CO2 over their lifetimes, including Vung Ang 2 and Long Phu 1 in Vietnam.
Please share our ad on Facebook and Twitter